With the opening of Star Wars: Galaxy's Edge at Disneyland park edging ever closer, lots of news is brewing. Disneyland Park Cast Members recently got a unique preview of what the costumes across Star Wars: Galaxy's Edge will look like. Designs for the costumes will vary throughout the Village, Smuggler's Run, and Rise Of The Resistance areas to reflect the attractions, shops, and their stories. Well, tonight we got a special sneak peek of Planet Batuu and Star Wars: Galaxy's Edge:
Adventures abound in Star Wars: Galaxy's Edge, coming this summer to Disneyland Resort and this fall to Walt Disney World Resort.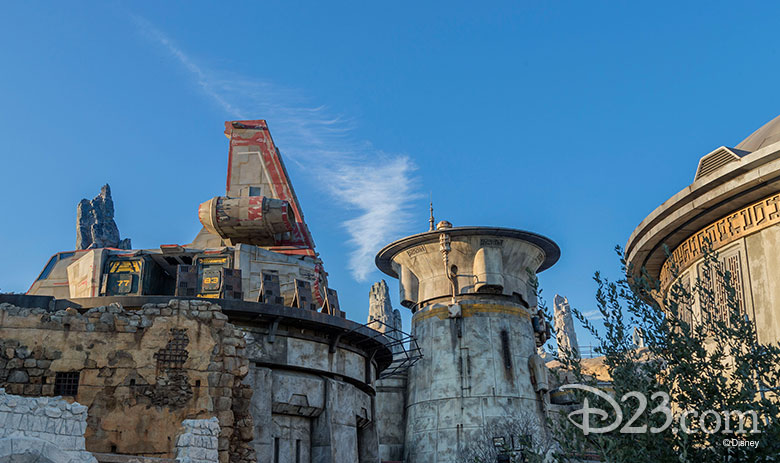 Backstory
The backstory behind the land is that in their efforts to defeat the First Order, the Resistance has temporarily set up shop in an abandoned, ancient base encircled by forests, mountains, and rivers on the outskirts of Black Spire Outpost. Throughout the land in both parks, fans may see some familiar faces, including Rey, Finn, Poe Dameron, BB-8, and Chewbacca—and even find themselves in a face-off with the First Order.
Access/Guest Flow
There are three carefully designed entrance points to Galaxy's Edge in Disneyland, allowing guess to enter via Critter Country, Fantasyland, or Frontierland, and two entrance points at Disney's Hollywood Studios. Short enclosed passageways between lands are designed to compress and then expand the views of visitors, like a movie fading out and then back in, to ensure that the first sight of Galaxy's Edge is a carefully framed, cinematic view.
There are no additional fees to enter the land or a reservation system at this time, although single rider will be available for Millennium Falcon: Smuggler's Run. Dates for lower-level annual passes have been blacked out in the coming months when the land is expected to open.
Millennium Falcon: Smugglers Run
In Millennium Falcon: Smugglers Run, guests will climb into the cockpit of "the fastest hunk of junk in the galaxy" to take control of the ship, acting in one of three roles: pilot, flight engineer, or gunner.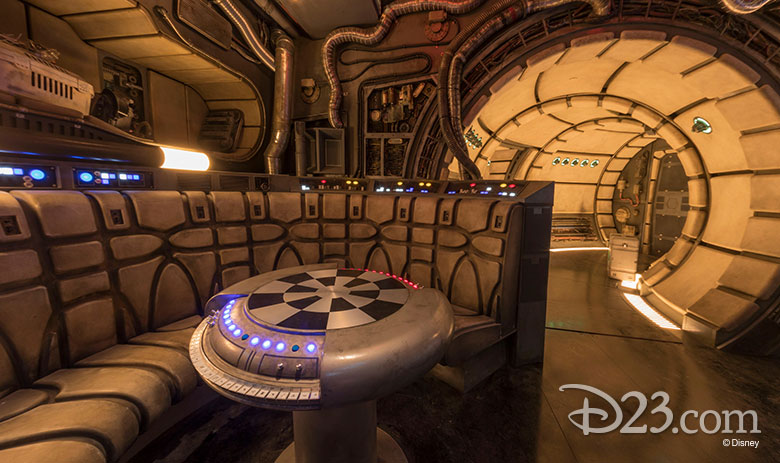 "Millennium Falcon: Smugglers Run is a level of guest participation in a ride that we haven't done," says Robin Reardon, portfolio executive producer, Walt Disney Imagineering. "When you step into that cockpit as the only flight crew of the only Millennium Falcon for the day that's going on that mission, that's a pretty amazing leap in terms of storytelling from the very beginning. And the payoff and participatory nature of the experience are, so far, unparalleled."
Rise of the Resistance
The second attraction, Star Wars: Rise of the Resistance, is one of the most advanced and immersive experiences ever undertaken by Walt Disney Imagineering. As new Resistance recruits, guests will join a climactic battle against the First Order, including a run-in with Kylo Ren. Their journey will take them inside a full-size starship and aboard a nearby Star Destroyer.
Disney Imagineers worked with Lucasfilm Ltd., as well as with directors and producers J.J. Abrams and Rian Johnson, to maximize the experience. "It's more than just a ride," says John Larena, executive creative director, Walt Disney Imagineering. "It's a cinematic immersive experience."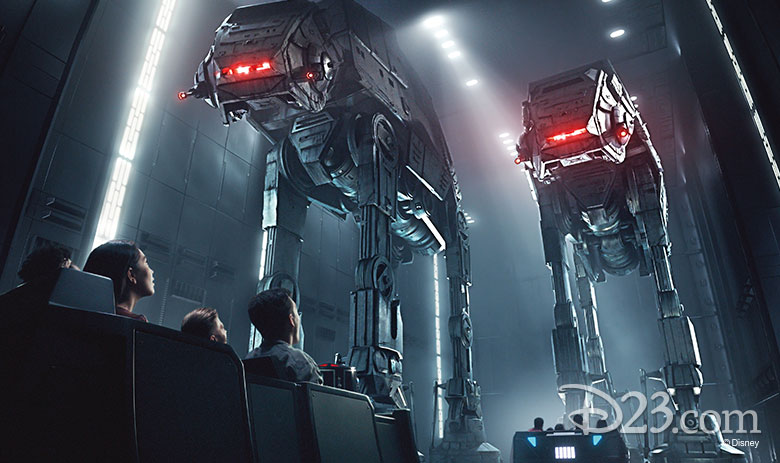 Themed Food and Beverages
Oga's Cantina will serve exotic beverages served in unique vessels. Potations with alcohol include Bespin Fizz, Bloody Rancor, Dagobah Slug Slinger, Fuzzy Tauntaun, Jedi Mind Trick, Jet Juice, The Outer Rim, Spriran Caf, T-16 Skyhopper, and Yub Nub; non-alcoholic libations include Black Spire Brew, Blue Bantha, Carbon Freeze, Cliff Dweller, Hyperdrive Punch It!, Jabba Juice, Moogan Tea, and Tarine Tea; and provisions include a Cantina mix. (Just remember, you can't take these beverages outside the Cantina.)
You'll find Oga lurking in the shadows, and locals know better than to dare cross the proprietor. DJ R-3X—formerly known as Captain Rex, the Starspeeder 3000 pilot droid from Star Tours—now calls Oga's Cantina his home, where he's in charge of providing the musical entertainment.
Entrées include the Braised Shaak Roast, featuring beef pot roast with cavatelli pasta, kale, and mushrooms; the Fried Endorian Tip-Yip, a decadent chicken dish with roasted vegetable mash and herb gravy; the Felucian Garden Spread, a plant-based kefta "meatball" dish with herb hummus and tomato-cucumber relish with pita bread; the Ithorian Garden Loaf, a plant-based "meatloaf" dish served with roasted vegetable mash, seasonal vegetables, and mushroom sauce; the Smoked Kaadu Ribs, featuring smoked country sticky pork ribs with blueberry corn muffin and cabbage slaw; the Oven-roasted Burra Fish, featuring Dijon-crusted sustainable fish with mixed greens, roasted vegetables, quinoa, and pumpkin seeds with a creamy green curry ranch dressing; the Oven-roasted Tip Yip, featuring roasted chicken with mixed greens, roasted vegetables, quinoa, and pumpkin seeds with a creamy green curry ranch dressing; and the Yobshrimp Noodle Salad, a marinated noodle salad with chilled shrimp.
Dessert options include a raspberry crème puff with passion fruit mousse, and chocolate cake with white chocolate mouse and coffee custard. Docking Bay 7 Food and Cargo has two children's menu options: fried chicken with macaroni and cheese; and chilled shrimp with vegetables and rice noodle salad (with sweet orange dressing).
Ronto Roasters' large podracing engine will be firing up a barbecue pit for mouth-watering sandwiches. When customers line up to order, they will encounter a former smelter droid, carefully turning the spit of meats (and complaining about his job). Items include the Meiloorun Juice, the Turkey Jerky, and the Ronto Wrap filled with spiced grilled sausage and roasted pork. Guests will also be able to choose from a variety of exotic non-alcoholic drinks, like the Sour Sarlacc or Tatooine Sunset.
Of course, there will be a Milk Stand offering two local favorites: blue milk, first seen in Star Wars: A New Hope, and green milk, introduced in Star Wars: The Last Jedi. The blue milk will be plant-based, allowing more guests to enjoy it.
As far as snacks go, Outpost Mix—a popcorn snack combining savory, spicy, and sweet flavors—will be available to try at Kat Saka's Kettle.
Merchandise
At Savi's Workshop, guests are given the opportunity to draw upon the Force as they build their own elegant lightsaber. At the heart of every saber is a kyber crystal, and during a guided tour, each guest will have four options to choose from: Peace Justice (modeled after Jedi from the Republic era); Power Control (a nod to the Sith); Elemental Nature (harnessing air, earth, fire, and water); and Defense (shrouded in mystery).
Inside Dok-Ondar's Den of Antiquities, visitors will find a selection of mysterious and rare items for sale representing different eras of the Star Wars galaxy, including ancient Jedi and Sith artifacts, holocrons, lightsabers, and more. As they explore the shop's nooks and crannies, they will find Dok at his desk, checking his inventory, taking calls, and barking orders at his assistants.
Guests who venture to the Creature Stall will find some fascinating and unusual beasts from all across the galaxy, ranging from the friendly (porgs, tauntauns) to the not-so-friendly (rathtars, wampas). Nearby, you'll find the Toydarian Toymaker stall, offering items crafted by its namesake alien, first seen buzzing around Anakin Skywalker­ in Star Wars: The Phantom Menace. It peddles artisan-style plush characters, wood and tin toys, and instruments.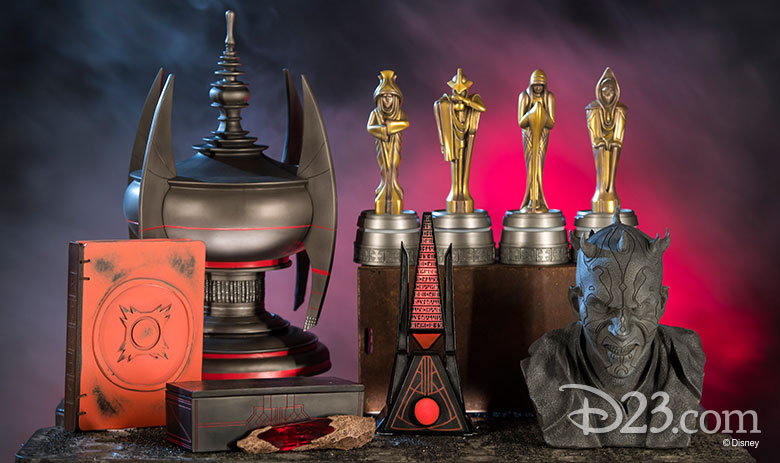 Resistance Supply is a "makeshift" resource location at the Resistance's hidden command post, selling badges, hats, pins, and other accessories to help guests feel like part of the cause.
First Order Cargo is a temporary storage dock located near the market. Easily identified by a never-before-seen First Order TIE echelon, it gives interstellar tourists a chance to pledge their loyalty to the First Order by purchasing caps, gear, model ships, pins, and more.
Play Disney Parks App
Make the most of your first—or hundredth—visit to Batuu by downloading the Play Disney Parks mobile app. Star Wars: Galaxy's Edge is the first land designed to integrate with the one-of-a-kind app, which debuted last summer and offers interactive adventures and experiences that bring surrounding environments to life at Disneyland Resort and Walt Disney World Resort.
The app will provide new opportunities for guests to engage with the land, like translating a galactic language, learning what's hidden inside crates and containers, or accomplishing certain tasks by participating in missions. Guests also can use the app to interact with a variety of elements, like antenna arrays, door panels, drinking fountains, droids, media screens, and ships.
As we find out more details, be sure to stay updated here on WDWNT for all the latest news about Star Wars: Galaxy's Edge.