With Disney Parks around the world closed for the foreseeable future, WDWNT is dipping into our archives of vintage materials for a look back into Disney history! If you love Disney merchandise and history, you'll be sold on the Fall 1985 issue of "The Disneyana Collector," featuring profiles on Disney artists, a look back at the history of the Mickey Mouse watch, and more!
Note: This article will detail the newsletter page by page, but WIGS Members will have access to download a full-resolution PDF of the entire thing. Head on over to Patreon.com/wdwnt to join WIGS, the WDWNT Inner Globe Society, for as little as $2 a month and unlock access to great content like this, and much more!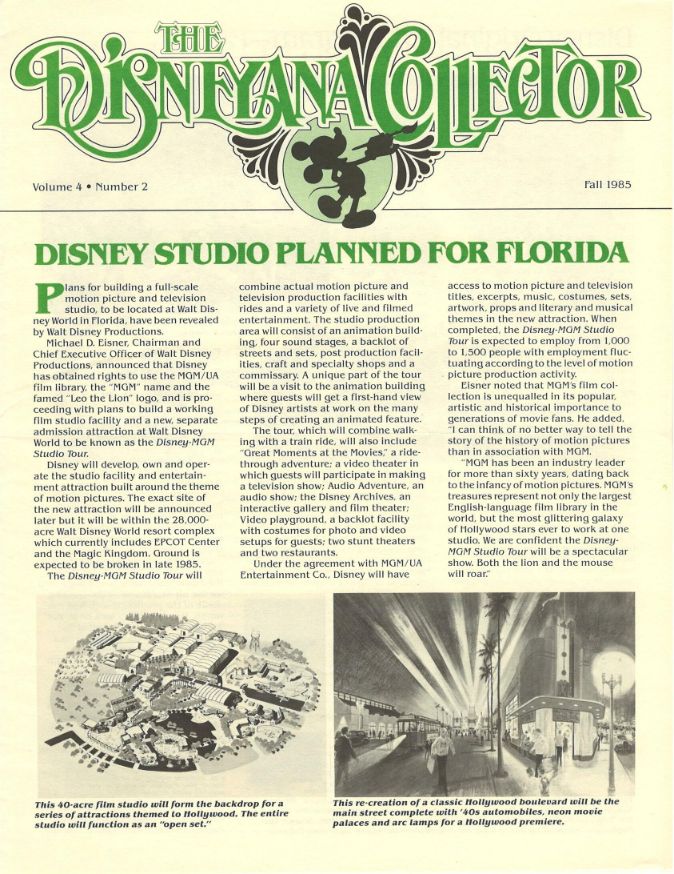 The big story for Fall 1985 is a subject near and dear to WDWNT's heart: the announcement of what would become the Disney-MGM Studios! Still known as The Disney-MGM Studio Tour, ground was broken for the park later that year. So, what were they saying the park would host nearly four years before it would open?
"The Disney-MGM Studio Tour will combine actual motion picture and television production facilities with rides and a variety of live and filmed entertainment. The studio production area will consist of an animation building, four sound stages, a backlot of streets and sets, post production facilities, craft and specialty shops and a commissary. A unique part of the tour will be a visit to the animation building where guests will get a first-hand view of Disney artists at work on the many steps of creating an animated feature.
The tour, which will combine walking with a train ride, will also include 'Great Moments at the Movies,' a ride-through adventure; a video theater in which guests will participate in making a television show; Audio Adventure, an audio show; the Disney Archives, an interactive gallery and film theater; Video playground, a backlot facility with costumes for photo and video setups with guests; two stunt theaters and two restaurants."
Christmas 1985 is coming up, and just in time is The Disney Collection's seasonal porcelain items featuring Mickey Mouse and Donald Duck, including figurines, plates, bells, and an ornament. Did your family collect these?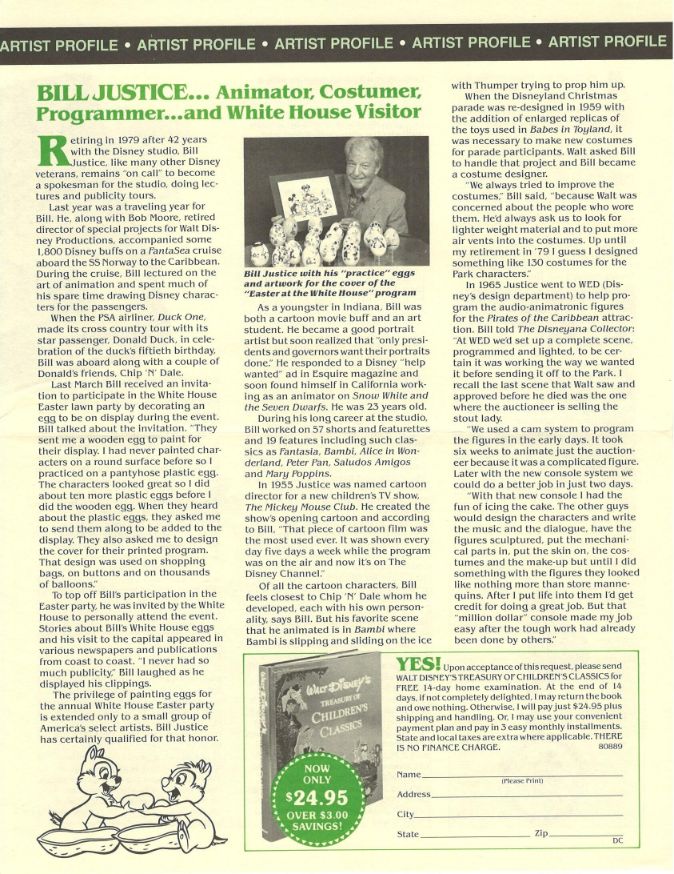 The "Artist Profile" section is all about future Disney Legend Bill Justice, animator and Imagineer. Justice may be best known in animation for animating Thumper in Bambi and Chip and Dale. He also directed the cartoon introduction to the original run of "The Mickey Mouse Club." On the Imagineering side, Justice programmed Audio-Animatronics figures for such beloved attractions as Great Moments with Mr. Lincoln, Pirates of the Caribbean, The Haunted Mansion, and the Country Bear Jamboree.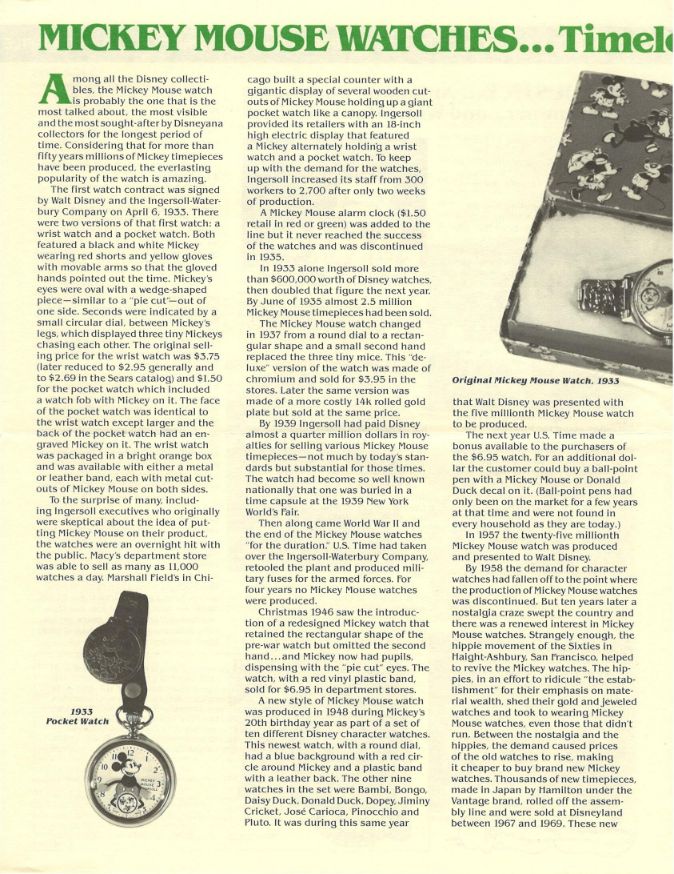 The main story of the newsletter chronicles the history of the Mickey Mouse watch, beginning with the original watches made by the Ingersoll-Waterbury Company in 1933. They became an overnight success and have both evolved with the times and been timeless ever since.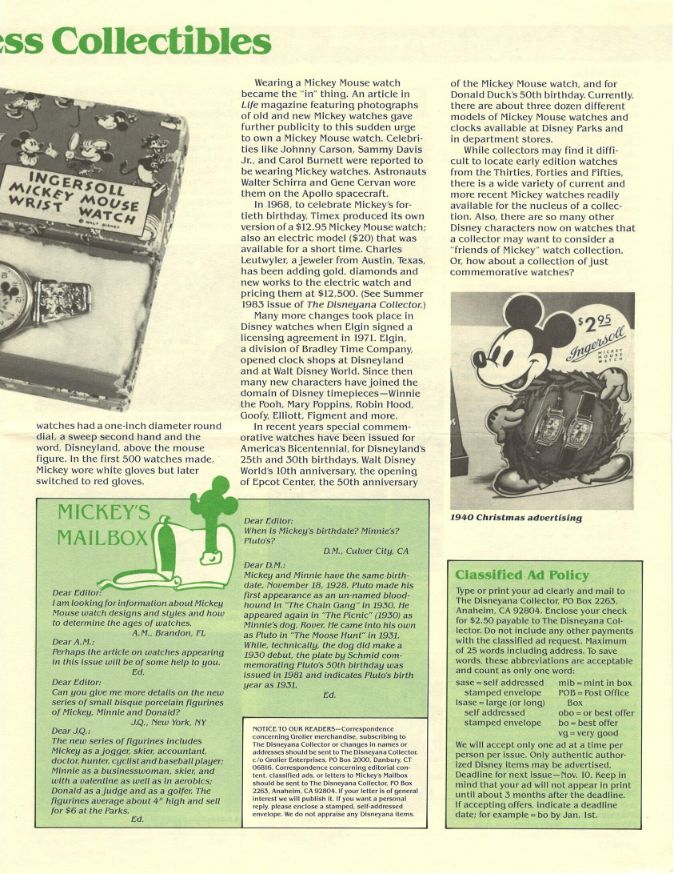 Of course, the story of Disney characters on watches doesn't just end with Mickey, with characters like "Winnie the Pooh, Mary Poppins, Robin Hood, Elliott, Figment and more" getting the treatment.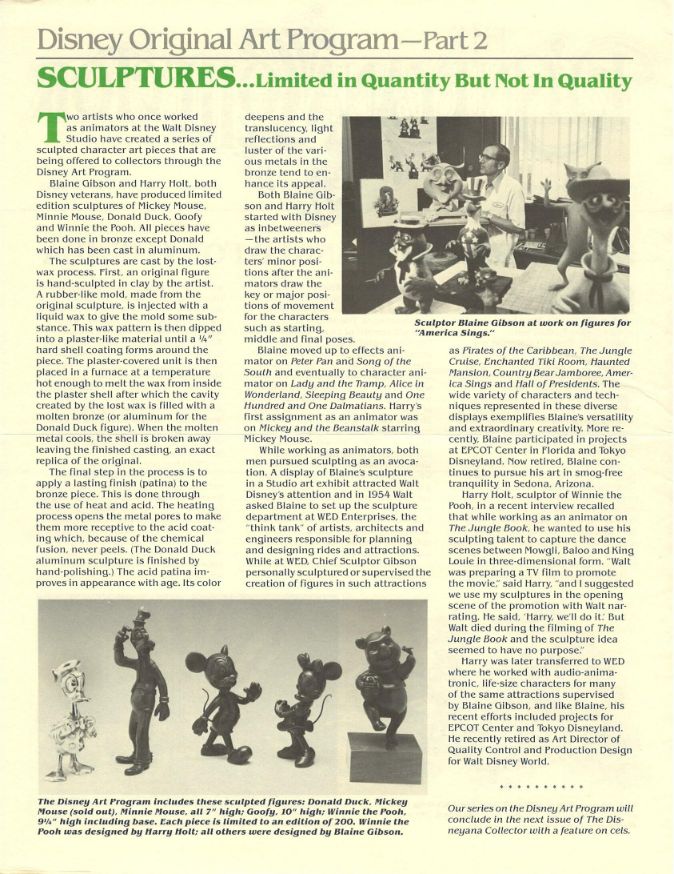 The newsletter also features the second part of a series on the Disney Art Program, focusing on sculptures created by Harry Holt and legendary Disney sculptor Blaine Gibson, who was famous for his sculptures of America's Commanders in Chief in the Magic Kingdom's Hall of Presidents.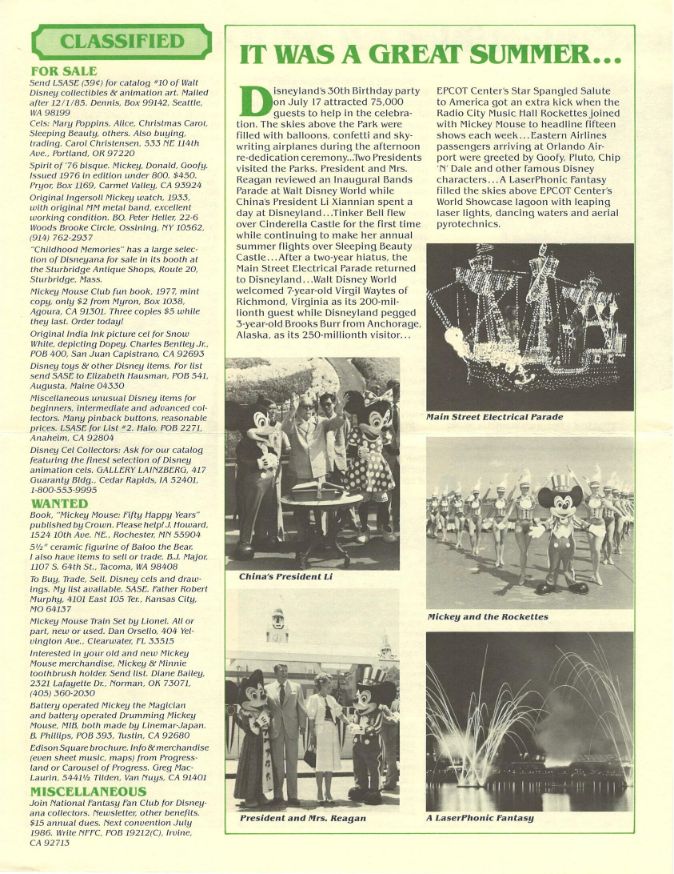 We also get a recap of all the summer fun at Disneyland in 1985 to commemorate its thirtieth anniversary, with visits by President Ronald Reagan and First Lady Nancy Reagan, China's president Li Xiannian, getting its 250 millionth visitor, and the return of the Main Street Electrical Parade after a two-year stint at the Magic Kingdom. Speaking of Walt Disney World, they had a busy summer too, getting its 200 millionth visitor, while over at EPCOT Center, the Star Spangled Salute to America featured a residence by the Radio City Rockettes!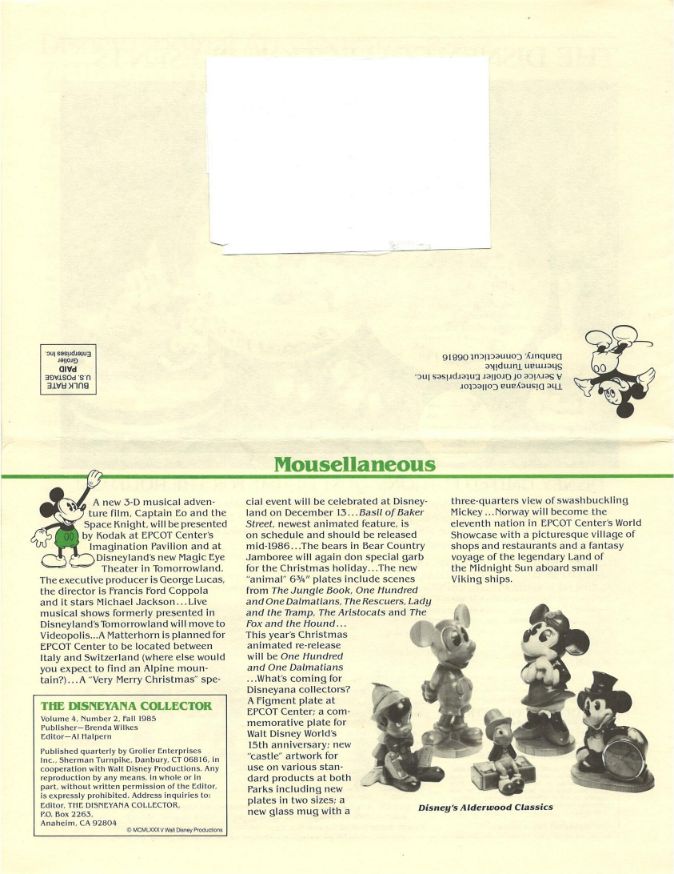 The newsletter closes with a "Mousellaneous" section, with news snippets including:
A new 3-D attraction starring Michael Jackson coming to Disneyland and EPCOT Center called "Captain Eo and the Space Knight." (Thankfully, the title was shortened a bit when it opened.)
The announcement of a Matterhorn coming to EPCOT Center's World Showcase "between Italy and Switzerland." While this never materialized, it would've been home to the… say it with me now… Secret. Swiss. Bobsled. Training. Facility.
A new animated film coming in 1986, "Basil of Baker Street." (This one got a more drastic name change than "Captain Eo and the Space Knight.")
A commemorative plate coming for Walt Disney World's 15th anniversary.
An EPCOT Center pavilion we actually did get… Norway!
What news here excites you? What merchandise or memorabilia do you collect? Let us know in the comments below!
MORE:
Celebrate the Opening of the Disney-MGM Studios and See Some Vintage Merchandise in The Disney Catalog from 1989
Step Into the World of Movies with the Disney-MGM Studios Special "Sneak Preview" Guide
Celebrate the Disneyland Monorail System With This 1986 National Historic Mechanical Engineering Landmark Pamphlet