With Disney Parks around the world closed for the foreseeable future, WDWNT is dipping into our archives of vintage parks materials for a look back into parks history! It's the winter of 1991, and we're celebrating Walt Disney World's 20th anniversary and taking a look at holiday offerings with this issue of Magic Key Newsletter!
Note: This article will detail the newsletter page by page, but WIGS Members will have access to download a full-resolution PDF of the entire thing. Head on over to Patreon.com/wdwnt to join WIGS, the WDWNT Inner Globe Society, for as little as $2 a month and unlock access to great content like this, and much more!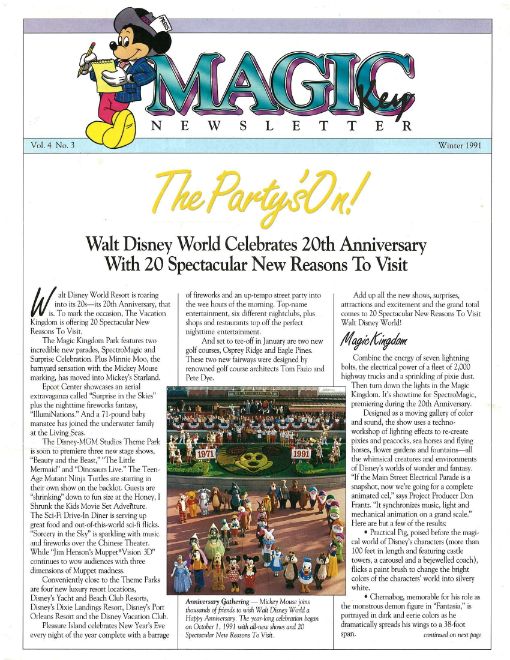 The cover story focuses on twenty reasons to visit Walt Disney World during its 20th anniversary, with new additions including SpectroMagic at the Magic Kingdom, a baby manatee at The Living Seas at EPCOT Center, Muppet*Vision 3D, Voyage of the Little Mermaid, and the Sci-Fi Drive-In Diner at the Disney-MGM Studios, four new resort hotels, and two new golf courses, Osprey Ridge and Eagle Pines, coming in January 1992.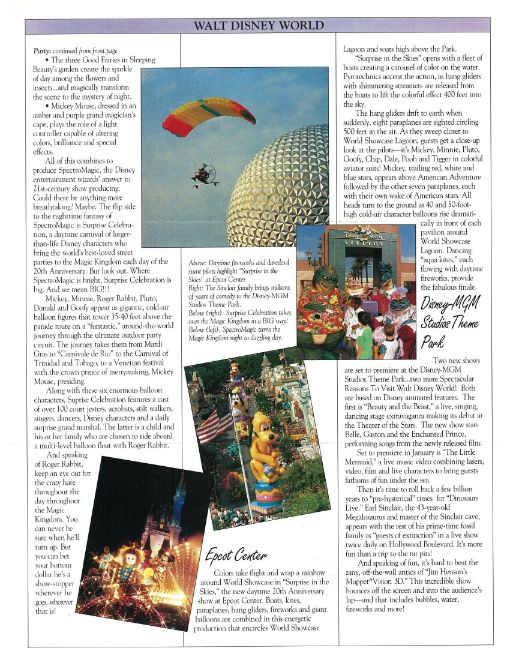 We then learn some trivia and stats about SpectroMagic, Surprise in the Skies at EPCOT Center, and new live entertainment at the Disney-MGM Studios, including the premiere of Beauty and the Beast – Live on Stage.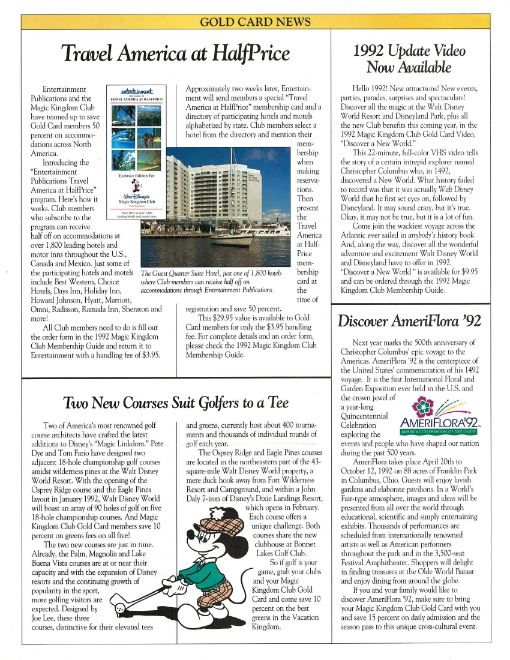 Next up is a look at some offers for Magic Kingdom Club Gold Card members, including discounts at hotel chains across America, ten percent off greens fees at Walt Disney World's golf courses, a new Gold Card update video for 1992, and discounted tickets to AmeriFlora '92 in Columbus, Ohio.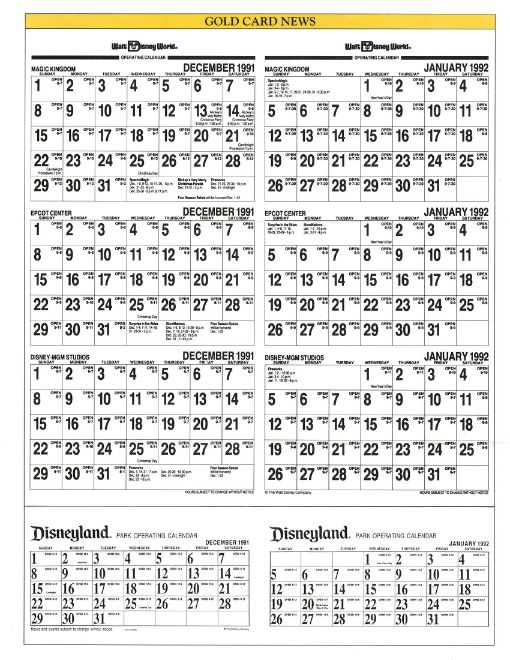 Next. we get a calendar of park hours for the Magic Kingdom, EPCOT Center, the Disney-MGM Studios, and Disneyland for December 1991 and January 1992.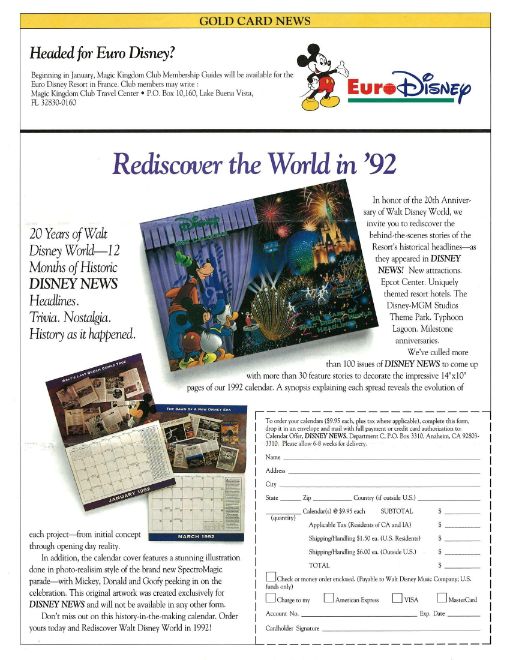 Speaking of 1992, a big addition was coming to the Disney Parks with the opening of Euro Disney, the first Disney park in Europe. But how does that compare with a Disney News Calendar? (I mean, they're both pretty neat.)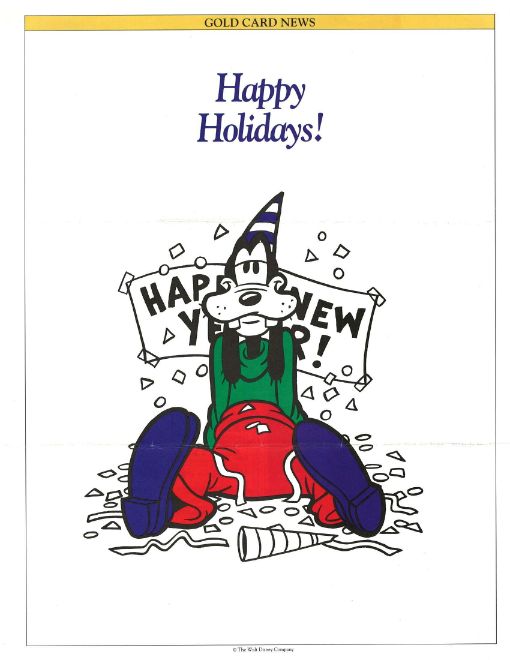 Moving on to the seasonal events, Goofy greets us to wish us a Happy New Year.
There's a page focused on the yuletide offerings at both Walt Disney World and Disneyland, including the "Mickey's Nutcracker" stage show at Disneyland, and "Holiday Splendor" at EPCOT Center. We also get news on Disney's holiday film releases, including Touchstone Pictures' remake of Father of the Bride and a little animated film called Beauty and the Beast. Maybe you've heard of it.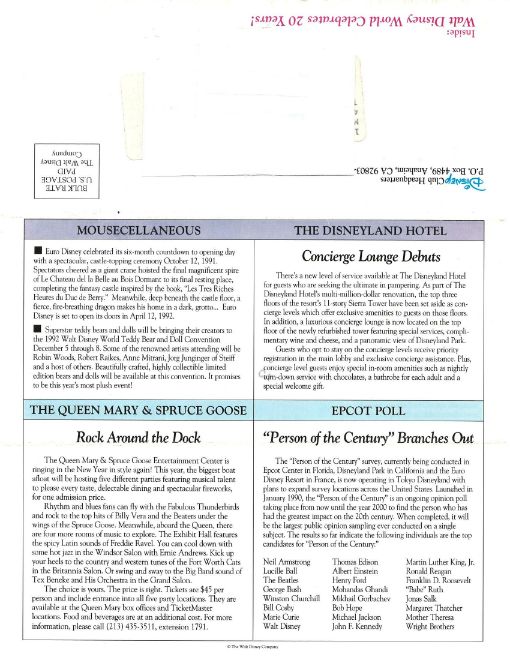 The back page offers some snippets about other things happening in the world of Disney, including the castle-topping ceremony for Le Chateau del la Belle au Bois Dormant at Euro Disney, the 1992 Walt Disney World Teddy Bear and Doll Convention, the opening of the concierge lounge at the Disneyland Hotel, New Year's Eve festivities at The Queen Mary & Spruce Goose Entertainment Center in Long Beach, California (yes, Disney used to own that!), and the "Person of the Century Poll" at EPCOT Center.
Now that's some magical news indeed!
MORE:
Say Goodbye to 1990 and Ring in 1991 with this Disney-MGM Studios Show Times Guide
New Additions and Big Changes Come to the Disney-MGM Studios in this Guidebook from 1991
It's Time to Meet Muppet*Vision 3D in this Disney-MGM Studios Summer Studio News Pamphlet from 1991