The cameras are flashing, as the next release of the "Year of the Mouse" collection has been revealed. It's Movie Star Mickey!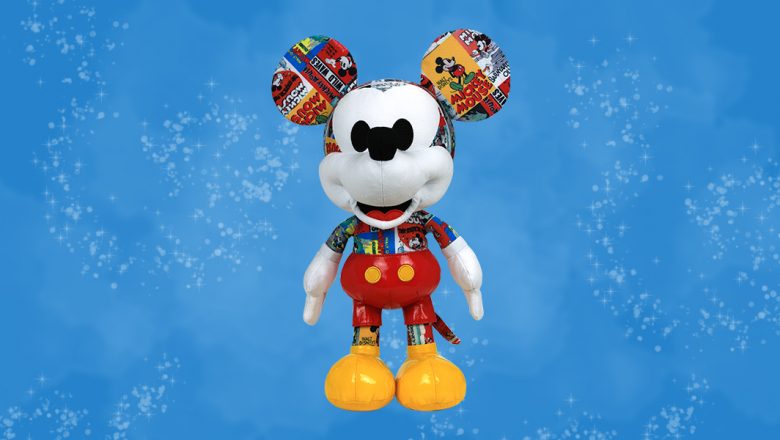 For May, Mickey is celebrating a look back through all of his classic movie roles. His international stardom is portrayed in iconic, colorful movie posters, and that's what the May release plush is themed around. As always, the plush will features a commemorative gold and satin foot patch and will include a Certificate of Authenticity. He's made of 'deluxe mixed-materials' and features embroidered detail.
As always, D23 members will get early access to purchase this plush via Amazon.com. Back in March, a few changes to the buying process were implemented, and it looks like these rules will continue 'for the upcoming months', too. Originally, the sale dates were advertised for the first Thursday of each month, so take note below…
From D23:
D23 Members will continue to be among the first to be notified about each month's theme and have an opportunity to order the month's design.
Each month, D23 will provide Members with advance notice of the date the plush will be available for purchase on Amazon.com.
On Monday, May 11, at 9 a.m. PST,visit this page on D23.com for the link to purchase the Movie Star Mickey Mouse plush.
Please Note: You must be signed in as a D23 Member to access the link to purchase. Click "Sign In" at the top of the page.
Please note extremely limited quantities of the plush will be available on Amazon.com.
Extended delivery time: Amazon is temporarily prioritizing the delivery of some items in order to serve their customers in need and ensure the safety of their associates. As a result, some delivery times are longer than usual.
Set your timers for May 11th, to make sure you don't miss out on this adorable, and highly-collectable, plush. Have you gotten the full collection so far?