With Disney Parks around the world closed for the foreseeable future, WDWNT is dipping into our archives of vintage parks materials for a look back into parks history! The signs, they are a-changing as an old icon makes way for a new one in this October 1989 issue of the Cast Member-exclusive newsletter, "Disneyland Line."
Note: This article will detail the newsletter page by page, but WIGS Members will have access to download a full-resolution PDF of the entire thing. Head on over to Patreon.com/wdwnt to join WIGS, the WDWNT Inner Globe Society, for as little as $2 a month and unlock access to great content like this, and much more!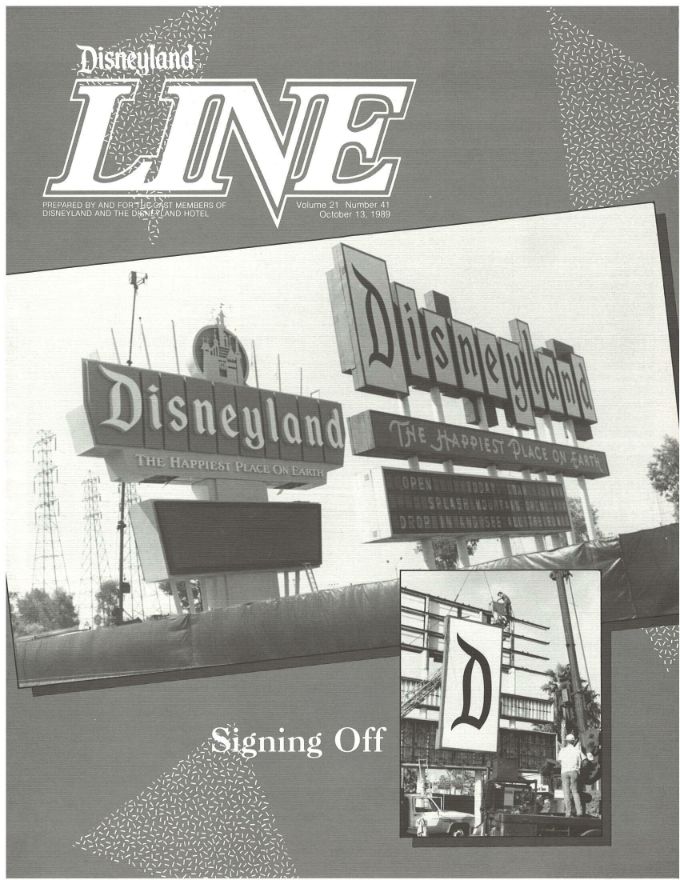 The main story of the newsletter focuses on the retirement of the entrance marquee that had welcomed guests since 1958, and the installation of a new, technologically-advanced sign that would greet guests until 1999.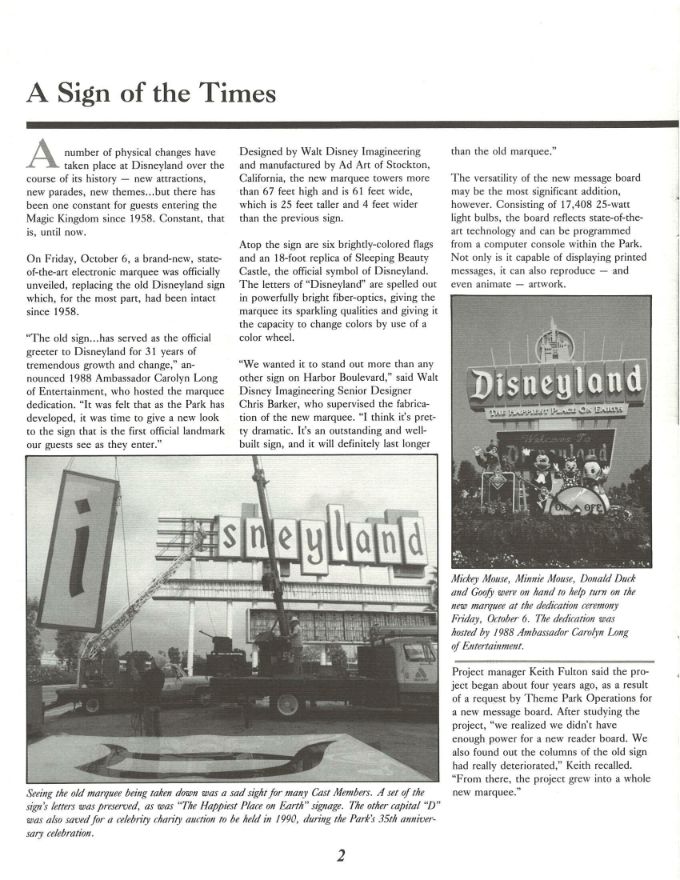 The sign change occurred on October 6th, 1989, with characters on hand to mark the occasion.
"Designed by Walt Disney Imagineering and manufactured by Ad Art of Stockton, California, the new marquee towers more than 67 feet high and is 61 feet wide, which is 25 feet taller and 4 feet wider than the previous sign.
Atop the sign are six brightly-colored flags and an 18-foot replica of Sleeping Beauty Castle, the official symbol of Disneyland. The letters of 'Disneyland' are spelled out in powerfully bright fiber-optics, giving the marquee its sparkling qualities and giving it the capacity to change colors by use of a color wheel.
'We wanted it to stand out more than any other sign on Harbor Boulevard,' said Walt Disney Imagineering Senior Designer Chris Baker, who supervised the fabrication of the new marquee. 'I think it's pretty dramatic. It's an outstanding and well-built sign, and it will definitely last longer than the old marquee."
Obviously, Baker knew sign design, if not the future. The sign was removed a decade later as Disneyland was being transformed from a theme park to a full-fledged Disney resort.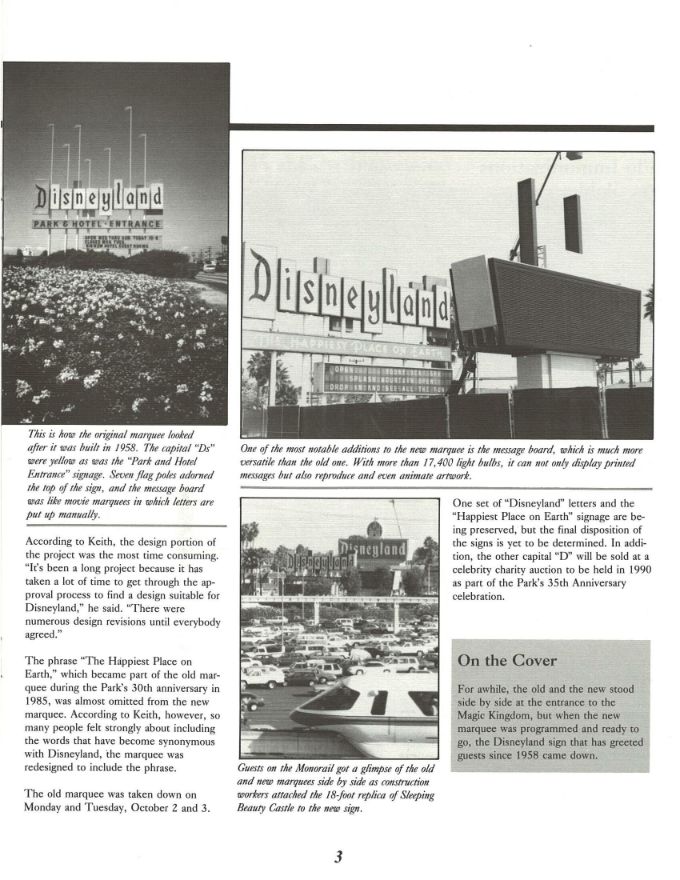 Luckily, the letters and "The Happiest Place on Earth" signage from one side of the old marquee were preserved, while the "D" from the other side was auctioned off as part of Disneyland's 35th anniversary celebrations the following year. Its spirit lived on, though, with the redesign of the Disneyland Hotel in the early 2010's, inspiring the decor at the top of the resort's Monorail Slide. As for the new signage, it was dismantled and auctioned off in pieces. The letters from one side were purchased by actor and noted Disney Parks fan John Stamos in 2000.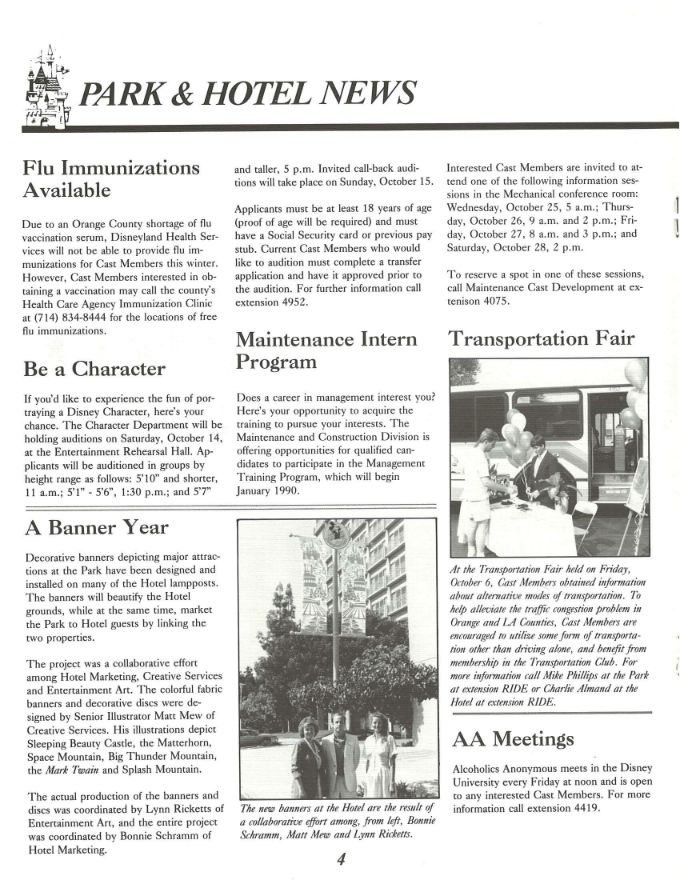 Along with some notifications for Cast Members, we also get a look at new banners that occupied the lampposts between the park and the Disneyland Hotel, designed by Matt Mew and featuring beloved attractions including Sleeping Beauty Castle, the Matterhorn Bobsleds, Space Mountain, Big Thunder Mountain Railroad, and the newly-opened Splash Mountain.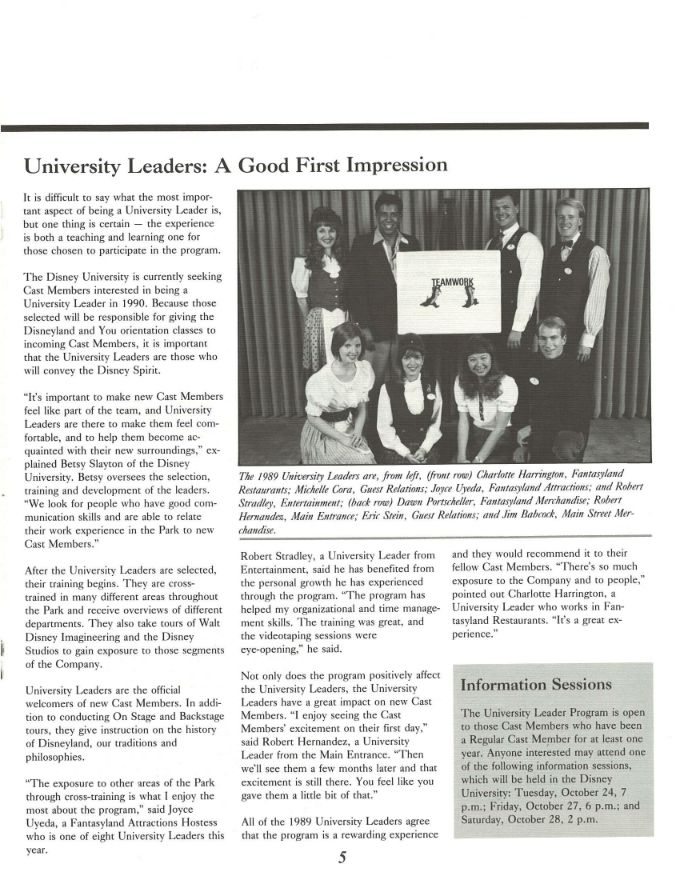 Meanwhile, the Disney University is looking for new University Leaders to give orientation sessions for incoming cast members in 1990. But the job does come with perks, with tours of different departments and Walt Disney Imagineering included.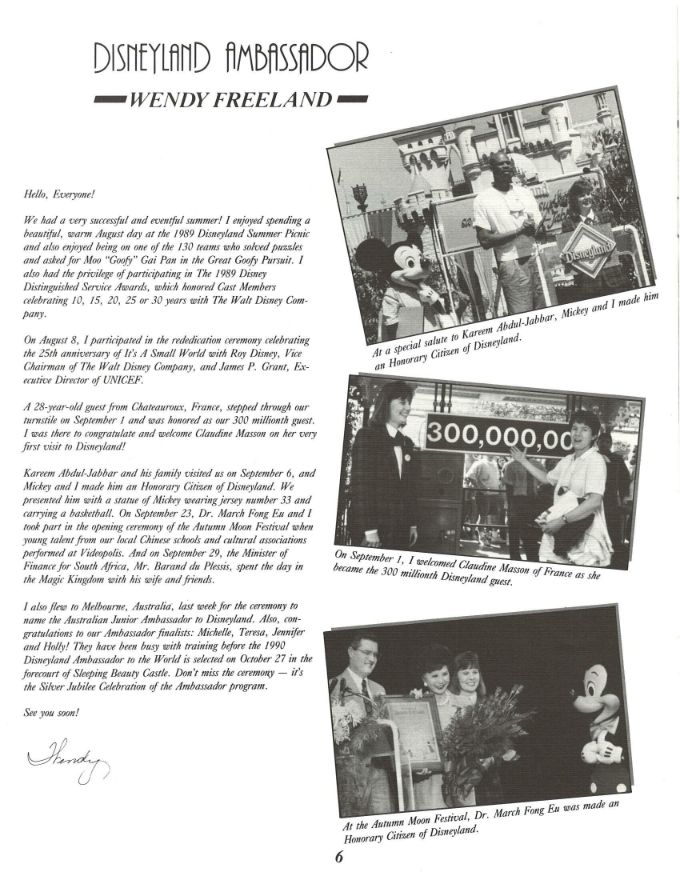 Disneyland Ambassador Wendy Freeland talks about her last few months in the role, including naming recently-retired basketball legend Kareem Abdul-Jabbar an "Honorary Citizen of Disneyland," rededicating It's a Small World to celebrate its 25th anniversary, welcoming the park's 300 millionth guest, and a trip to Australia!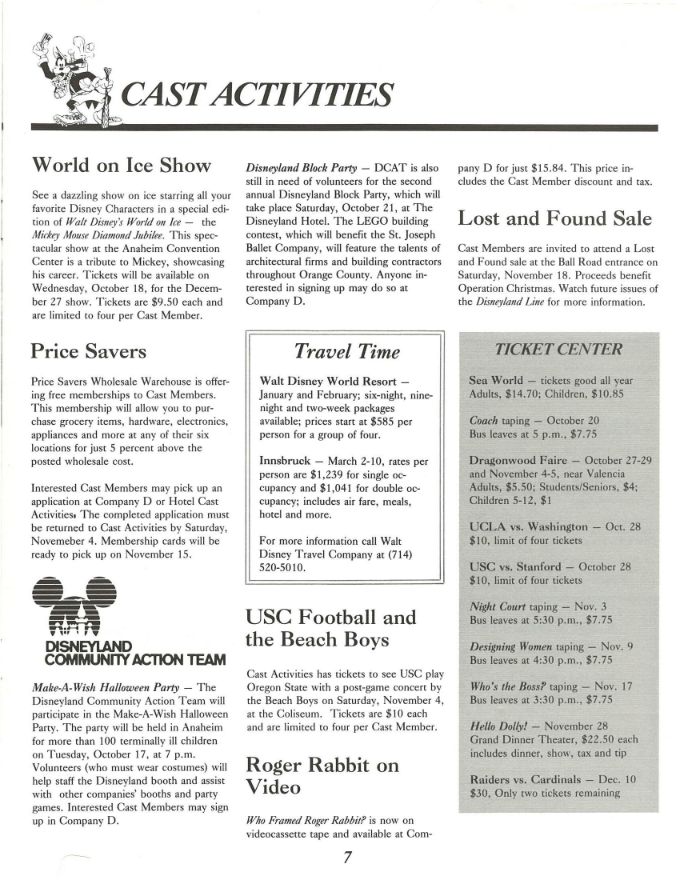 "Cast Activities" includes tickets to Walt Disney's World on Ice and a USC-Oregon State football game with a post-game concert by The Beach Boys, as well as tapings of popular and soon-to-be popular television shows like "Coach," "Night Court," "Designing Women," and "Who's the Boss?" For more involved (and expensive) trips, cast members could fly east to visit Walt Disney World, or even further east to Innsbruck, Austria.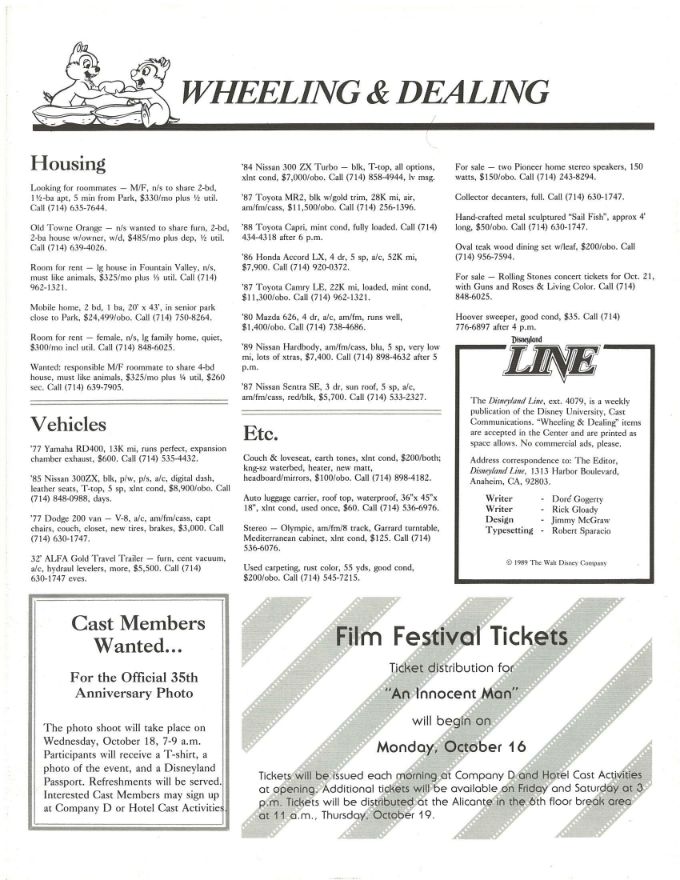 Beneath "Wheeling & Dealing," there's an ad looking for Cast Members to take part in Disneyland's official 35th Anniversary photo. With benefits like a t-shirt, Disneyland Passport, and a photo to commemorate the event, even I'd sign up. Two days earlier, Cast Members could see the new Touchstone Pictures film An Innocent Man, staring Tom Selleck and F. Murray Abraham.
From new marquees to new movies, there's plenty of fun for Cast Members at Disneyland!
MORE:
See the Beginning of the Disneyland Resort (and a Bit of WESTCOT Center) With this Early '90s Draft Environmental Impact Report
Celebrate the Disneyland Monorail System With This 1986 National Historic Mechanical Engineering Landmark Pamphlet
Find Adventure in Disneyland's Past With This 1957 Tom Sawyer Island Map