With Disney Parks around the world closed for the foreseeable future, WDWNT is dipping into our archives of vintage parks materials for a look back into parks history! "Safe-D" begins with you when you read these "Safe-D Facts" handouts from the Disneyland Safety Department!
Note: This article will detail these info sheets page by page, but WIGS Members will have access to download a full-resolution PDF of the entire thing. Head on over to Patreon.com/wdwnt to join WIGS, the WDWNT Inner Globe Society, for as little as $2 a month and unlock access to great content like this, and much more!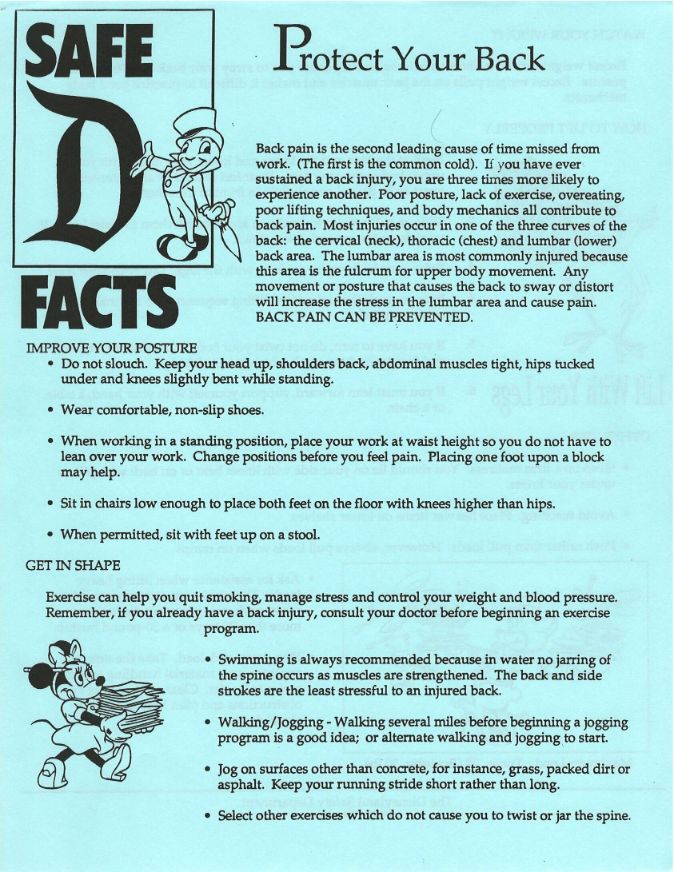 The first handout covers back pain:
"Back pain is the second leading cause of time missed from work. (The first is the common cold.) If you have ever sustained a back injury, you are three times more likely to experience another. Poor posture, lack of exercise, overeating, poor lifting techniques, and body mechanics all contribute to back pain. Most injuries occur in one of the three curves of the back: the cervical (neck), thoracic (chest) and lumbar (lower) back area. The lumbar area is most commonly injured because this area is the fulcrum for upper body movement. Any movement or posture that causes the back to sway or distort will increase the stress in the lumbar area and cause pain. BACK PAIN CAN BE PREVENTED."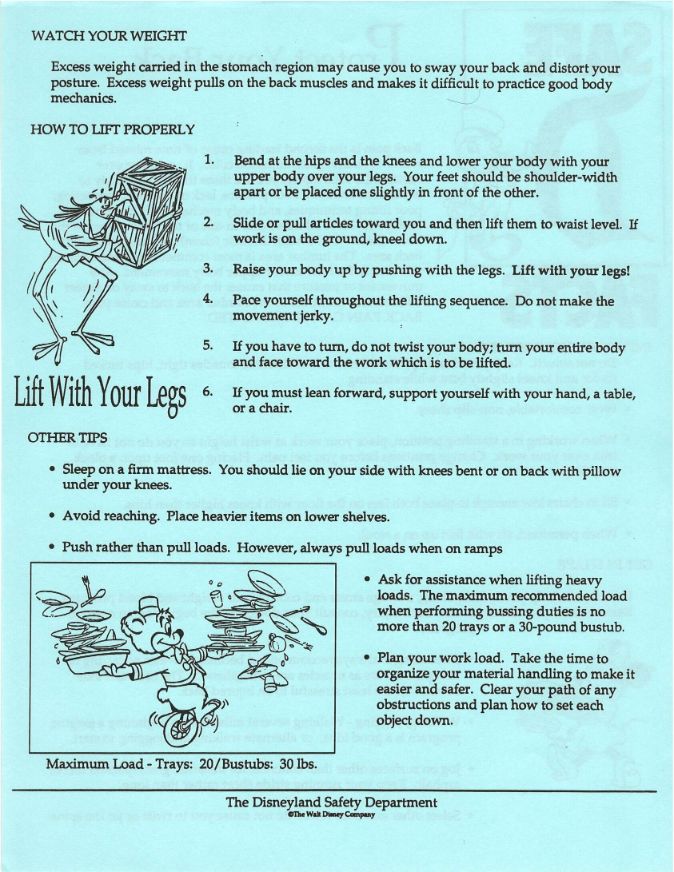 Be sure to wear comfortable shoes, lift with your legs, exercise regularly, and try not to bus more than 20 trays at a time, even if you are a unicycling bear.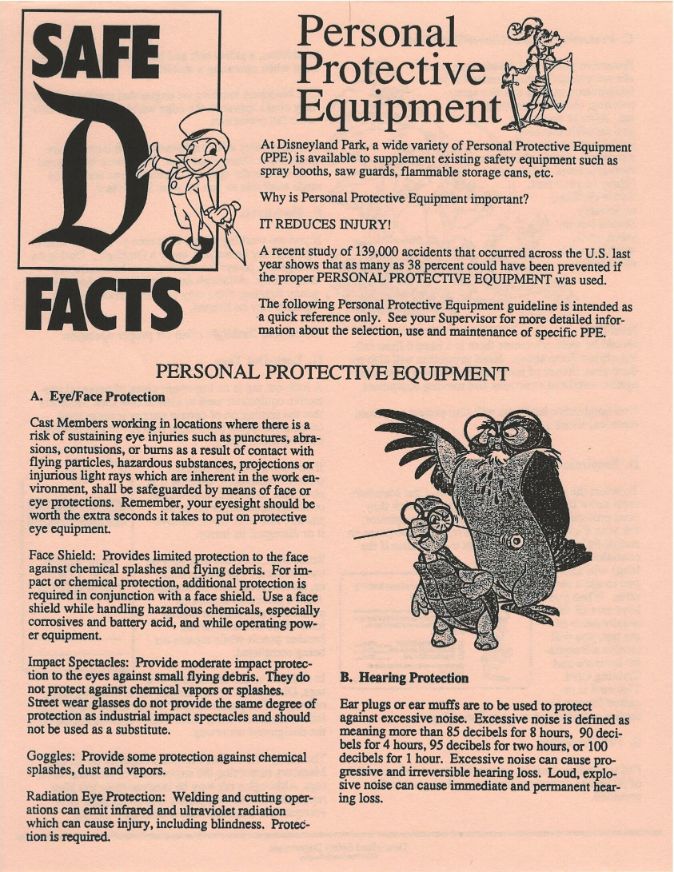 The next sheet covers a topic we've been hearing a lot about lately: Personal Protective Equipment, or PPE, including goggles, face shields, earmuffs, hard hats, protective gloves, and yes, even respirators.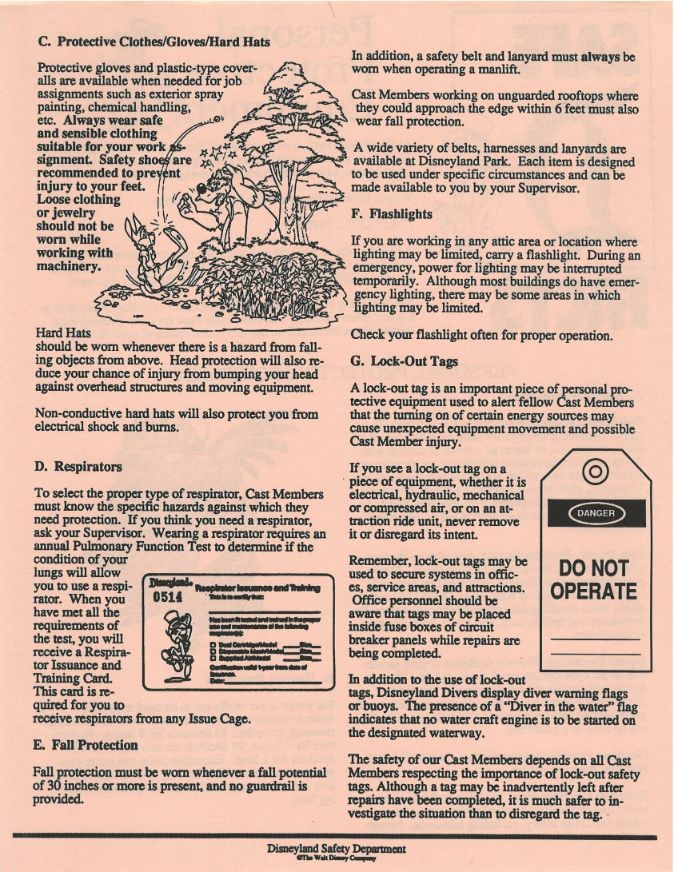 The "Respirators" section suggests that these handouts were given to Cast Members. All of these sheets feature characters from Disney's animated films. This one includes Br'er Rabbit and Br'er Bear.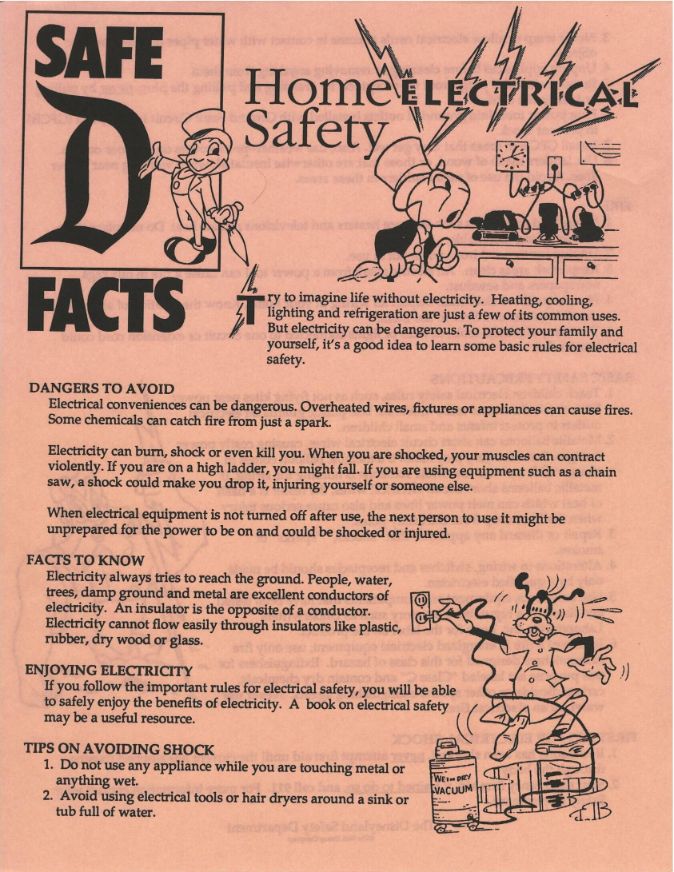 Our final sheet concerns home electrical safety. Naturally, Goofy serves as an example of what not to do, specifically using an electrical appliance while touching something wet.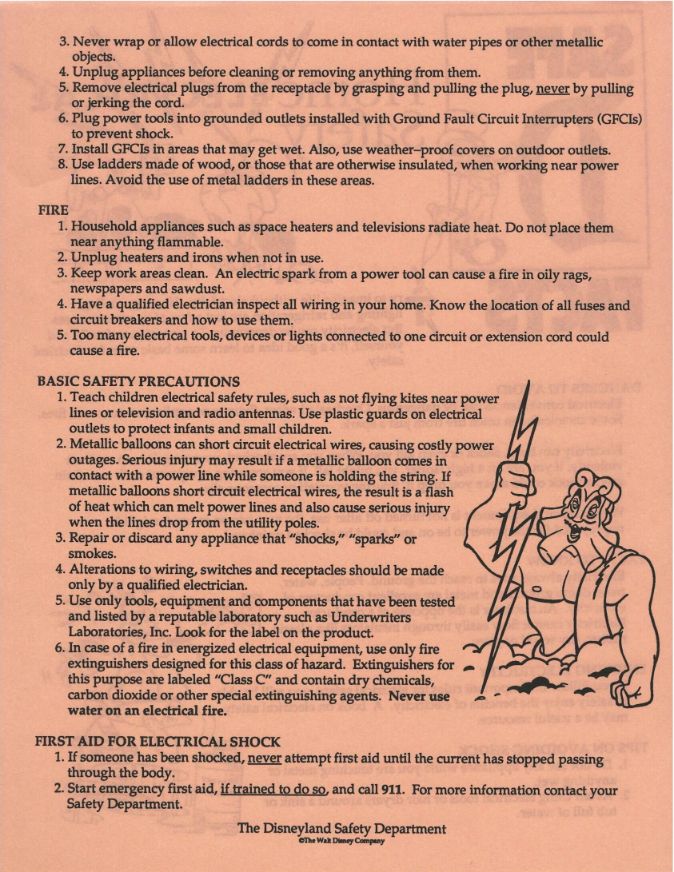 The back offers tips on basic safety precautions and how to prevent electrical fires. Remember to stay safe and always practice "Safe-D!"
MORE:
Walt Disney World Releases Resort Operations Update Regarding Phased Reopenings; Limited Capacity and Enhanced Safety Measures To Come
New Wild About Safety Tip Cards Being Distributed at Disney World
Celebrate the Disneyland Monorail System With This 1986 National Historic Mechanical Engineering Landmark Pamphlet