Last month, Build-A-Bear Workshop released the much-anticipated plush of "The Child" aka Baby Yoda from "The Mandalorian." The plush sold out quickly, but Build-A-Bear is releasing more plushes tomorrow morning. While information about the release is not available on Build-A-Bear's homepage, anyone on their mailing list has received information about the drop.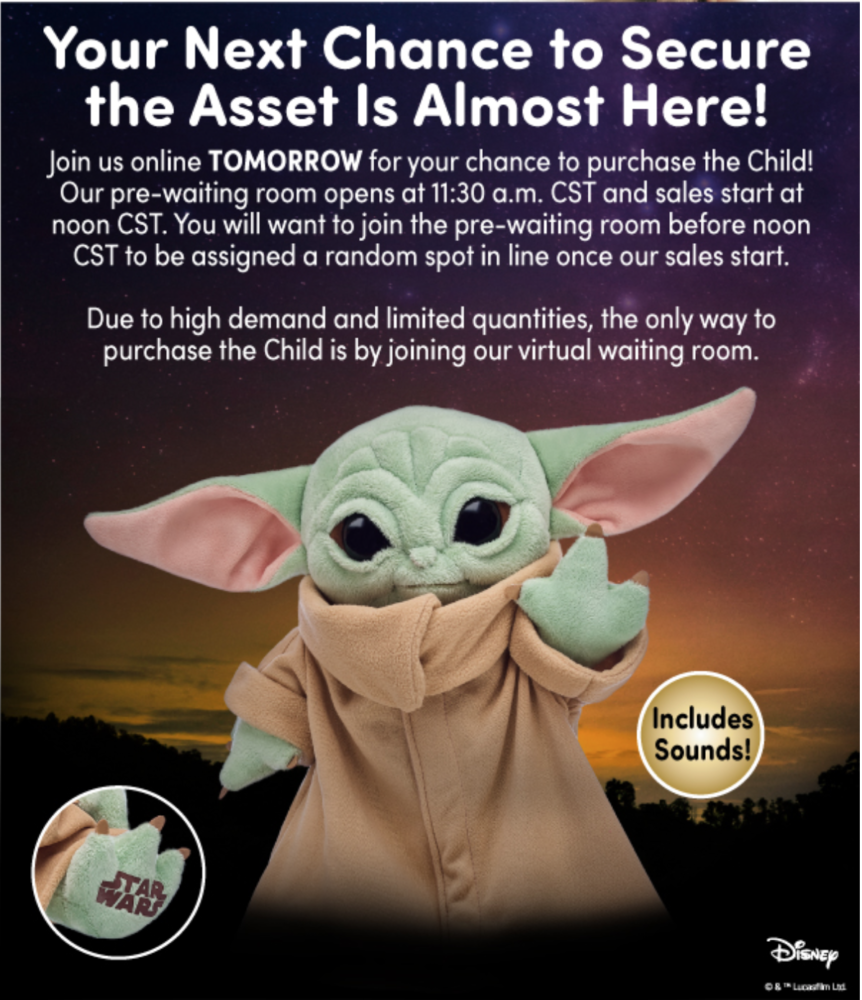 You'll be able to join the virtual pre-waiting room for this precious bounty at 11:30 a.m. CST. If you join the pre-waiting room, you will be assigned a random spot in line when sales open at noon CST. Anyone who joins after noon CST will be put at the end of the existing line.
While in the waiting room, you can sign up for email notifications to be notified when it is your turn to enter the site. You will then be automatically notified when it is your turn, and you will have a limited time to enter the Build-A-Bear website and make your purchase. Because of the high demand and limited quantities, not everyone who secures a spot in the waiting room will be able to purchase the Child at this time. He will be available again in the future, though!
Everyone's favorite Asset includes his brown robe and two sound chips, one in each paw. One is a 5-in-1 sound chip featuring some of the Child's signature sounds, and the other chip features "The Mandalorian" theme song. Assuming the bundle is the same as the last release, it will cost $59.75 and include free shipping.
You can check Build-A-Bear's FAQ to read about the virtual waiting room system and you'll be able to click here to join the pre-waiting room.