If you're a fan of the world-famous Jungle Cruise, your game night is about to get a whole lot wilder.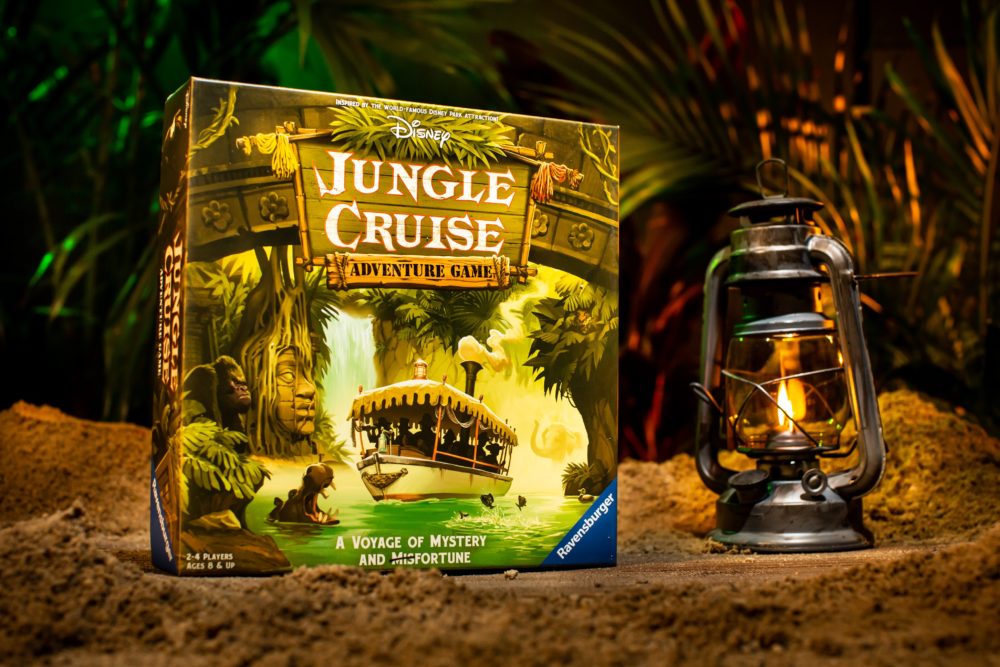 Ravensburger's board game based on the iconic Disney Parks attraction, the Jungle Cruise Adventure Game, is now available for pre-order on Amazon.com.
And while we don't know when guests will be able float down jungle rivers at Disneyland or the Magic Kingdom, and we're a long way from our boat arriving in movie theaters, we can say that you'll be able to play this game beginning June 1st.
Hop aboard, Skipper! Perils, puns, and the backside of water await you in the Disney Jungle Cruise Adventure Game, a voyage of mystery and ̵m̵i̵s̵fortune!

Watch It Played!: https://t.co/oU0RPvcKkb

Preorder: https://t.co/2NzvYQc24l#Disney #JungleCruise #RAVGames pic.twitter.com/xcEewp2KaZ

— Ravensburger North America (@RavensburgerNA) May 14, 2020
Here's an official description of the game:
Welcome to the world-famous Jungle Cruise! You've been hired to transport a boatload of cargo and passengers down the river to Jungle Navigation Company Headquarters. There, company president Alberta Falls will appoint one family of passengers as temporary caretakers—and your new bosses—while she goes on a much-needed sabbatical. Be prepared to lose passengers and cargo to dangers hidden in the jungle, but don't worry—you'll find more along the way! Find clues along the river to see which family Alberta has chosen. Transport the most valuable boatload of cargo and passengers to Headquarters to win!
Includes four paintable Jungle Cruise boat game pieces!

Classic gameplay with based on the beloved Disney Parks attraction

True to theme, every card has a Jungle Cruise joke for Skippers to tell as they play!
If you want to get a sense of how the gameplay works, Watch it Played has provided a playthrough tutorial on YouTube!
The game retails for $29.99, and once again, you can pre-order here!
Does this game float your boat, or is your interest sinking? Let us know in the comments below!
MORE:
New The Haunted Mansion "Call of the Spirits" Board Game by Funko Materializing This October
New Disney Jungle Cruise Adventure Board Game To Hit Shelves Summer 2020
New Disney Parks Hallmark Keepsake Ornaments Featuring Jungle Cruise, The Haunted Mansion, Fantasia, and More Coming Soon