If you were one of the people trying to add to your Minnie Mouse: The Main Attraction collection this past Saturday, I feel for you. But you should have known what to expect, because shopDisney shows no signs of getting their act together with these online merchandise releases.
If you haven't been following our trials and tribulations with shopDisney, you can go back and read about the broken site charging people multiple times for April's Minnie Mouse merchandise release, the Joe Rohde Ear Hat fiasco where the coveted set of ears sold out in seconds thanks to bots scooping up all the inventory before you and I even had a chance, and the May the Fourth disaster where a security breach exposed shoppers' account information to other users.
After the first two merchandise releases, shopDisney put in place a "virtual waiting room" for the May the Fourth release that we hoped would solve the problem. Unfortunately, it seemed to do nothing at all, and shopDisney tweeted almost two hours after the release time that they were aware of the "aware of the technical issues." That's pretty ridiculous, as I was aware of the technical issues right at 10:00 AM when the whole site crashed. That it took them almost two hours to acknowledge is problem is pretty poor customer service, to say the least.
Just when you think things were going to get fixed, it got worse. Thanks to a security breach of some sort, logged-in users were able to see other customers' account information. A number of customers claimed in the comments section of our article as well as social media that they had seen the account information of other users, and shortly afterward we saw several instances where users received an email that someone else had logged into their account. It is worth nothing that this security breach has still not been addressed by ShopDisney at all. Is it even legal to ignore customers notifying a company of security breaches?
So it was with trepidation that I logged on to shopDisney on Saturday to attempt to purchase some of the Minnie Mouse merch. Before the 10:00 AM ET release, I was greeted with another virtual waiting room message. At least this time, the waiting room was open before the site crashed right at 10AM.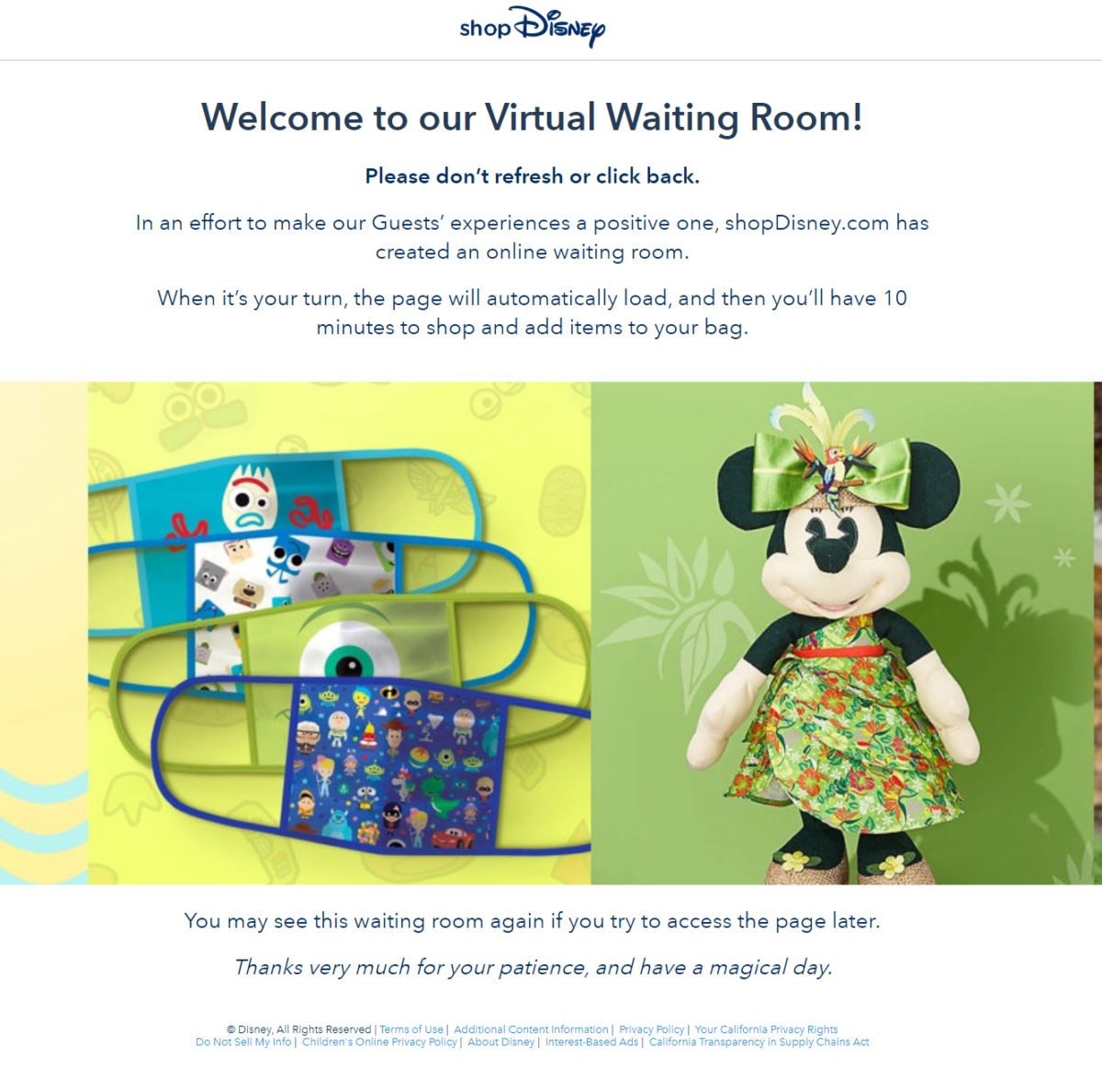 Other than a different graphic, it seemed to me that this virtual waiting room was no different than the one that didn't work on May the Fourth. After I was able to access the site, I still couldn't add products to my bag without several attempts, and checkout didn't work at all.
At 10:29AM, shopDisney tweeted that "due to overwhelming demand" they were having technical difficulties, surprising no one.
Due to overwhelming interest in today's release, we're currently experiencing technical difficulties. We apologize for the inconvenience and thank you for your patience as we work with our partners to quickly rectify the situation.

— shopDisney (@shopDisney) May 16, 2020
Perusing the replies to that tweet shows a plethora of angry shoppers, some of whom spent hours trying to buy this merchandise only to find it sold out.
But what makes the situation worse is that part of the issue with all of these merchandise releases is that automated bots are swooping in, bypassing the waiting room, and placing multiple orders for these items, while us humans are attempting to check out in vain. And the people running the bots are doing it purely to profit by reselling the merchandise on eBay. How do we know this? Because they brag about it all over Twitter.
We absolutely destroyed Disney this morning, memebers had already carted the pin last night with our method and our early link. A lot groups also spread false information, the actual stock that was loaded onto the site was 1,398 making it a very limited pin. 😄✅ pic.twitter.com/QE0ZJckXkL

— Jigged (@JiggedIO) May 13, 2020
3 words IHOF IS GOAT @IHOFUN pic.twitter.com/VfAHKd7722

— Luke Parsram (@LParsram) May 16, 2020
@IHOFUN thank you!!! I copped 6x 😤❤️ pic.twitter.com/I6shg4QV6O

— Gerald (@mukoi) May 12, 2020
Shop Disney doesn't ship to the same address? They do, and they support reselling 🙄😆☕️🐸 https://t.co/cI5QI6RCC2

— Jigged (@JiggedIO) May 16, 2020
As a Disney collector, this makes me angry that these people are simply reselling their purchases at inflated prices on eBay, while I can't even click the checkout button. Note also that access to the bots is restricted and costs money, so the bot makers are getting a windfall at the hands of desperate Disney shoppers. At least when there's a merchandise release in the parks, I have the option of waking up at 3AM to get in line, and the limit of one or two items is enforced. These people are not only evading the waiting room, they are evading the limits and placing multiple orders with fake accounts to get 4, 6, or more of items that are limited to one per person. This has been going on for over a month now and shopDisney refuses to address the problem, refuses to fix their broken shopping site, knowingly allows bots to place multiple orders, and refuses to accept any accountability or responsibility for all of these problems. In this day and age, hundreds of well-known companies run online shopping sites, and none of them are as bad as shopDisney. In fact, Disney is releasing their Year of the Mouse Mickey Plush series on Amazon, presumably because they know shopDisney can't handle it.
shopDisney higher-ups must know about these problems, as their tweets get hundreds of replies and complaints. But they refuse to do anything to fix it. Why? I wish I knew. Either it's gross incompetence, managers who don't care, or maybe they are actively trying to anger their customers. In any case, this is not a very good way to do business, and certainly not worthy of the Disney brand. Unfortunately, the Walt Disney Company of today continues to show that they are not the same as the Disney I grew up with in the '80s and '90s, and that makes me sad.