With Disney Parks around the world closed for the foreseeable future, WDWNT is dipping into our archives of vintage parks materials for a look back into parks history! It's February 1978, and the Matterhorn Bobsleds are getting an intimidating resident in this issue of "The Disneyland Line," a newsletter for park Cast Members!
Note: This article will detail the newsletter page by page, but WIGS Members will have access to download a full-resolution PDF of the entire thing. Head on over to Patreon.com/wdwnt to join WIGS, the WDWNT Inner Globe Society, for as little as $2 a month and unlock access to great content like this, and much more!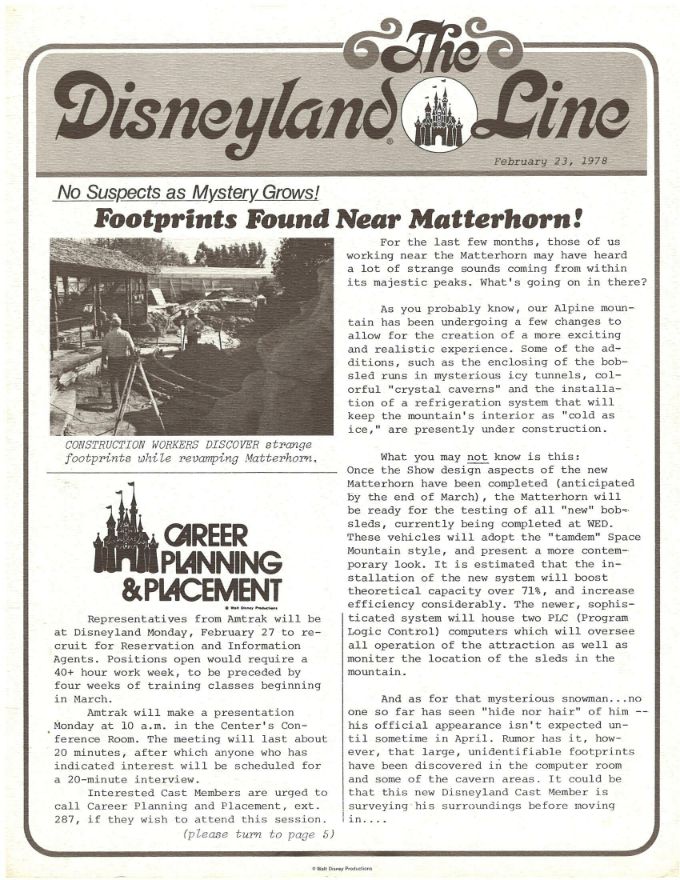 As was alluded to, the cover story focuses on the massive refurbishment going on at the Matterhorn Bobsleds, with the addition of caves and tunnels to create a more detailed and "realistic" experience. But the biggest addition of all was the Abominable Snowman, affectionately dubbed Harold by Imagineers:
"And as for that mysterious snowman… no one so far has seen 'hide nor hair' of him — his official appearance isn't expected until sometime in April. Rumor has it, however, that large, unidentifiable footprints have been discovered in the computer room and some of the cavern areas. It could be that this new Disneyland Cast Member is surveying his new surroundings before moving in."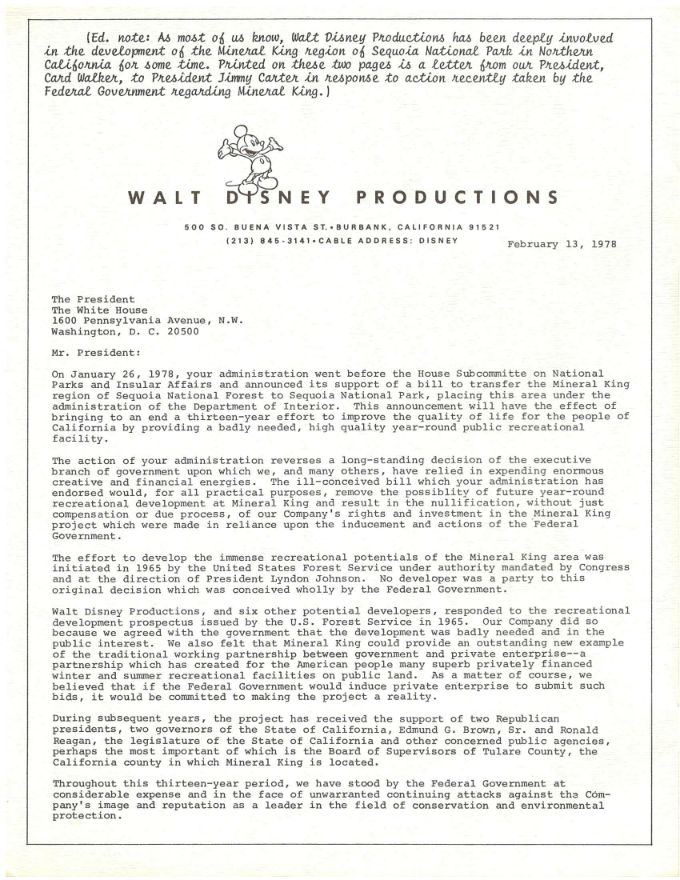 We then get a reprinting of a two-page letter from Disney President and CEO Card Walker to President Jimmy Carter regarding the administration's support of a bill to transfer the Mineral King area of Sequoia National Forest to Sequoia National Park. At the time, Disney was still developing a potential ski resort for the area.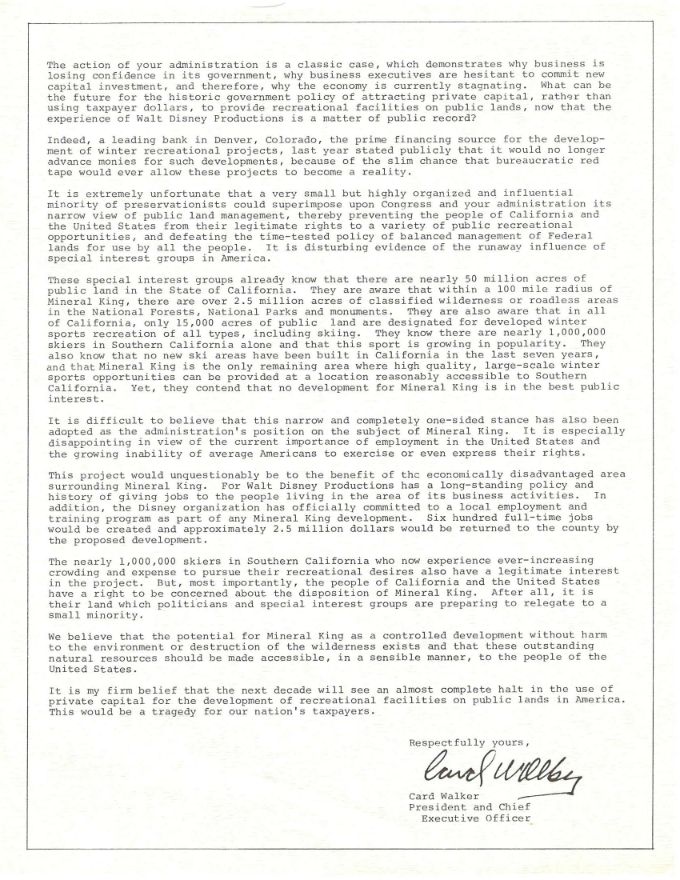 Ultimately the bill passed, ensuring Mineral King's preservation and ending the company's thirteen-year involvement in the area started by Walt Disney himself.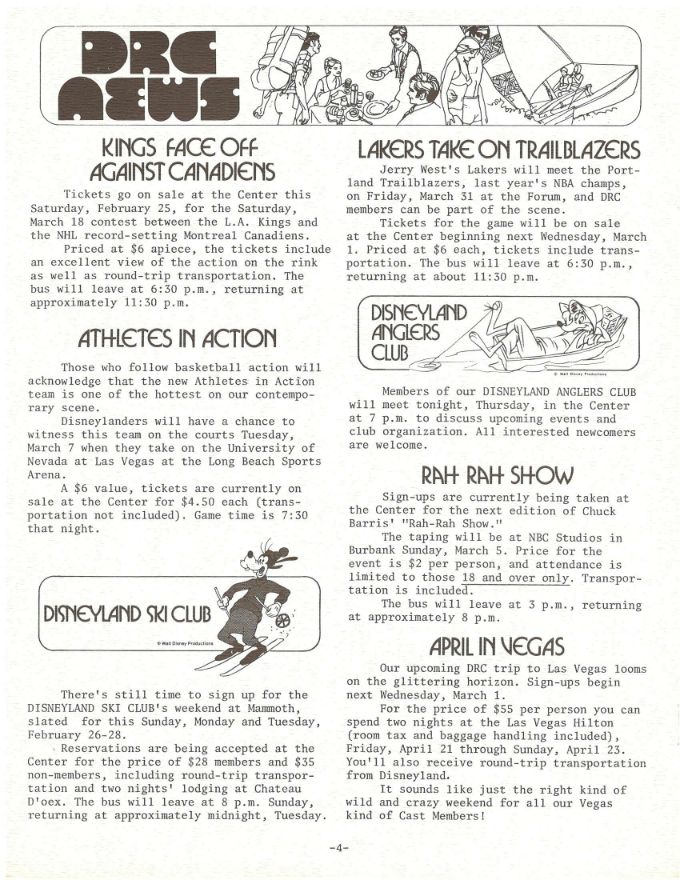 Elsewhere, "DRC News" offers cast trips big and small, from a taping of the "Rah-Rah Show" and Los Angeles Kings and Lakers games, to overnight trips to Mammoth Mountain, Hearst Castle and Las Vegas. (Personally, I'd go to the Kings-Montreal Canadiens game, mostly because the visiting Canadiens would win the Stanley Cup that season.)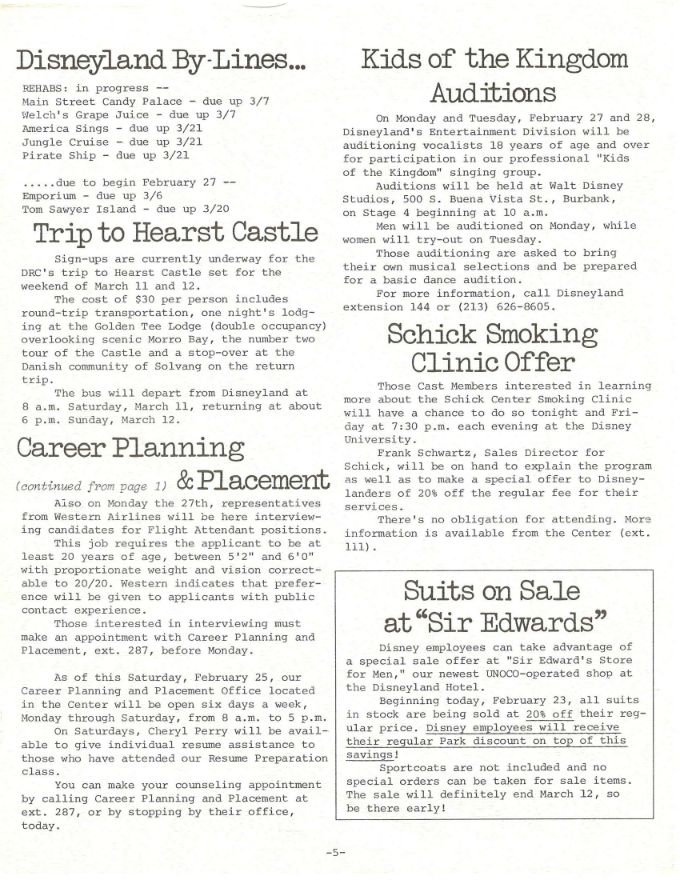 On the following page, we get a rehab schedule, with work underway on the Jungle Cruise and America Sings, and about to begin on the Emporium and Tom Sawyer Island in March. But who has time for that when there's a suit sale going on at the Disneyland Hotel?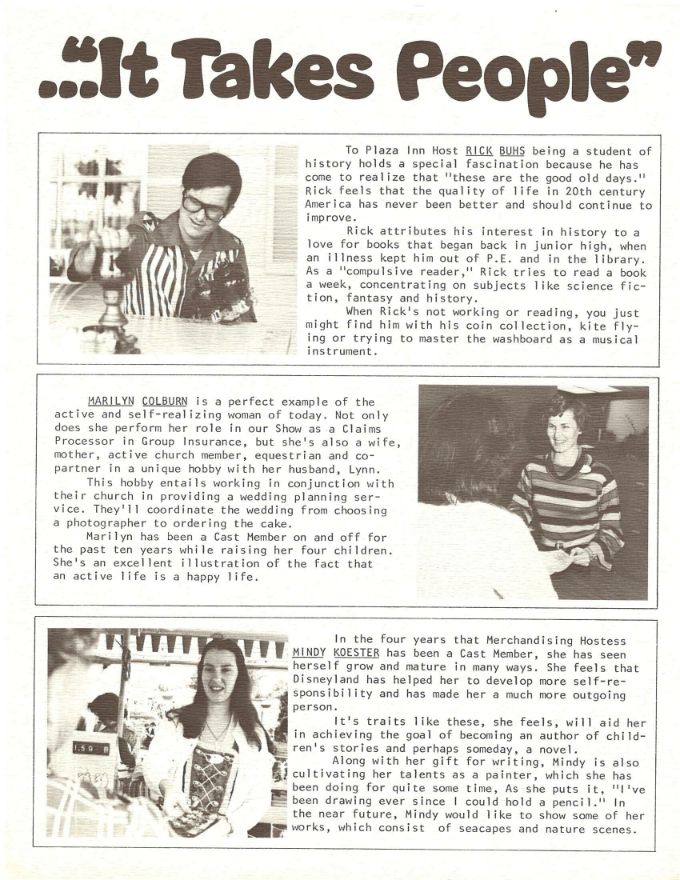 "…It Takes People," taking its name from a Walt Disney quote, salutes a trio of Cast Members who work hard to make the magic of Disneyland happen.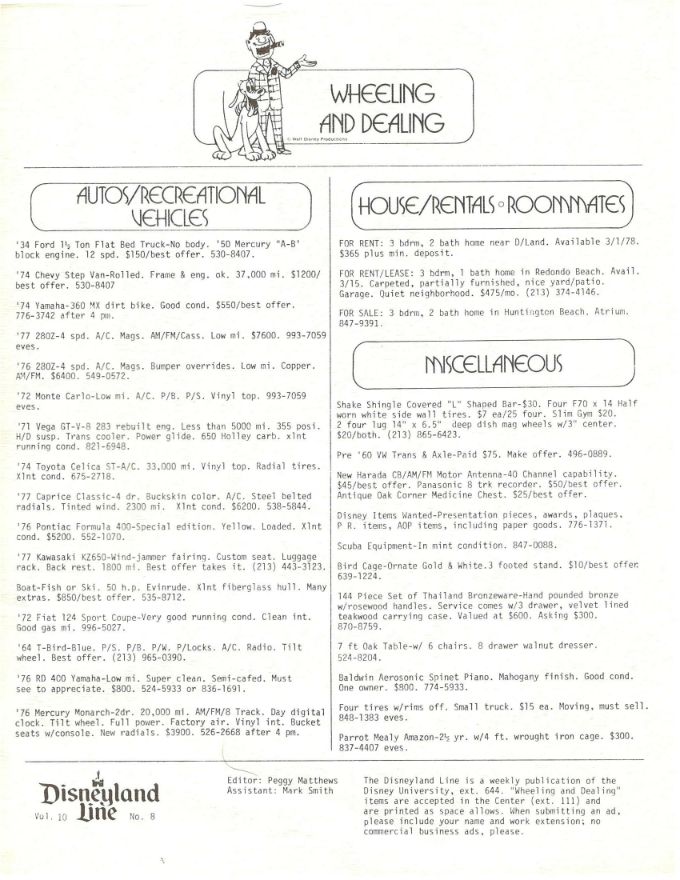 Anybody in need of a used car? Or a birdcage? Or scuba equipment? You can find it in the "Wheeling and Dealing" section!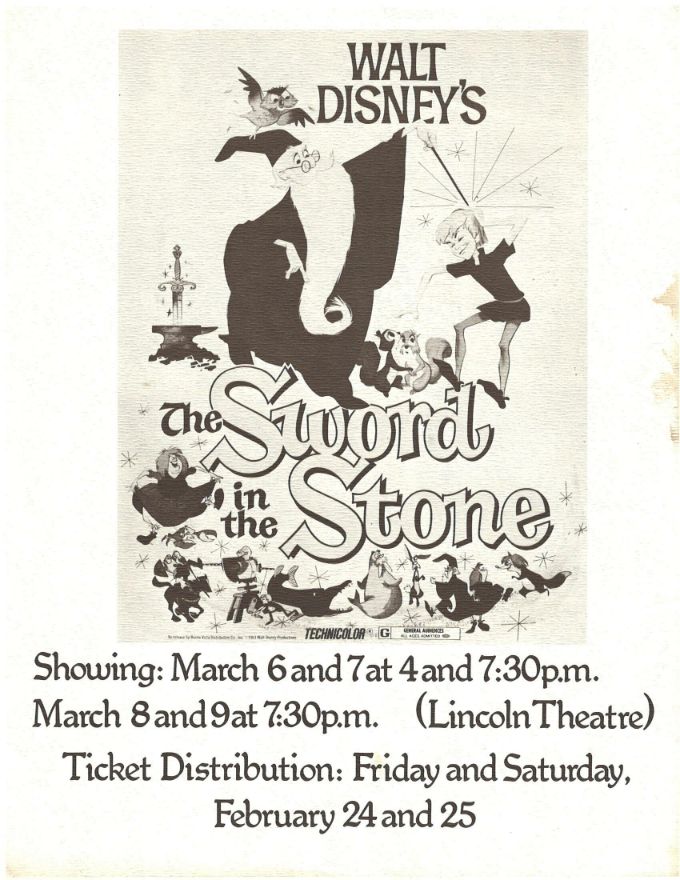 The final page offers a special screening of The Sword in the Stone just for Cast Members. All in all, things are pretty busy at Disneyland in 1978!
MORE:
Take a Super '70s Trip to the Vacation Kingdom of the World With This Walt Disney World Vacation Guide from 1979
See Walt Disney Productions in the Early '70s With the 1973 Annual Report – Part One
See Walt Disney Productions in the Early '70s With the 1973 Annual Report – Part Two