With an empire revolving around travel, movies, and large crowds descending upon crowded theme park attraction openings, the Walt Disney Company has been among the most impacted throughout the COVID-19 pandemic. However, despite initial Phase 1 reopenings taking place across Florida today, Walt Disney World remains shuttered with no reopening date in sight. As we move towards a post-pandemic society, it's the after-effects of all these impacts that are starting to concern analysts, and just a day before the company is set to announce its Q2 earnings, Walt Disney Company stock has been downgraded yet again.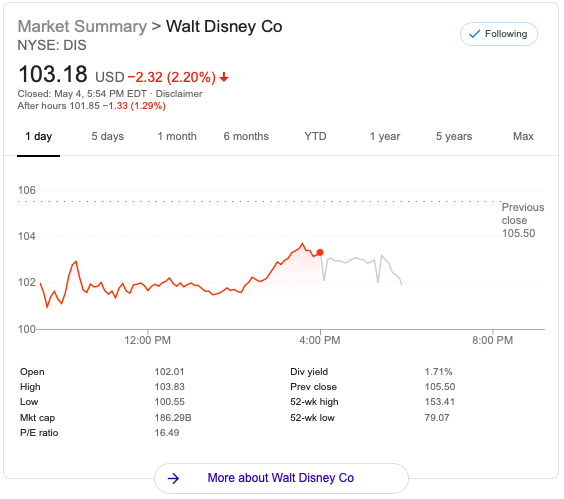 According to MoffettNathanson's Michael Nathanson, the long-term effects of the COVID-19 pandemic will continue to impact the company long after the health crisis is over. Nathanson downgraded shares of Disney (DIS), -2.19% to neutral from buy today. In a research note, he wrote:
"The company's leadership, strategic positioning, asset mix and brand equity have consistently delivered for their investors. We are downgrading Disney to neutral not because we have lost faith in those attributes, but rather because we believe there are a number of risks that could lead this unprecedented event to have a longer impact, with earnings revisions massively skewed to the downside."
Shares were down 3.7% this morning, with stock falling 30% in the past three months. Between the effect the pandemic has had on the business' media networks, parks, and movie studios, Disney may be feeling the economic impact of the shutdown for longer than many anticipate, especially with the potential for a second wave of infections.
This has been a year of record cancellations, and despite phased reopenings in the future, guests are still wary of all the restrictions that will be in place if they return as soon as the parks reopen. Given record-breaking rates of unemployment during the health crisis, most consumers might also put off vacation spending until the economy levels out. Massive furloughs are just one way the company is mitigating revenue loss during the closure.
When it comes to films and film advertising, the company has to navigate the fact that movie theaters are also still shut down in many places, not to mention release dates are constantly getting shifted, and even once theaters do begin to reopen, not many consumers will be running to share a theater in close quarters with other strangers.
With the exception of Disney+, the company's media networks, like ESPN, are struggling to fill airtime with the lack of live events or sports, leading to significant TV advertising declines––another bleak point brought up by Nathanson.
To date, the Walt Disney Company has accrued $13 billion in debt and credit agreements in order to mitigate the financial effects of closing down its parks and film studios. We expect to hear more about the company's performance and final Q2 numbers during the earnings call tomorrow.
Source: MarketWatch