Although there is sadly still no official reopening date for the Disneyland Resort, the phased reopening of the Downtown Disney District has begun. With this return comes the strict enforcement of health and safety regulations, and one of the most pressing protocols throughout the COVID-19 pandemic is the use of face masks. The Disneyland Resort has just updated their policy surrounding face coverings for all guests visiting Downtown Disney, so if you are planning a trip this summer, read on…
The official policy wording reads as follows: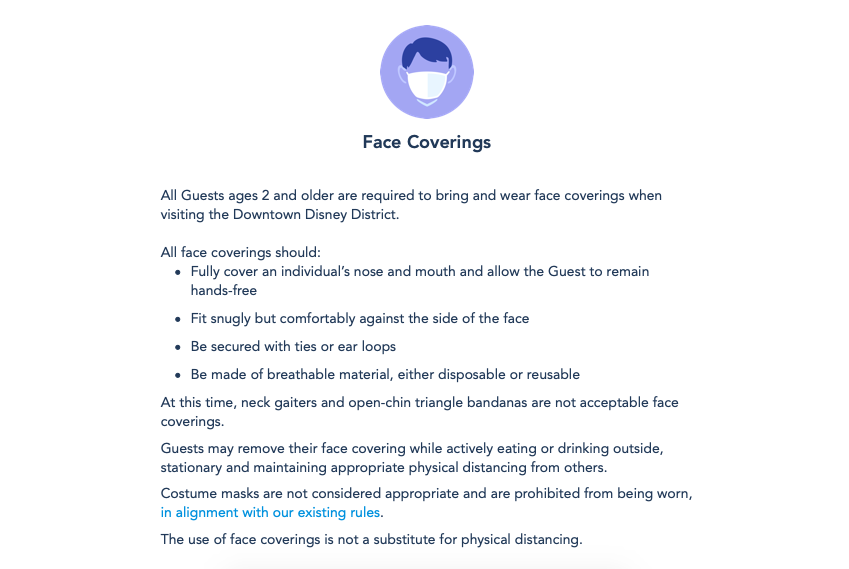 Now, all guests over the age of 2 are required to bring and wear a face covering while they are visiting the resort. Similarly to recent updates in Walt Disney World, the use of neck gaiters and bandanas are not acceptable coverings, nor are costume masks, as per existing rules.
Another notable update has also been seen over at Walt Disney World this week, in that guests must remain stationary while eating or drinking outside. This rule is enforced to prevent guests walking around the area with a beverage, for instance, as a way of keeping their face mask off.
Finally, the policy reinforces the fact that the use of face coverings is not a substitute for physical distancing, which must still be adhered to at all times.
What do you think about this new face mask policy for the Disneyland Resort?