"Here you leave today and enter the world of FuelRod kiosks, churro toffee, and merchandise."
While Walt never actually said that about Downtown Disney, that doesn't mean we can't enjoy all that's mentioned. Join us in our most recent visit to the Disneyland Resort to take a look at new face masks in World of Disney, sweets in Marceline's Confectionery, sunset over the Esplanade, and more.
Arrival Process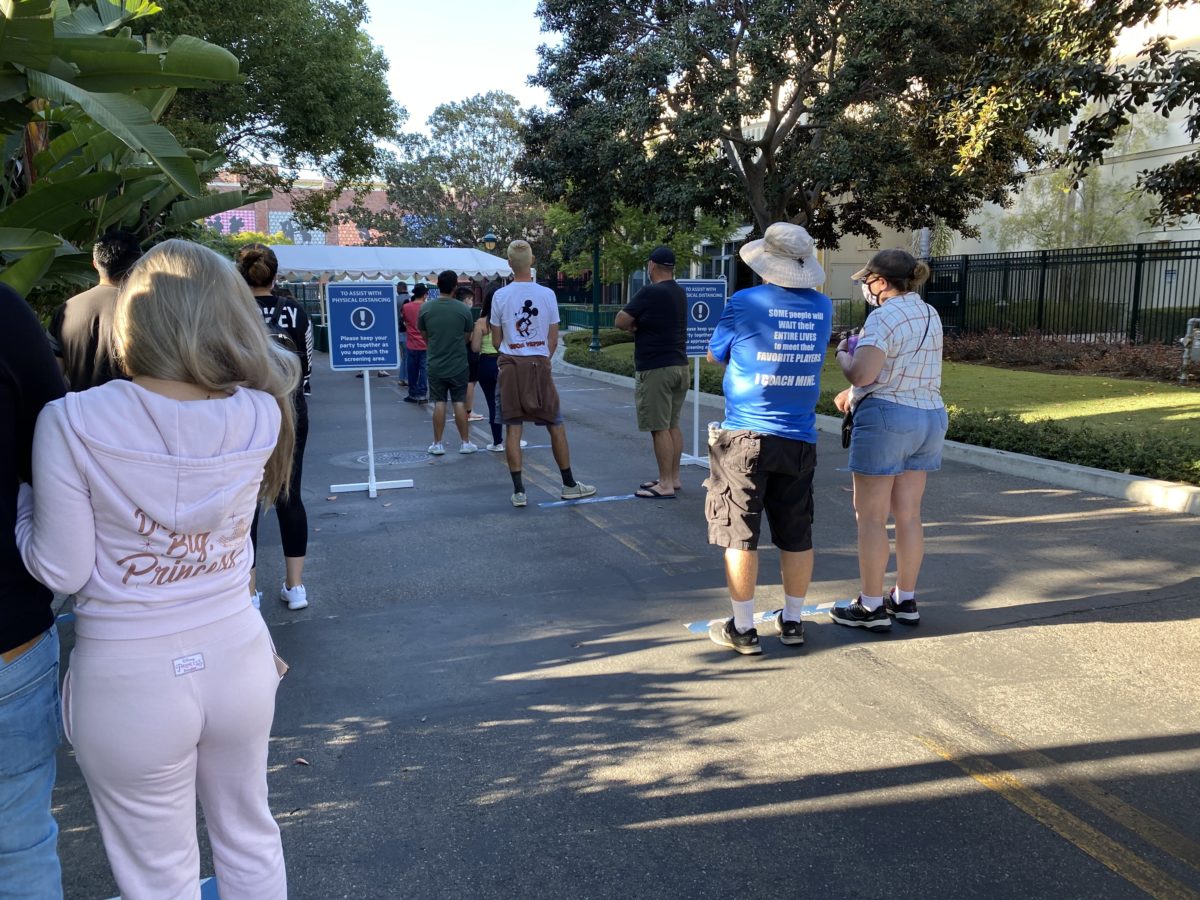 Around 6 pm, there was a bit of a line.  It is asked that parties stay together in line and as they are approaching the screening area. It took about 10 minutes to get through temperature screenings and security.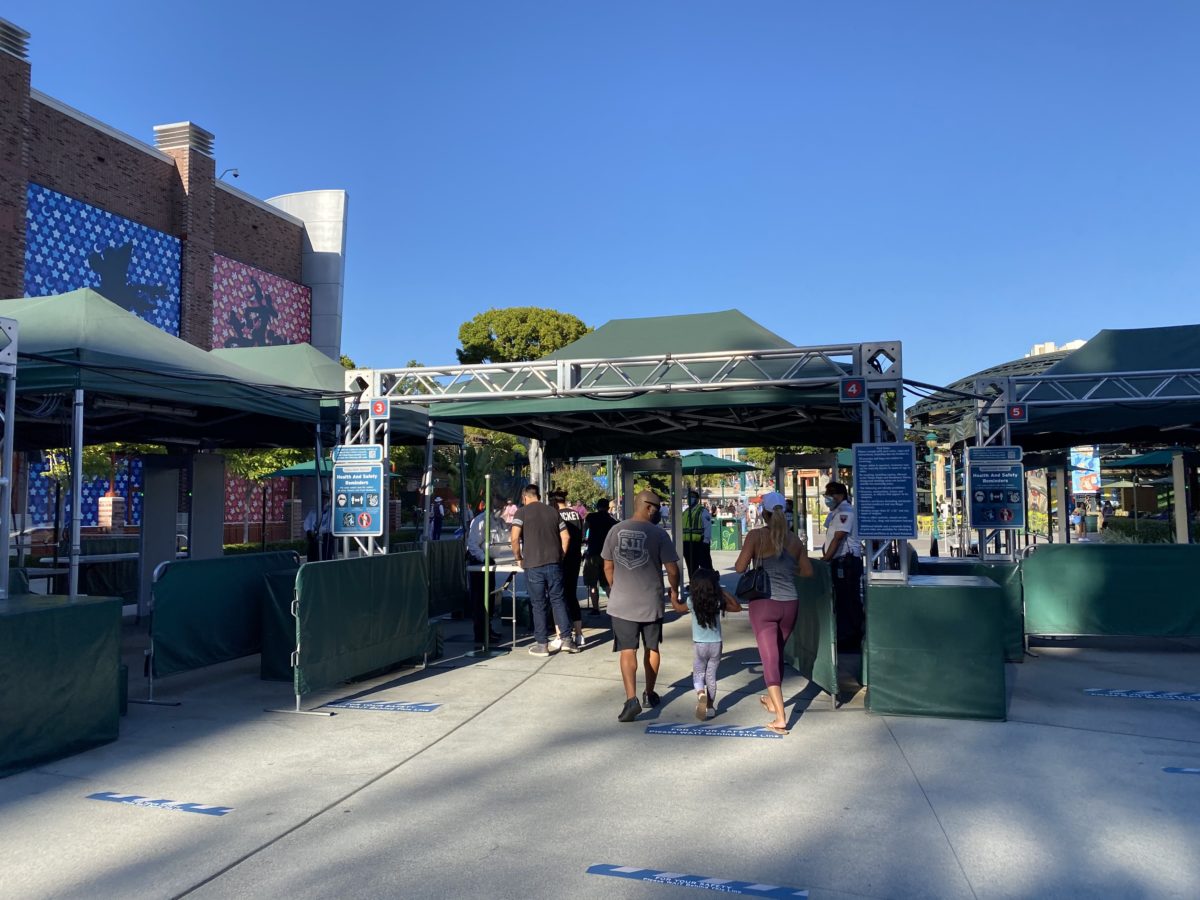 Once you pass your temperature check, a Cast Member will direct you to a security line depending on whether you have a bag or not.
Downtown Disney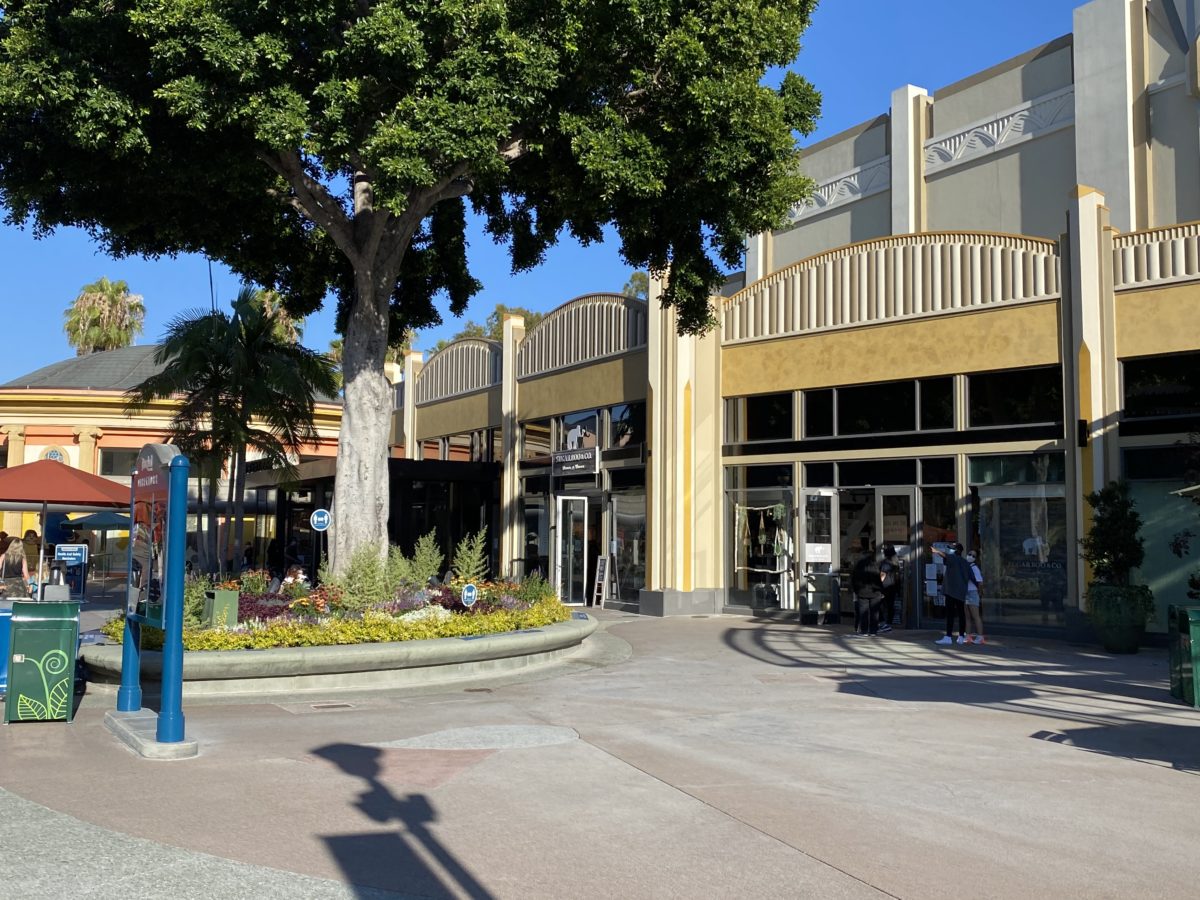 A few guests waited on social distancing markers outside Sugarboo & Co.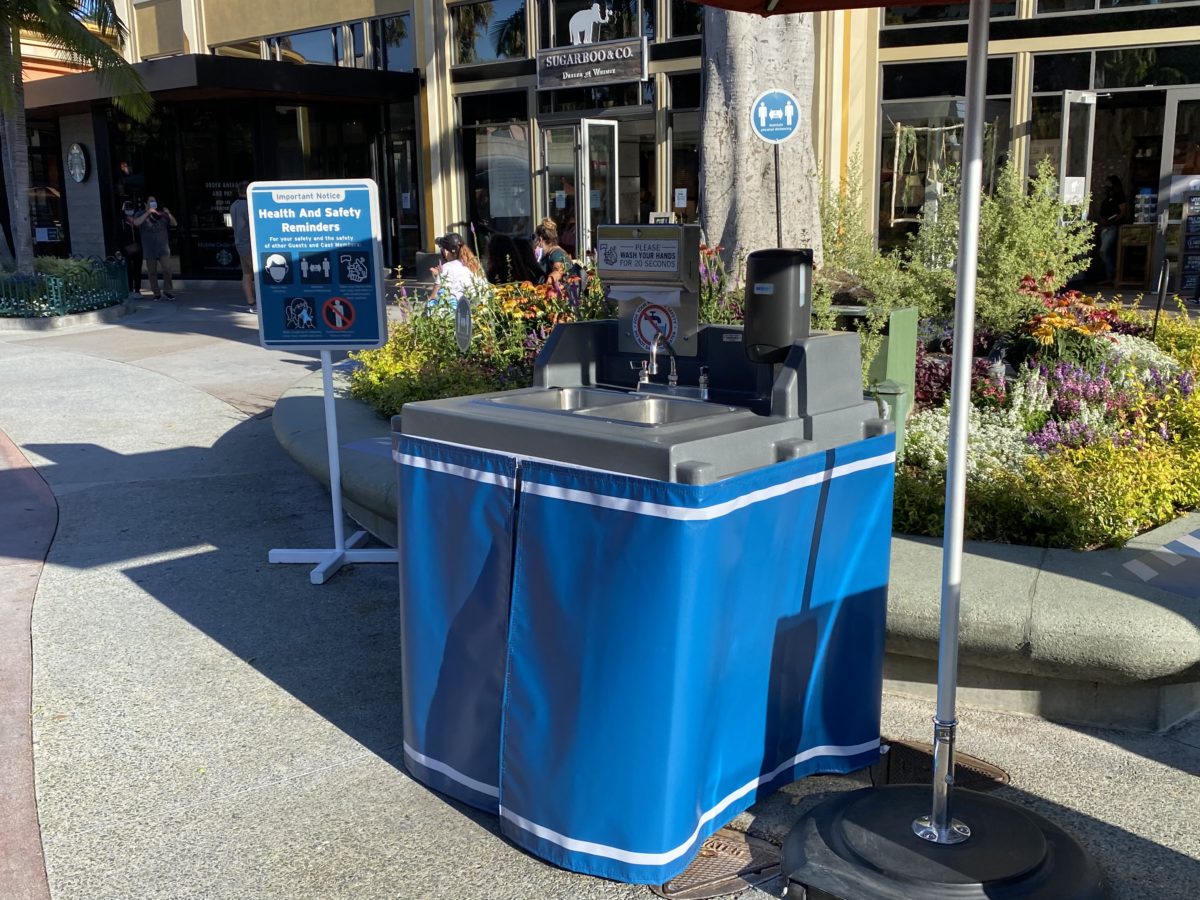 More disinfecting stations have been popping up in the walkways near seating areas.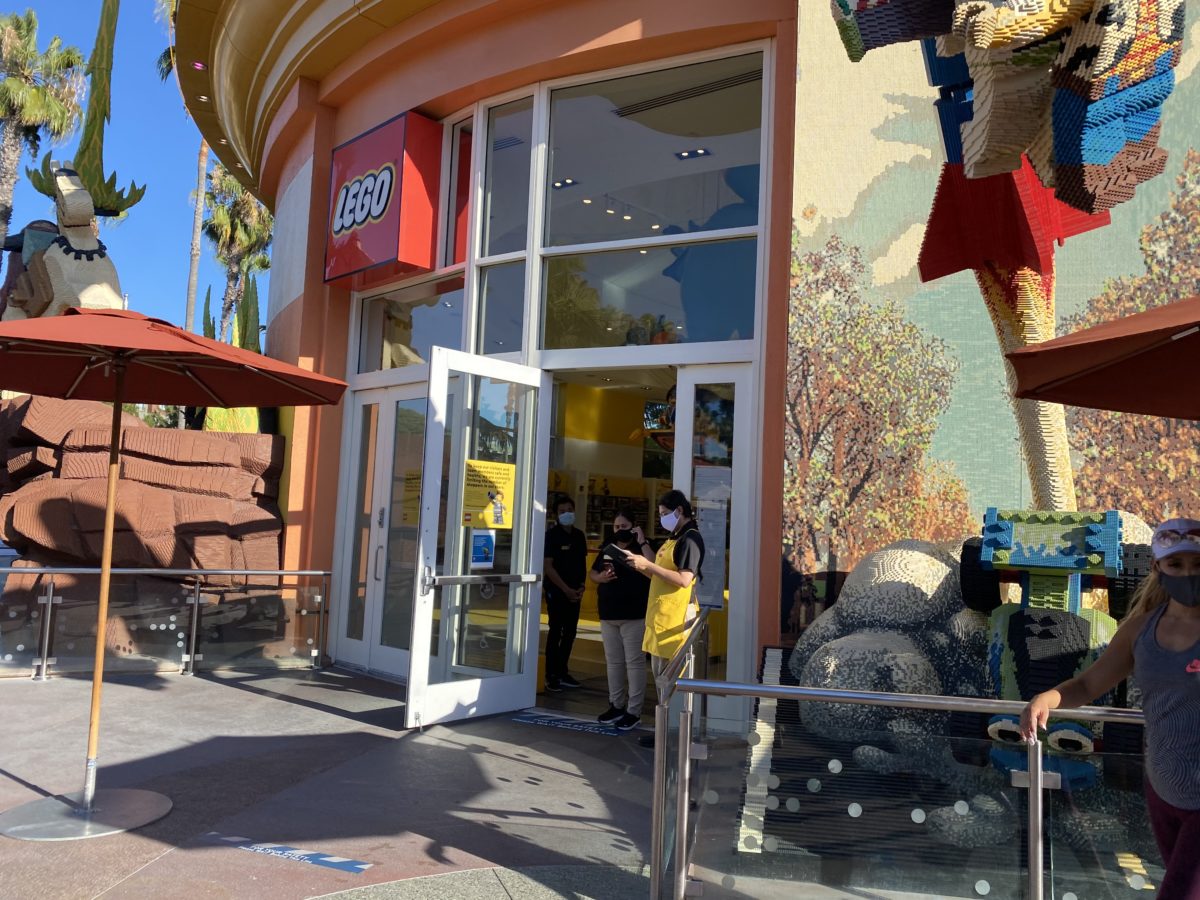 The LEGO Store had a 25 minute wait around 6:15 pm.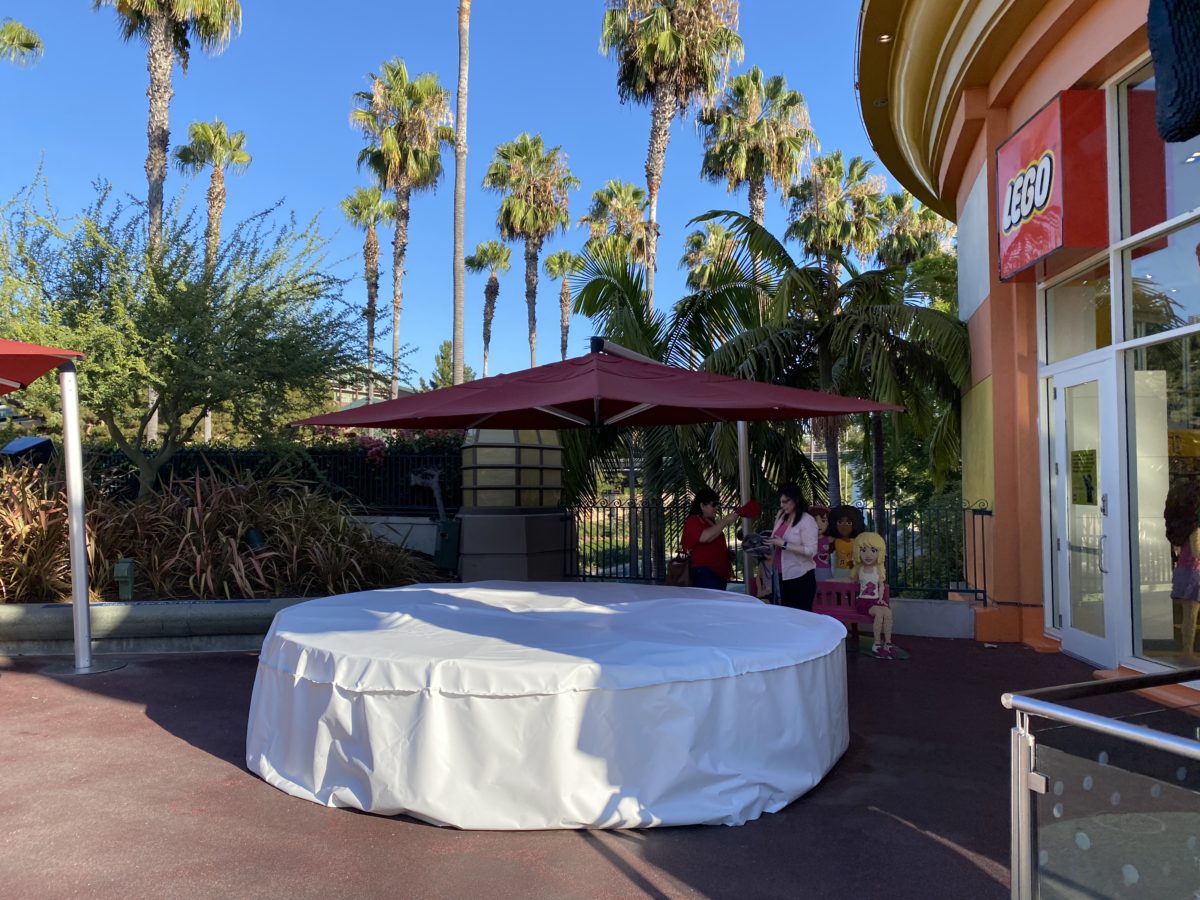 The interactive LEGO area outside the store has been closed.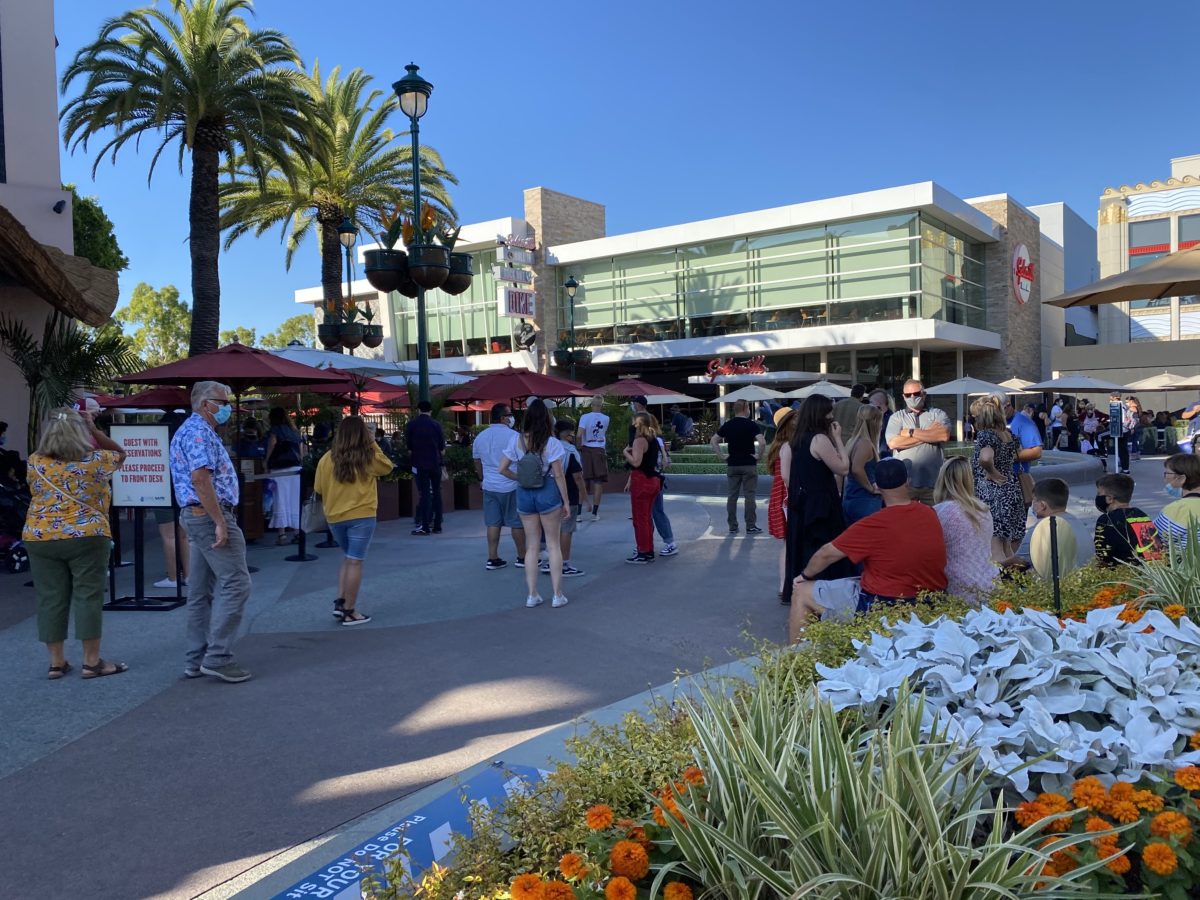 Tortilla Jo's was busy tonight as guests waited outside the entrance for their reservations to be called.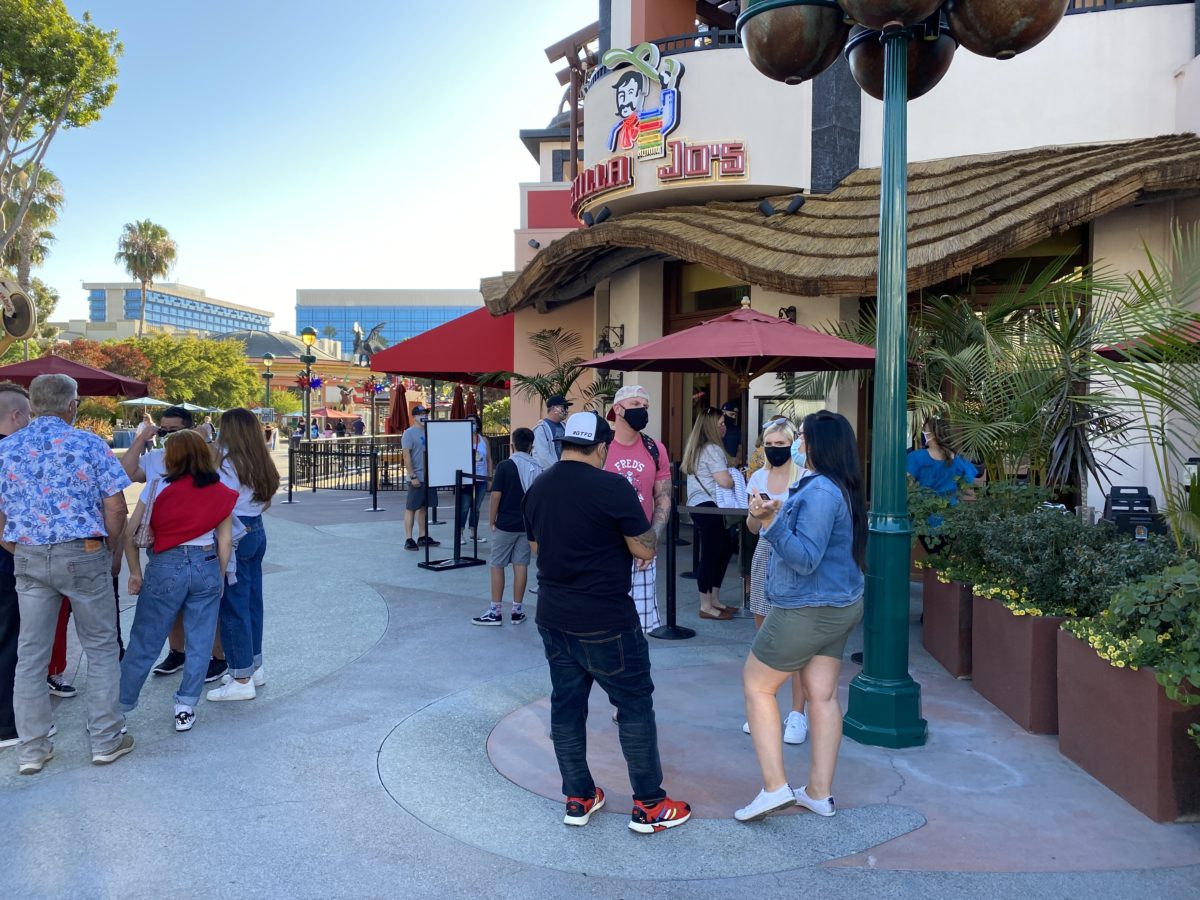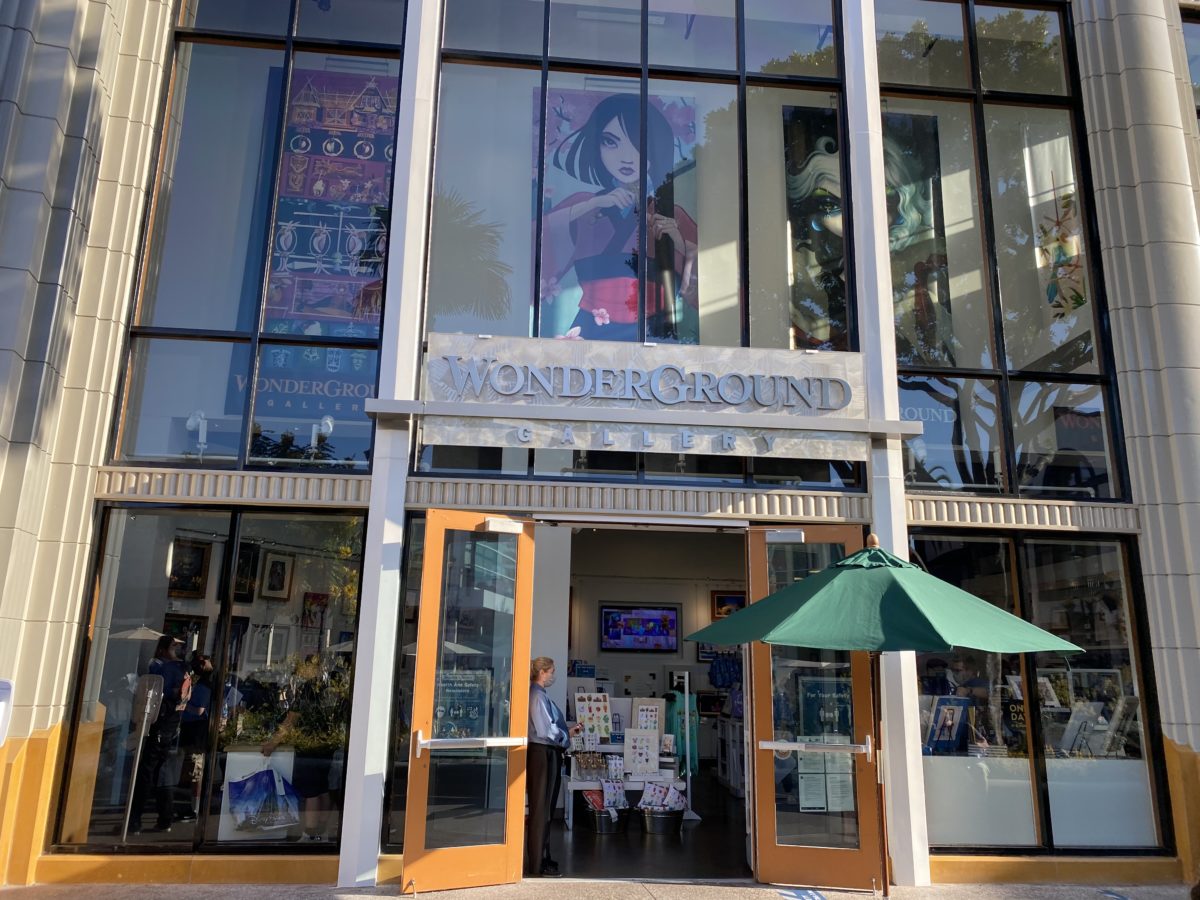 The WonderGround Gallery had no wait today.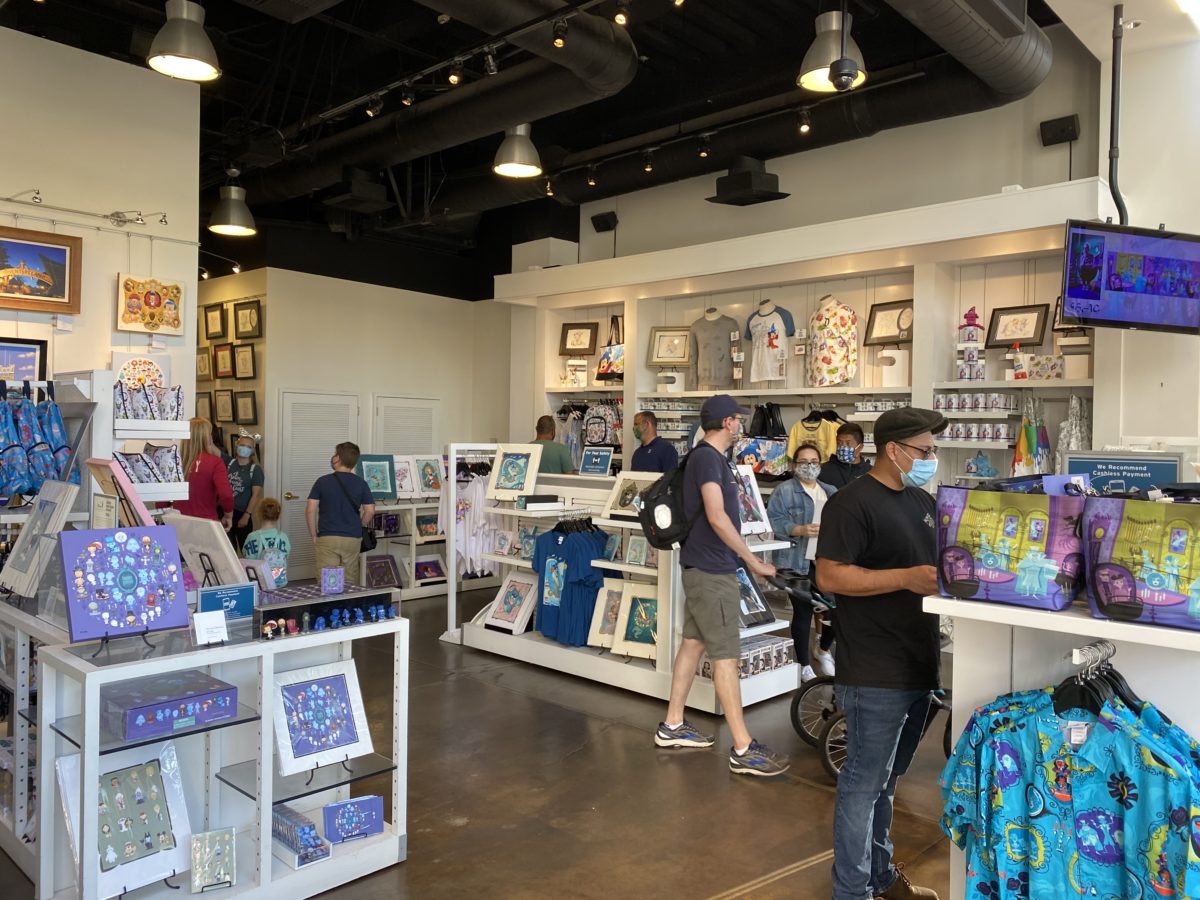 This store is always a pleasure to shop in.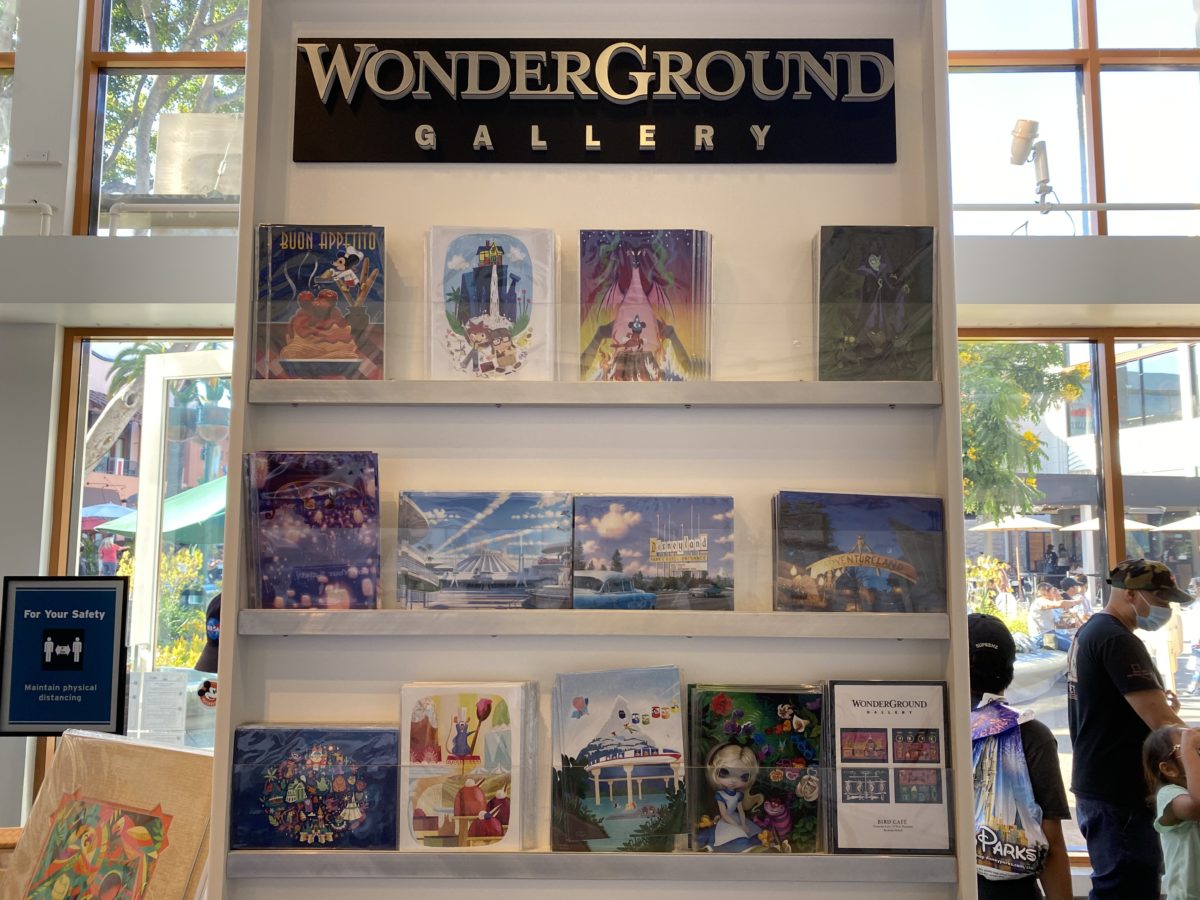 If you want a little something to take home with you, WonderGround Gallery is offering lots of unique postcards related to the parks and some of your favorite films.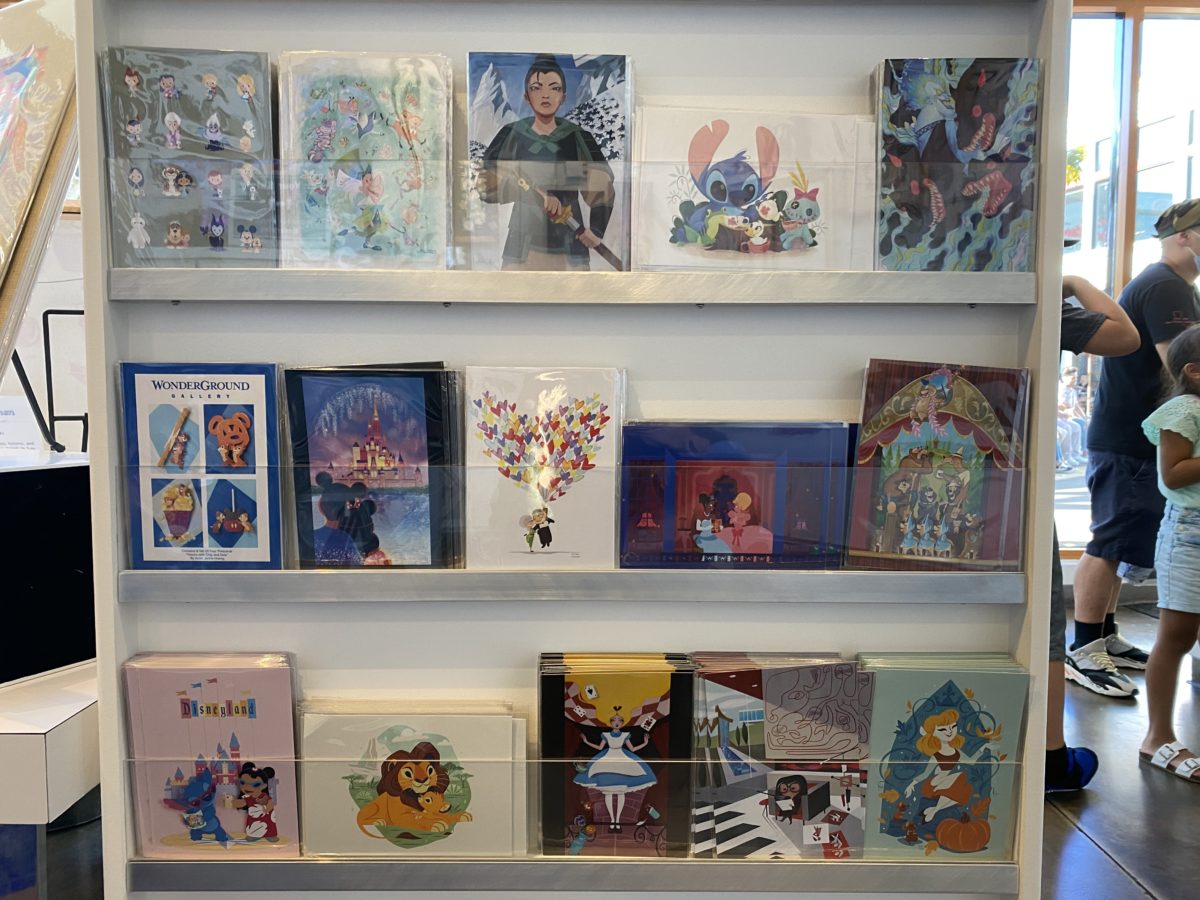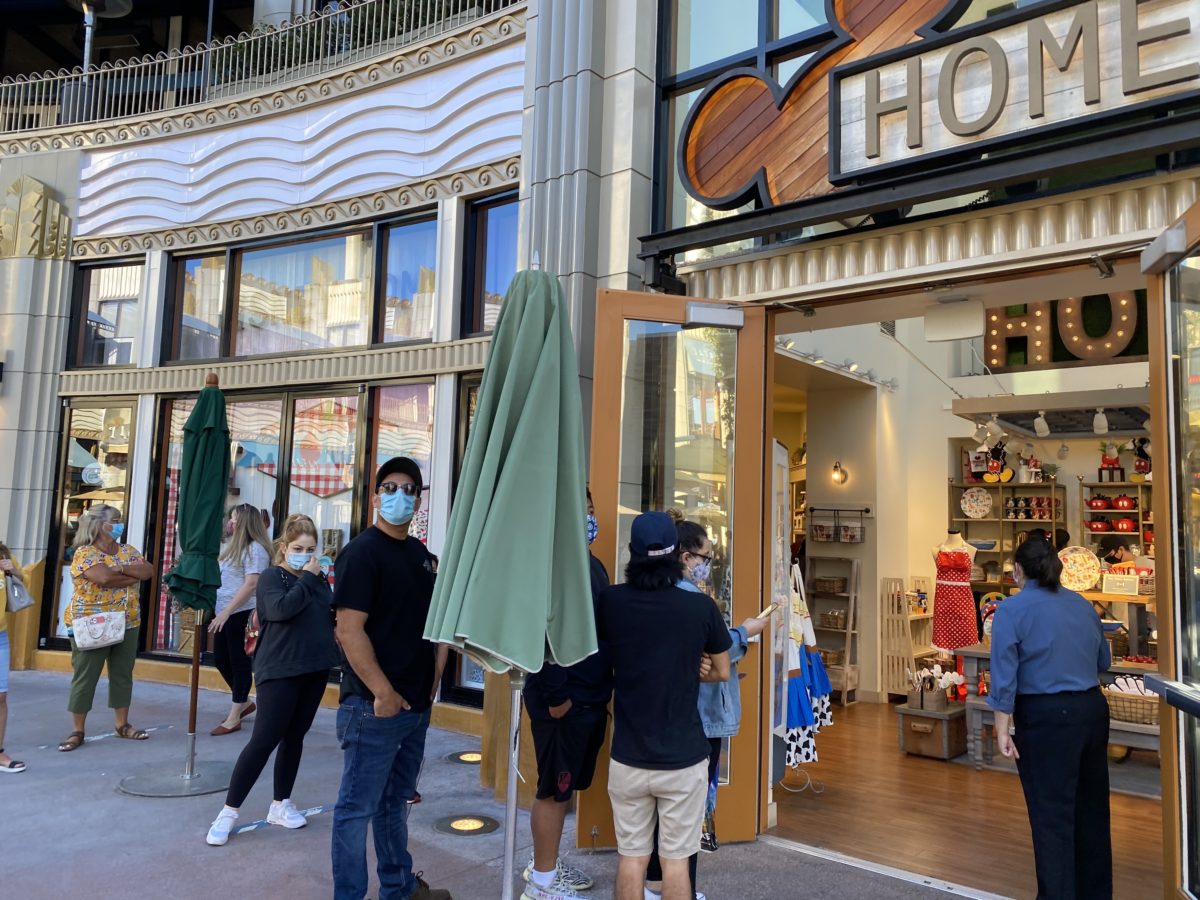 The Disney Home Store had a small queue forming outside the door.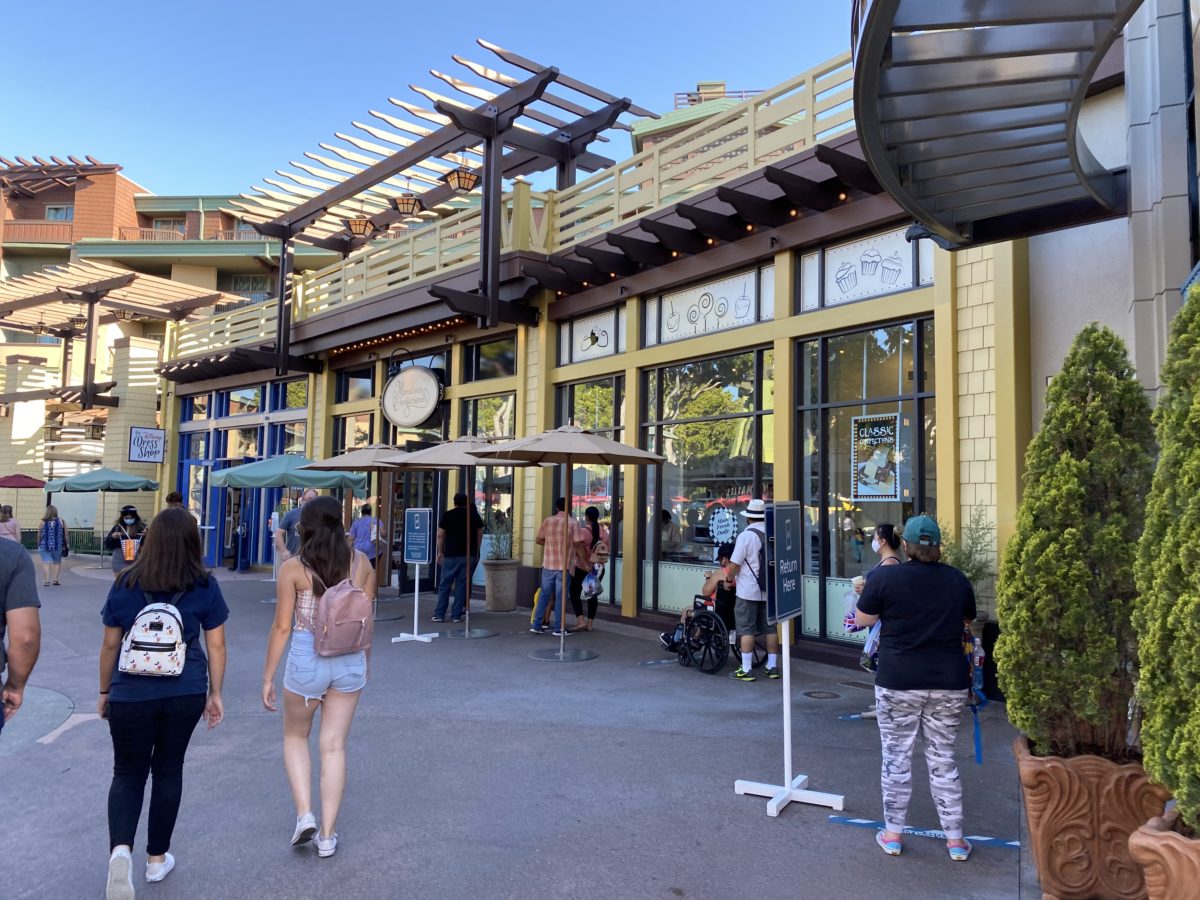 Marceline's Confectionery had a hour wait, but luckily they were offering a virtual queue that we joined.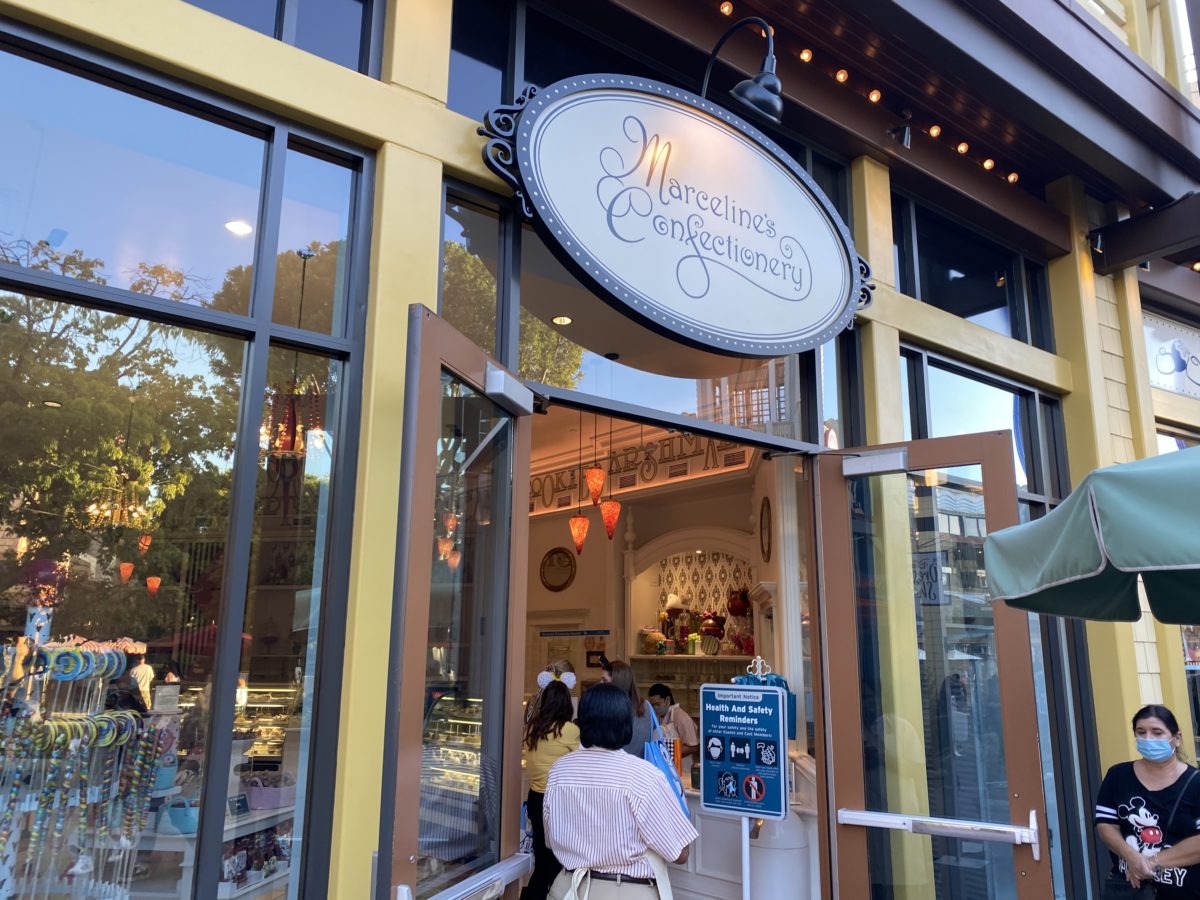 Once we were texted, we joined the queue by the door to wait to enter.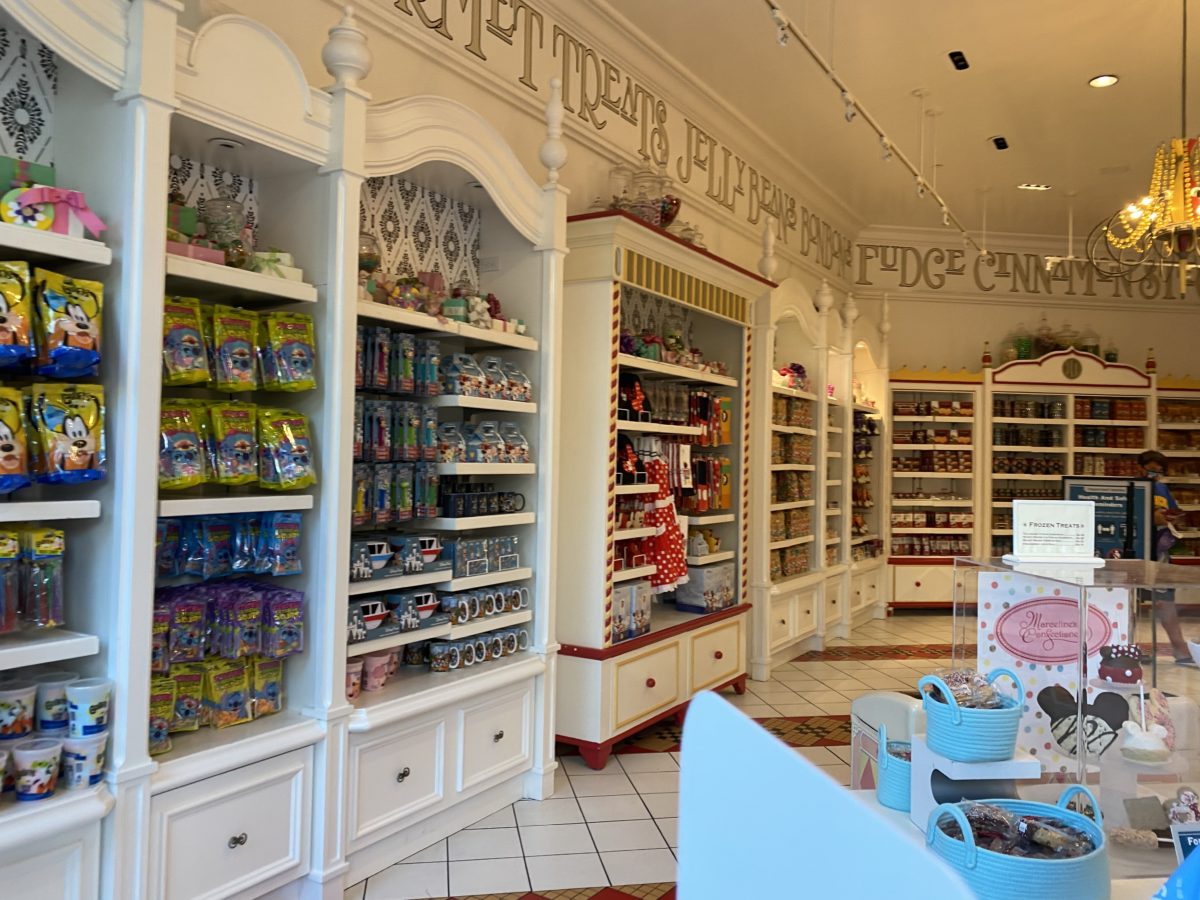 It was nice to see some of the snacks we usually find in the park!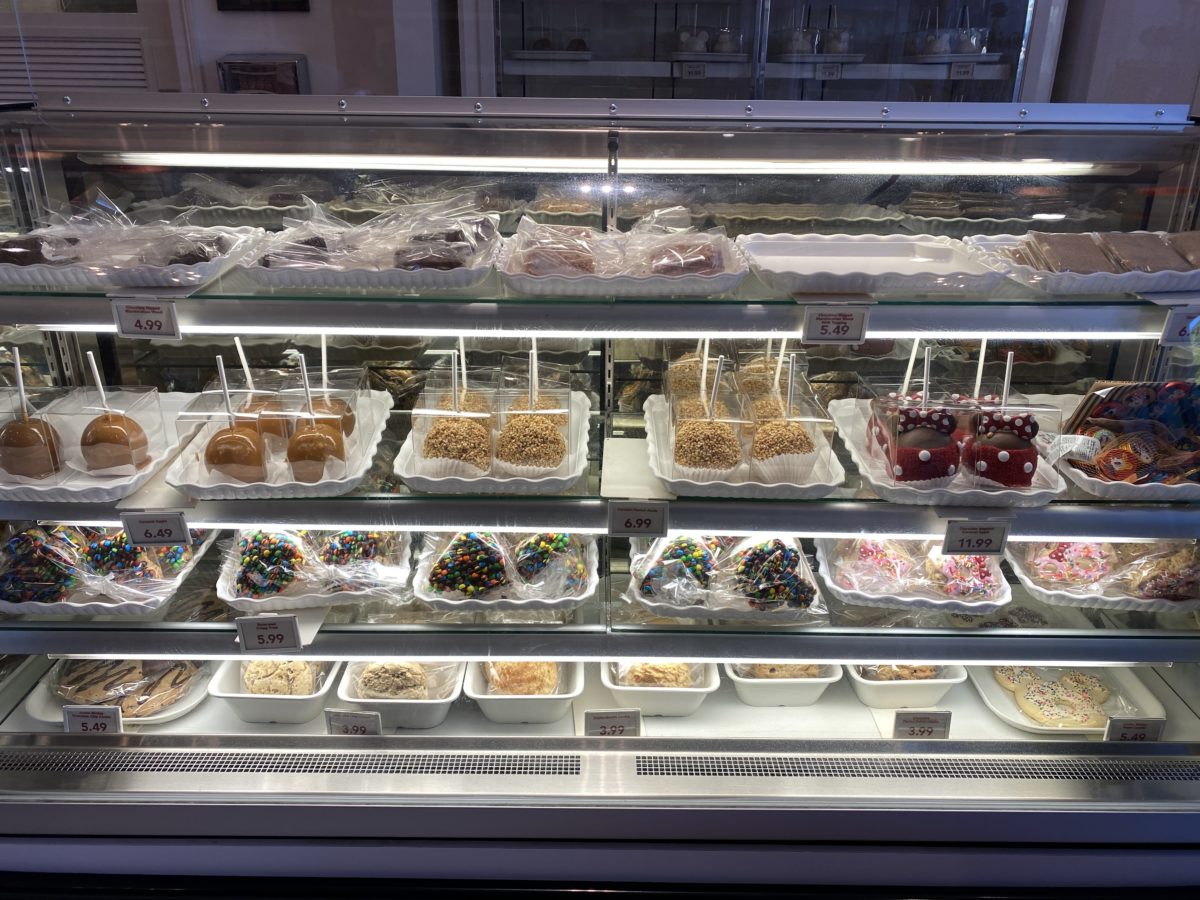 Any takers?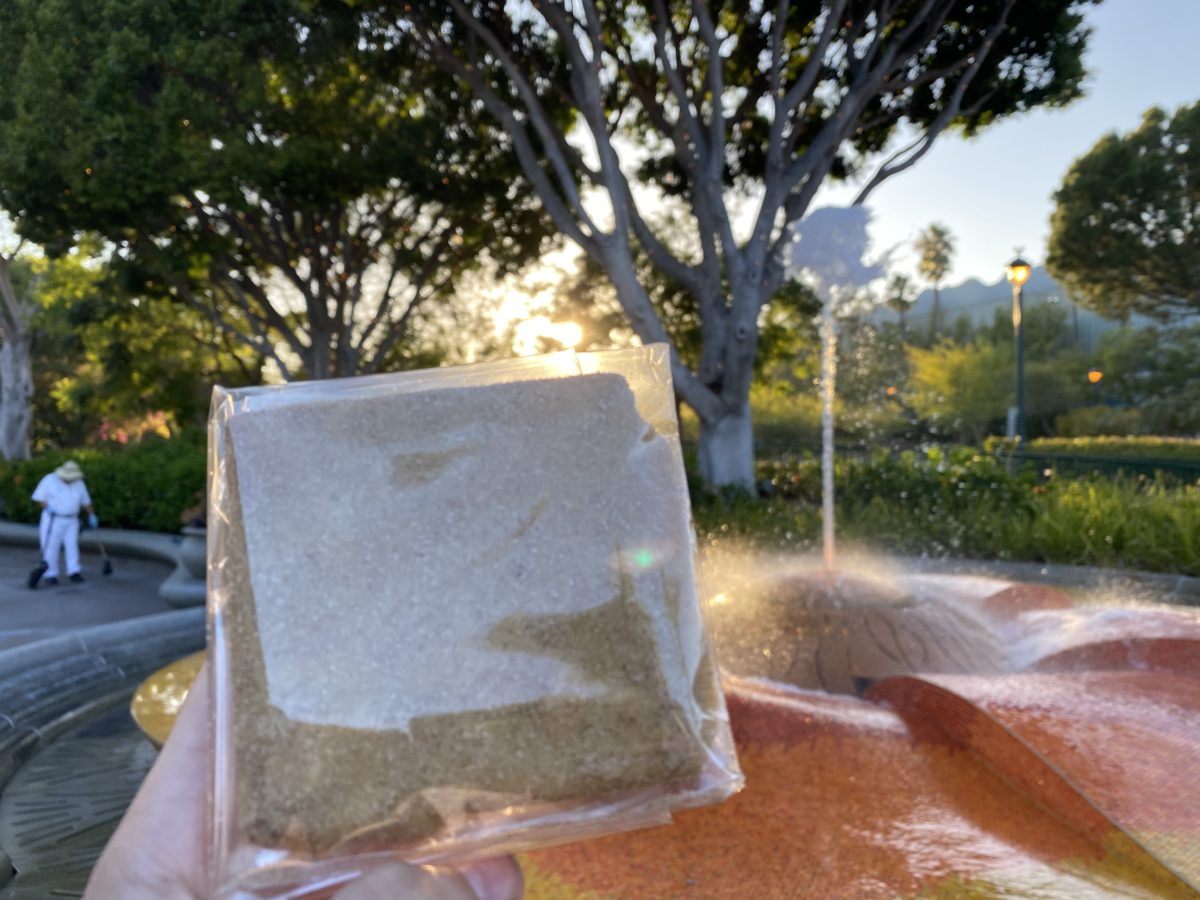 We went with the classic: churro toffee.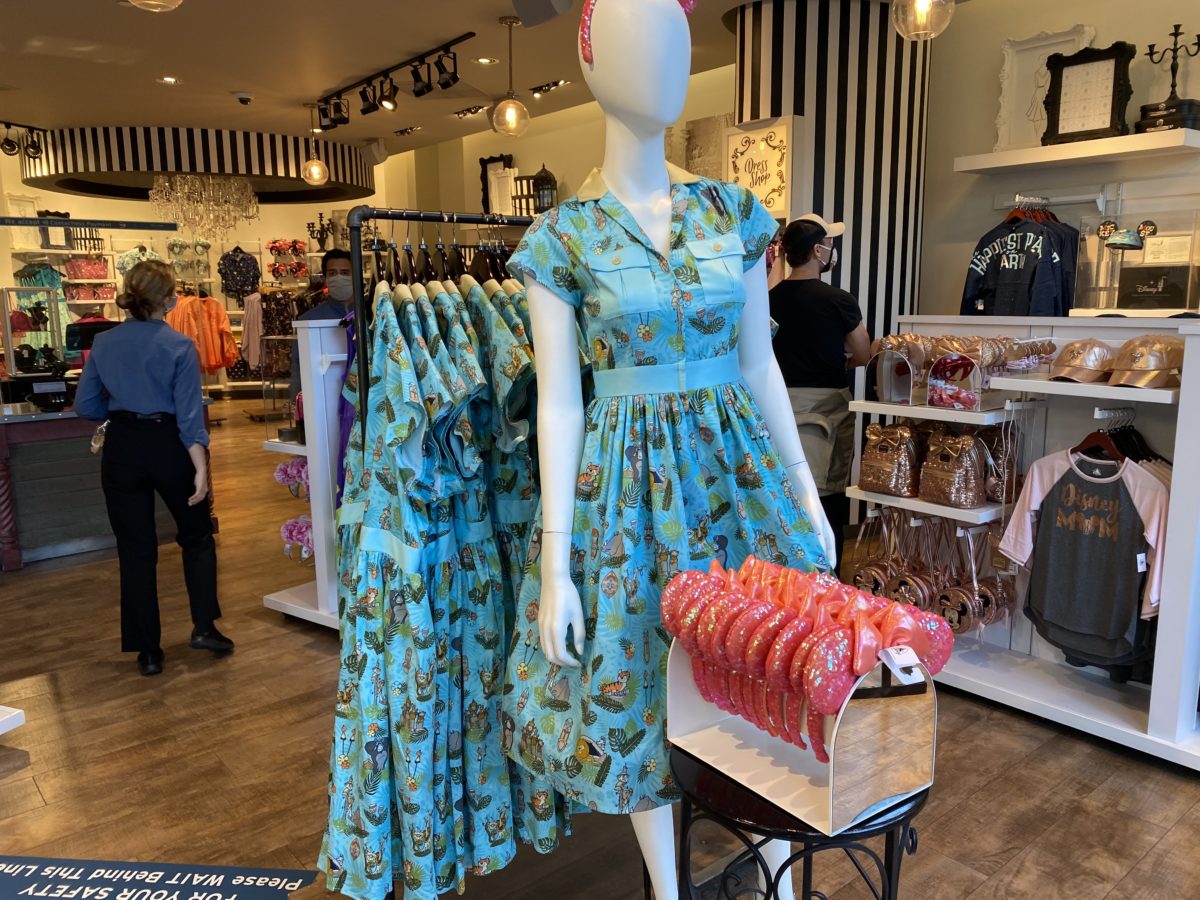 At the Dress Shop, a new Jungle Cruise Dress for women has arrived!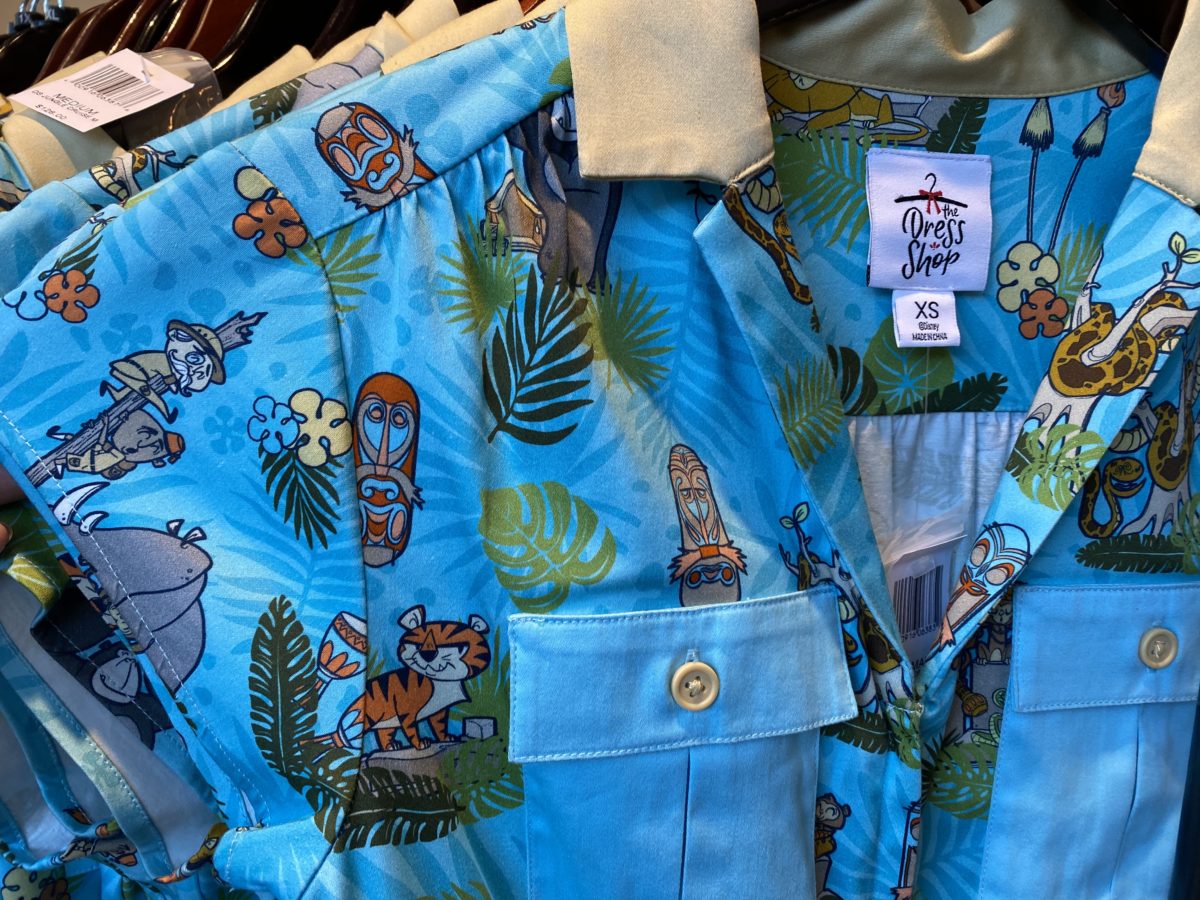 Inspired by the Jungle Cruise attraction, this dress is a beautiful blue with a colorful pattern including safari guides hanging above a rhinoceros, a tiger, tiki gods, and a python in a tree.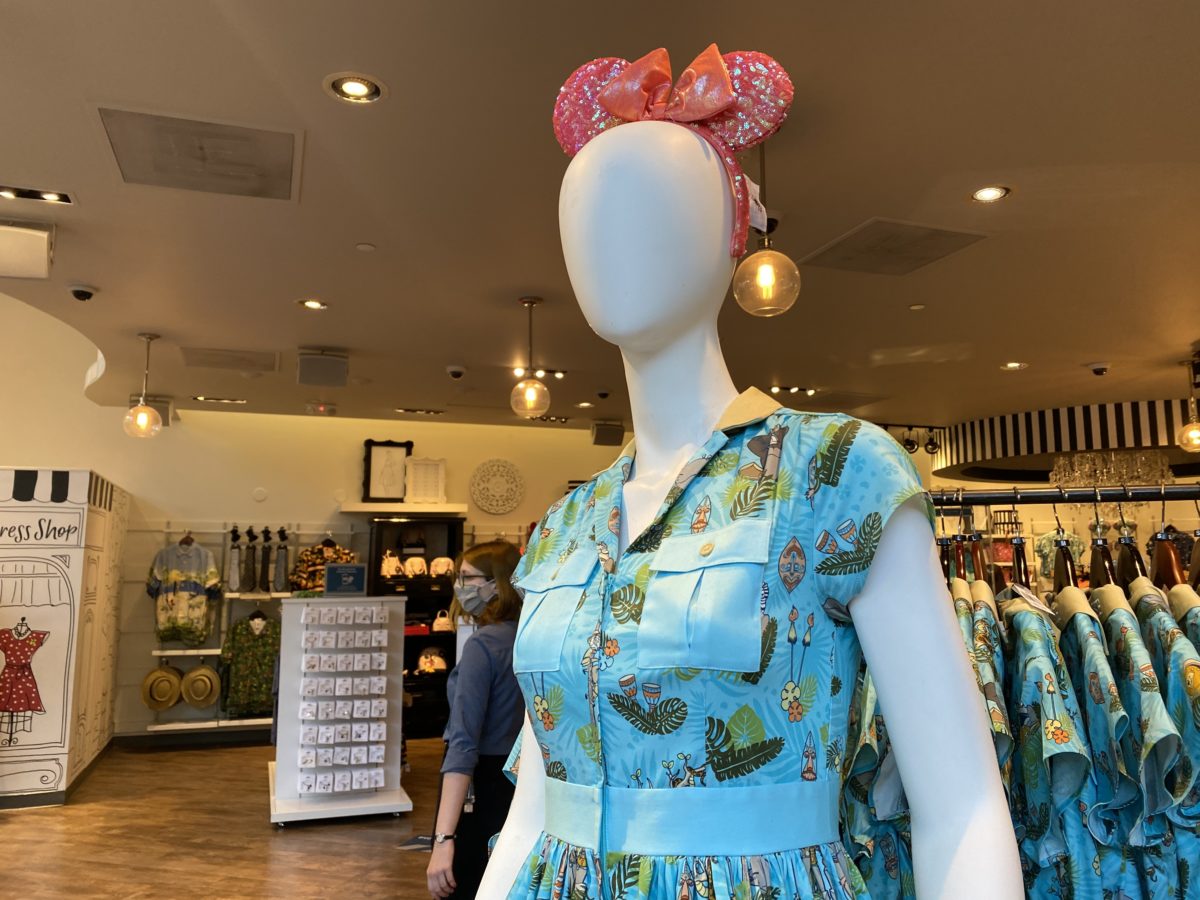 The front of the dress has two pockets with tan buttons.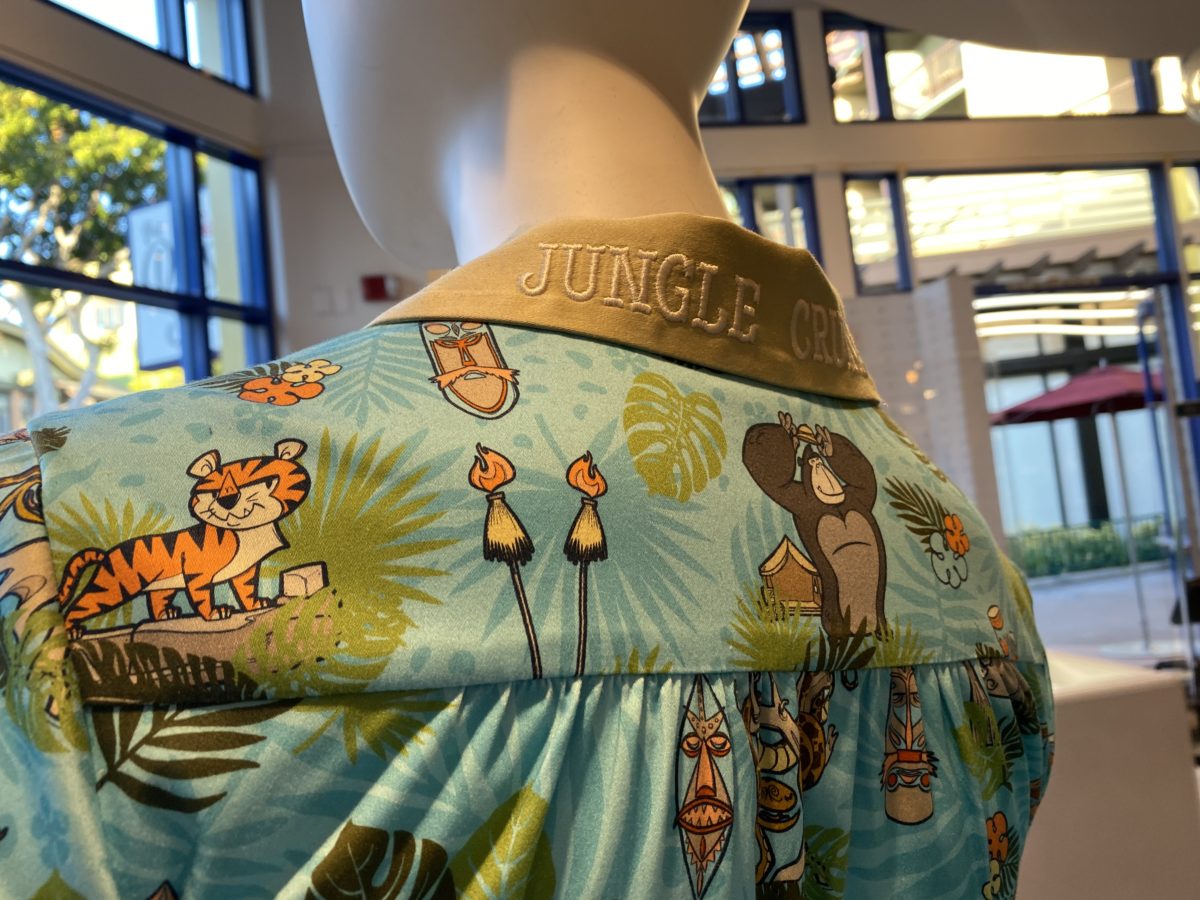 The back of the collar has "Jungle Cruise" embroidered in brown. This dress is available for $128.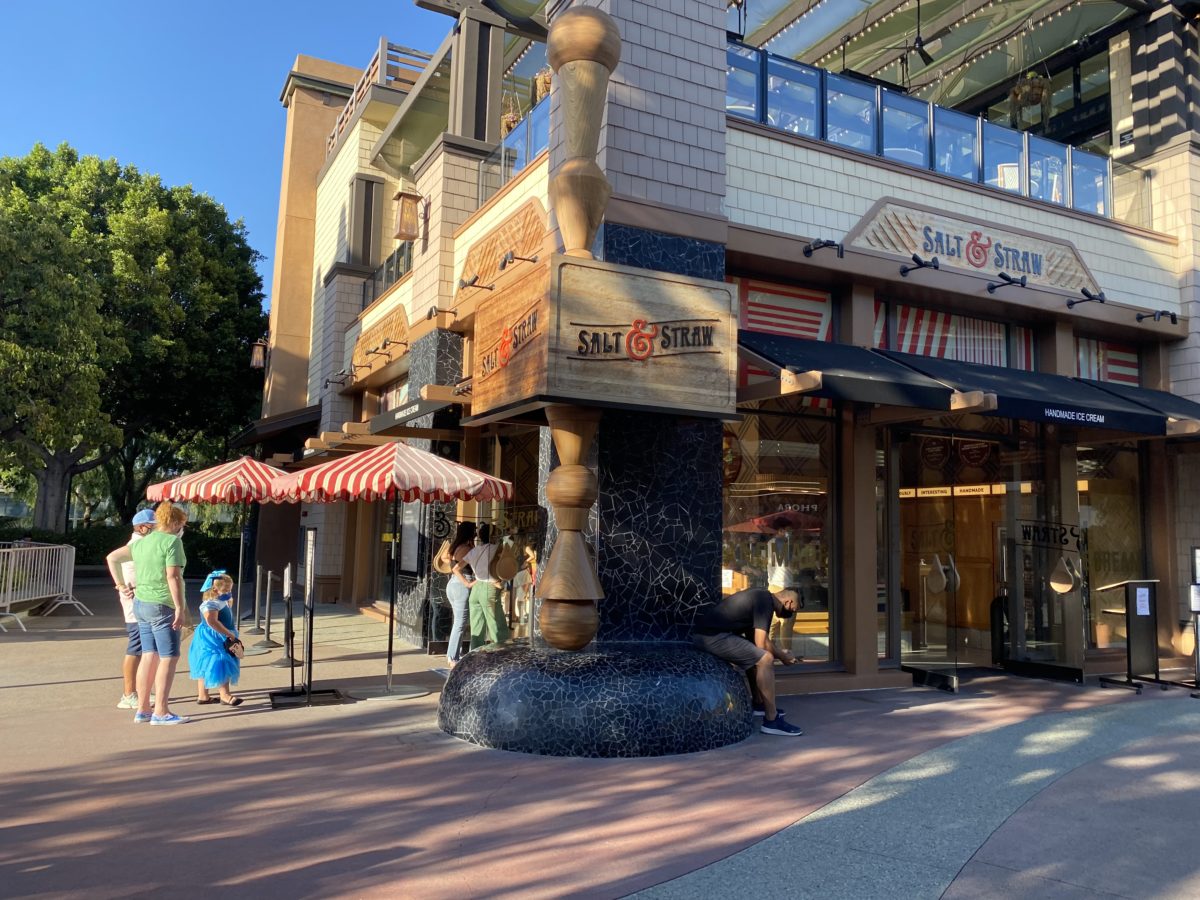 Salt & Straw only had a short wait compared to how it has been the past few weeks.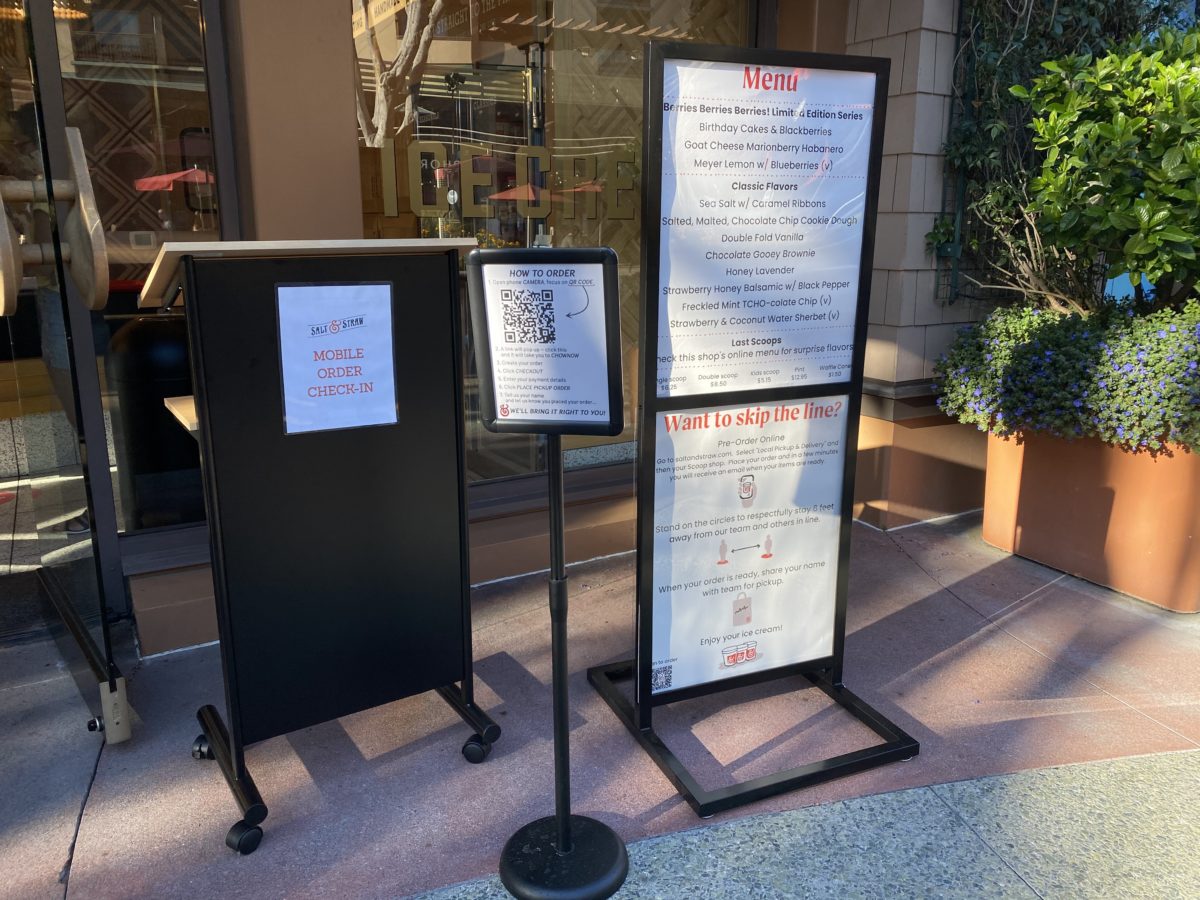 If you want to skip the line, mobile ordering is available.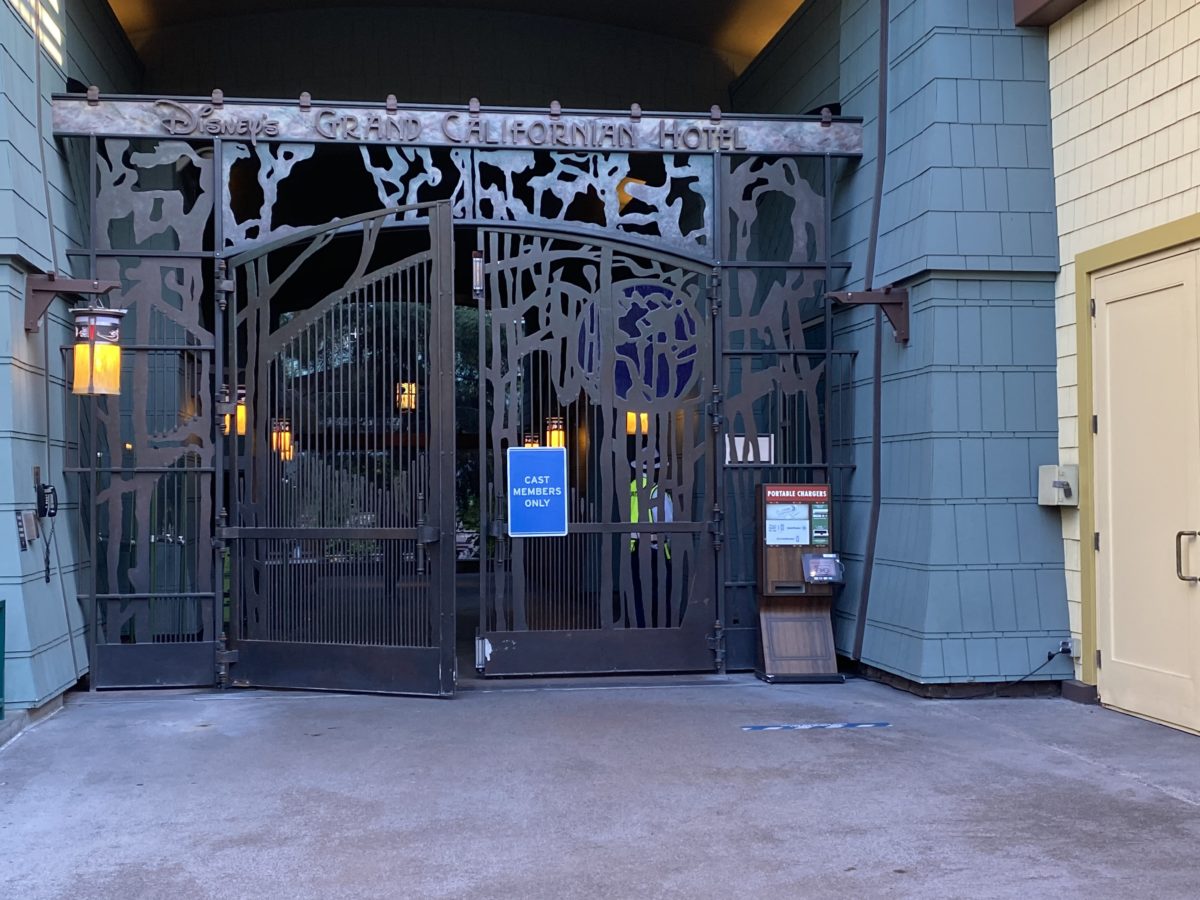 A FuelRod kiosk has been moved to the Downtown Disney entrance of the Grand Californian Hotel & Spa.
World of Disney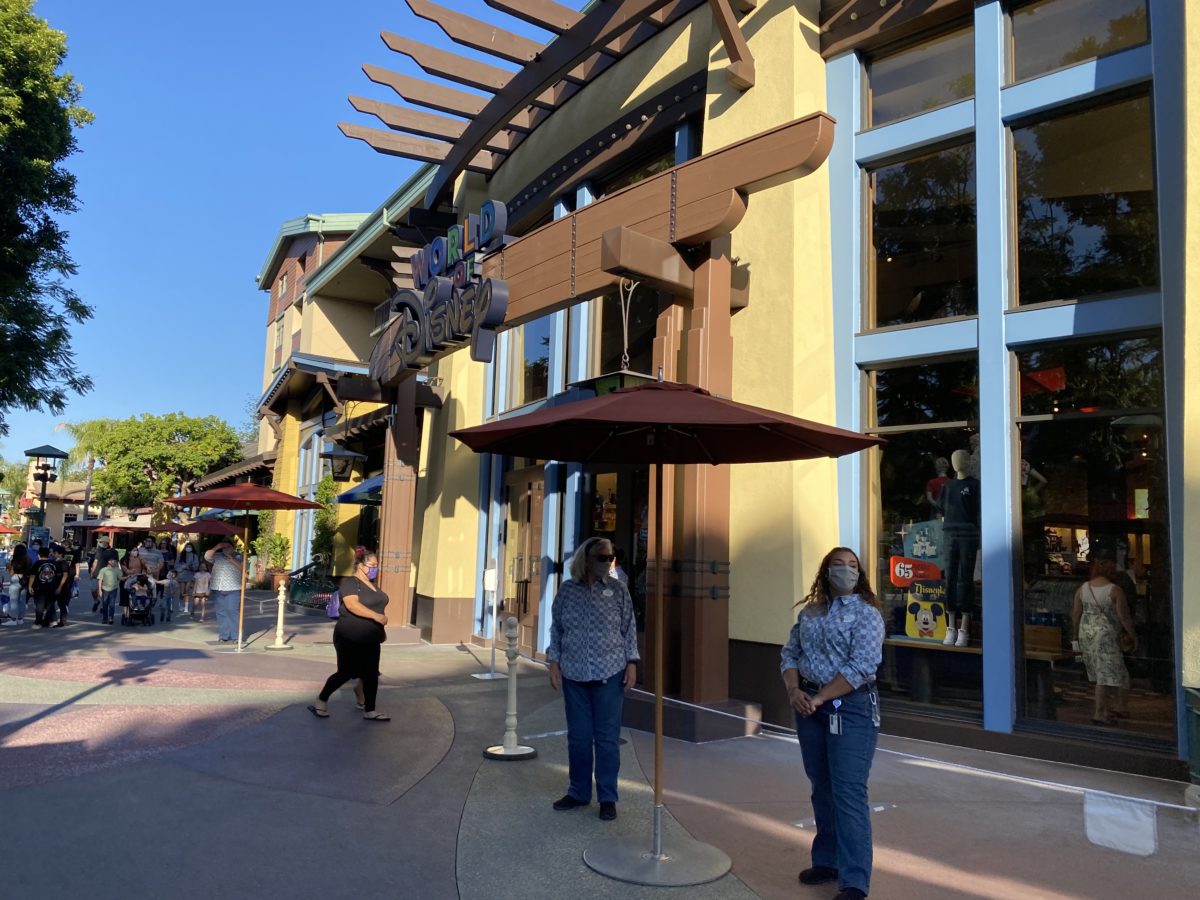 Surprisingly, there was no wait to enter World of Disney!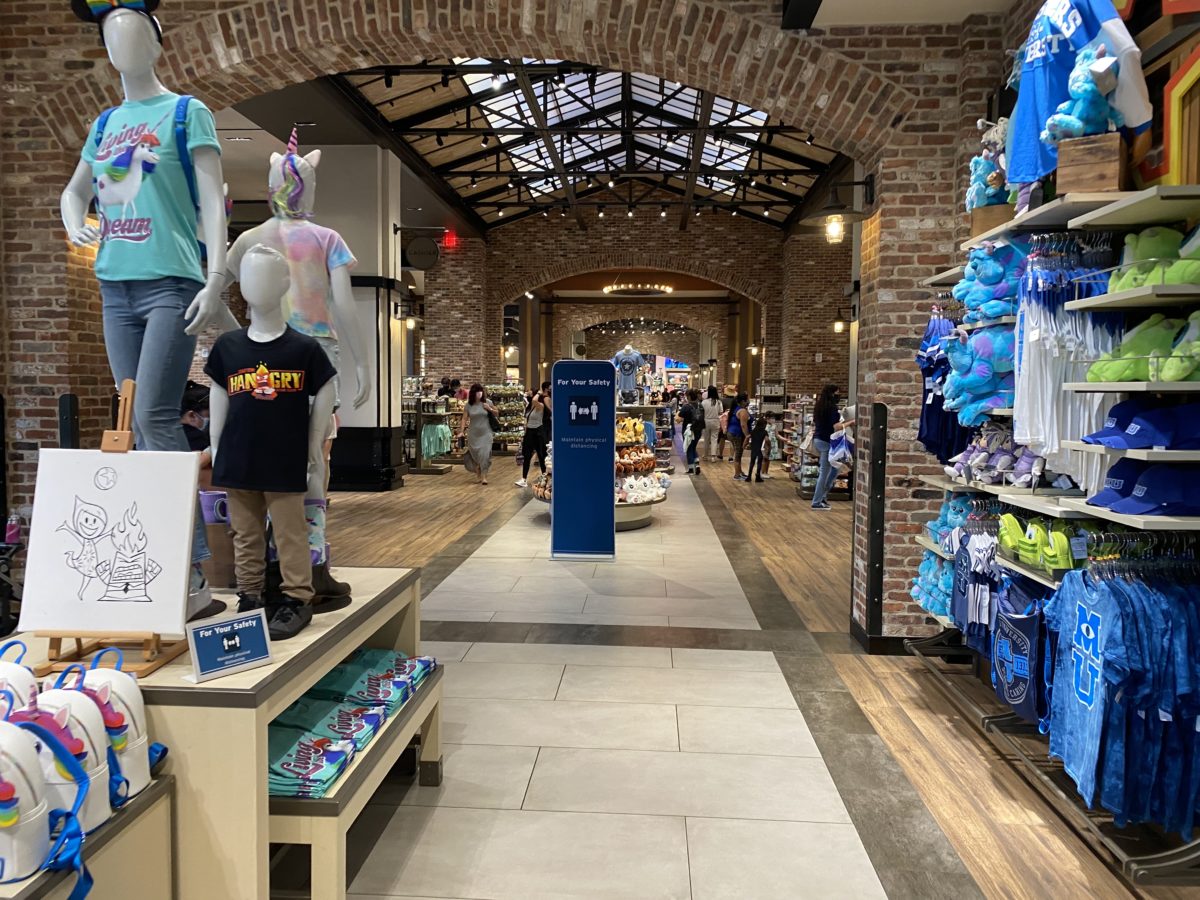 Signage can be seen in many of the walkways inside World of Disney.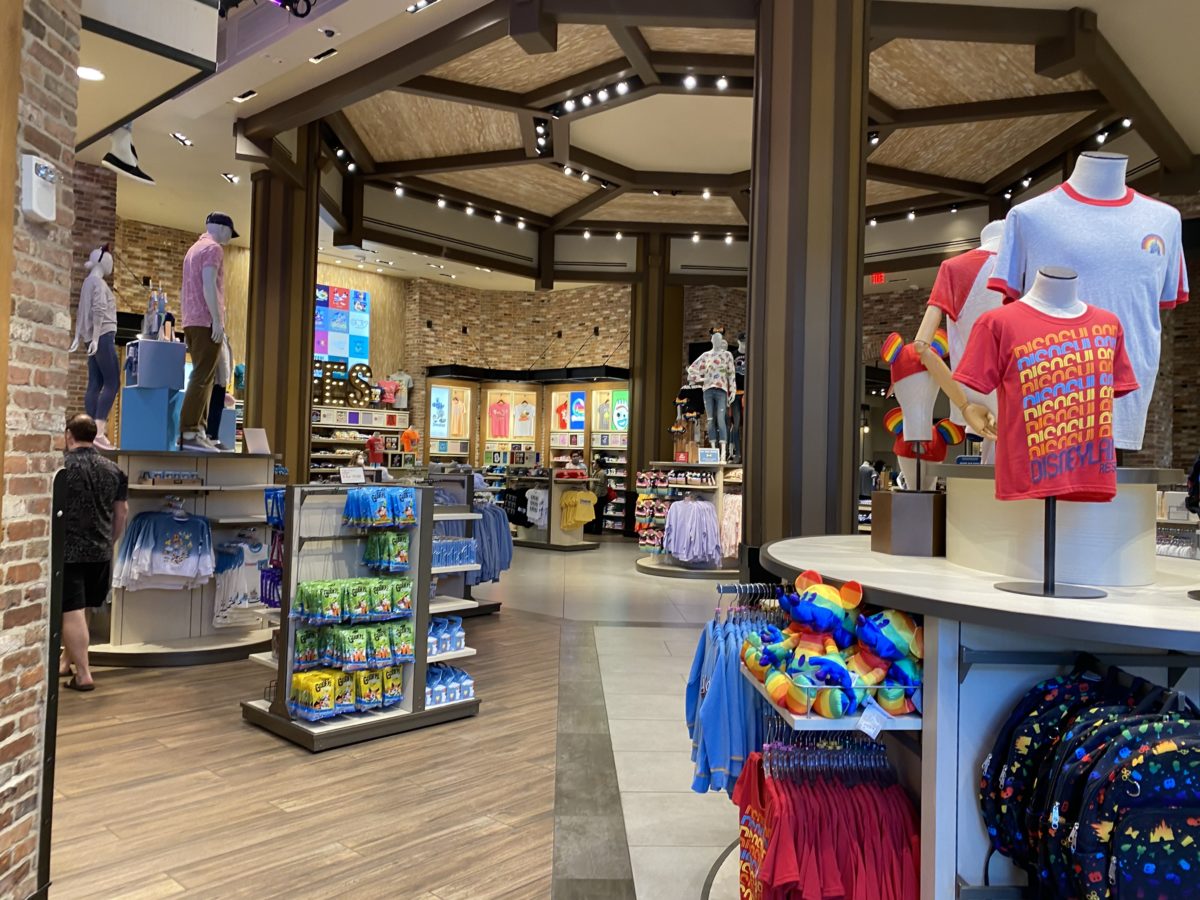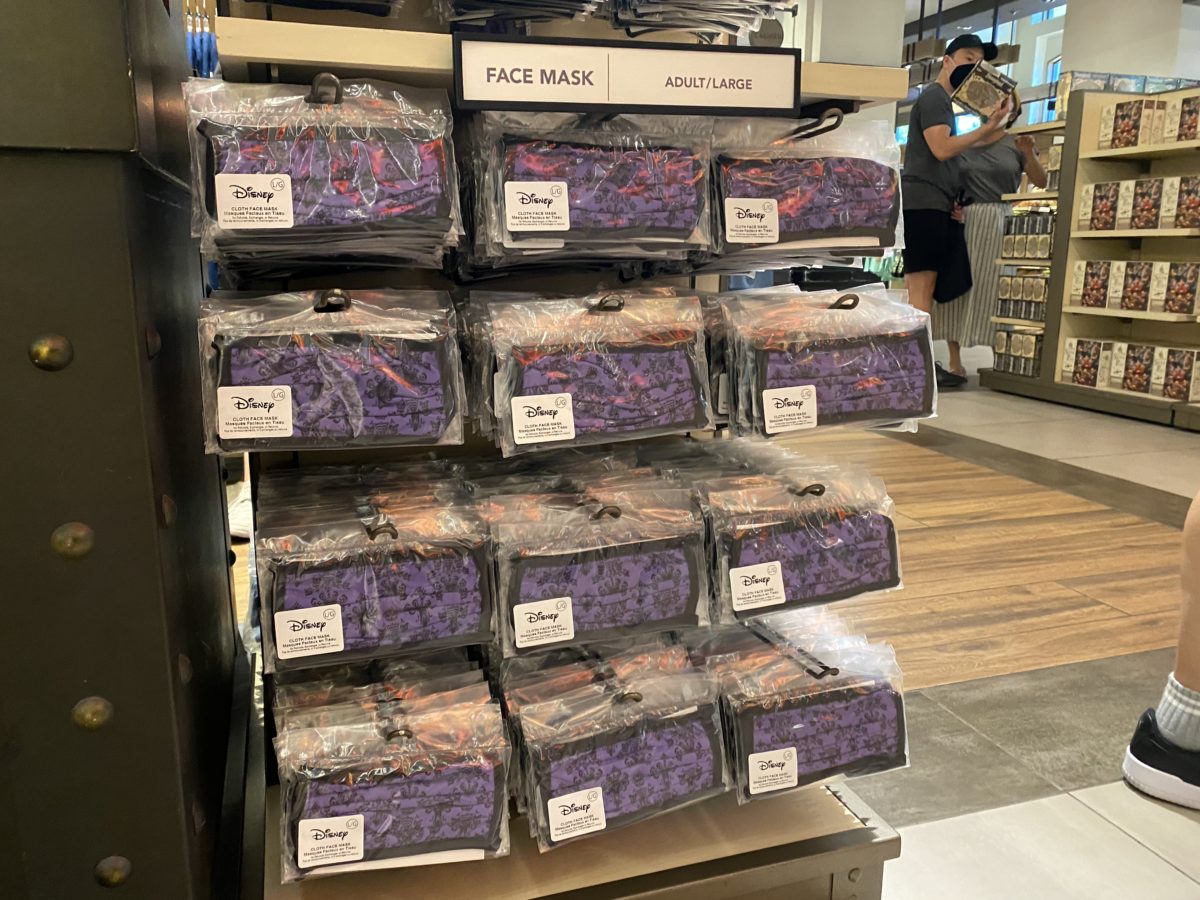 New Haunted Mansion face masks have materialized! These cotton masks feature the iconic purple wallpaper.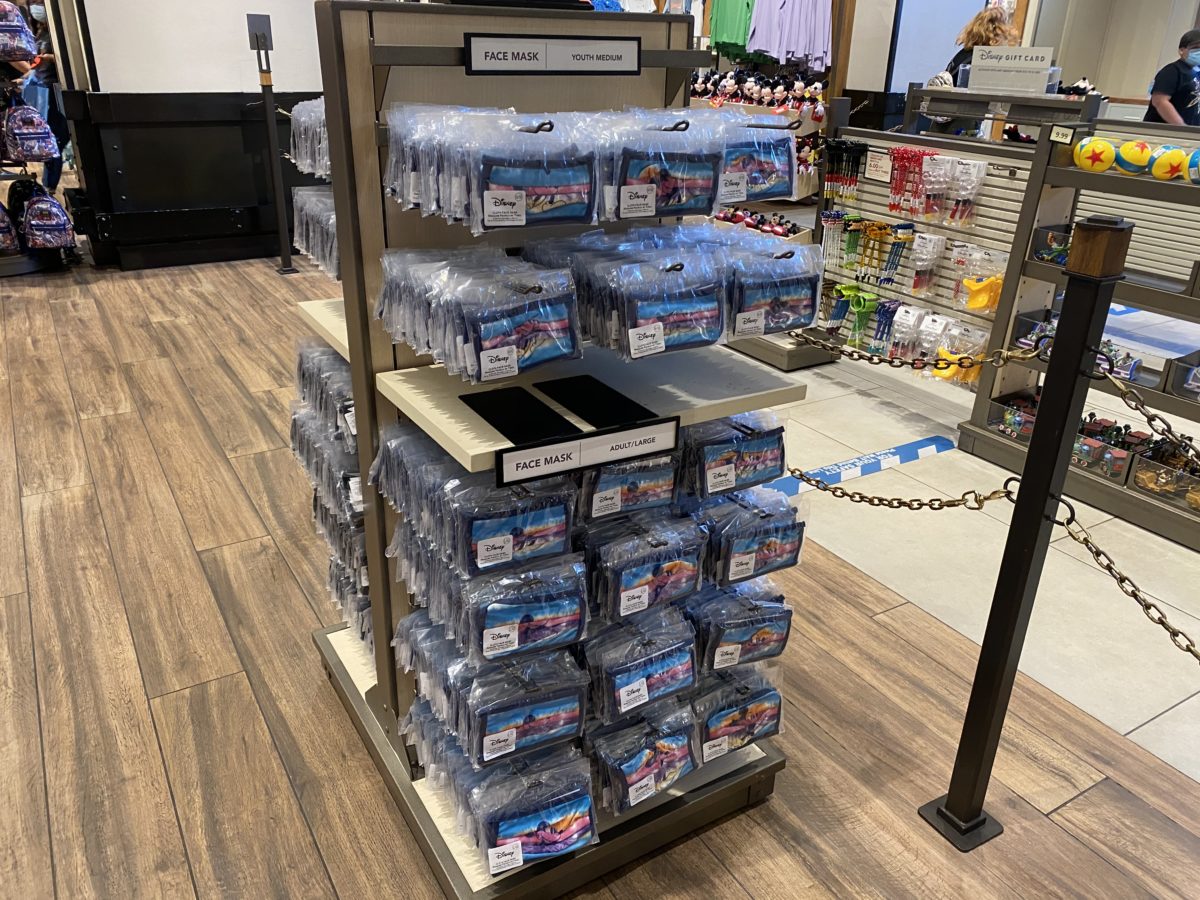 In addition to the Haunted Mansion face mask, a new Mickey tie-dye mask is also available for $6.00.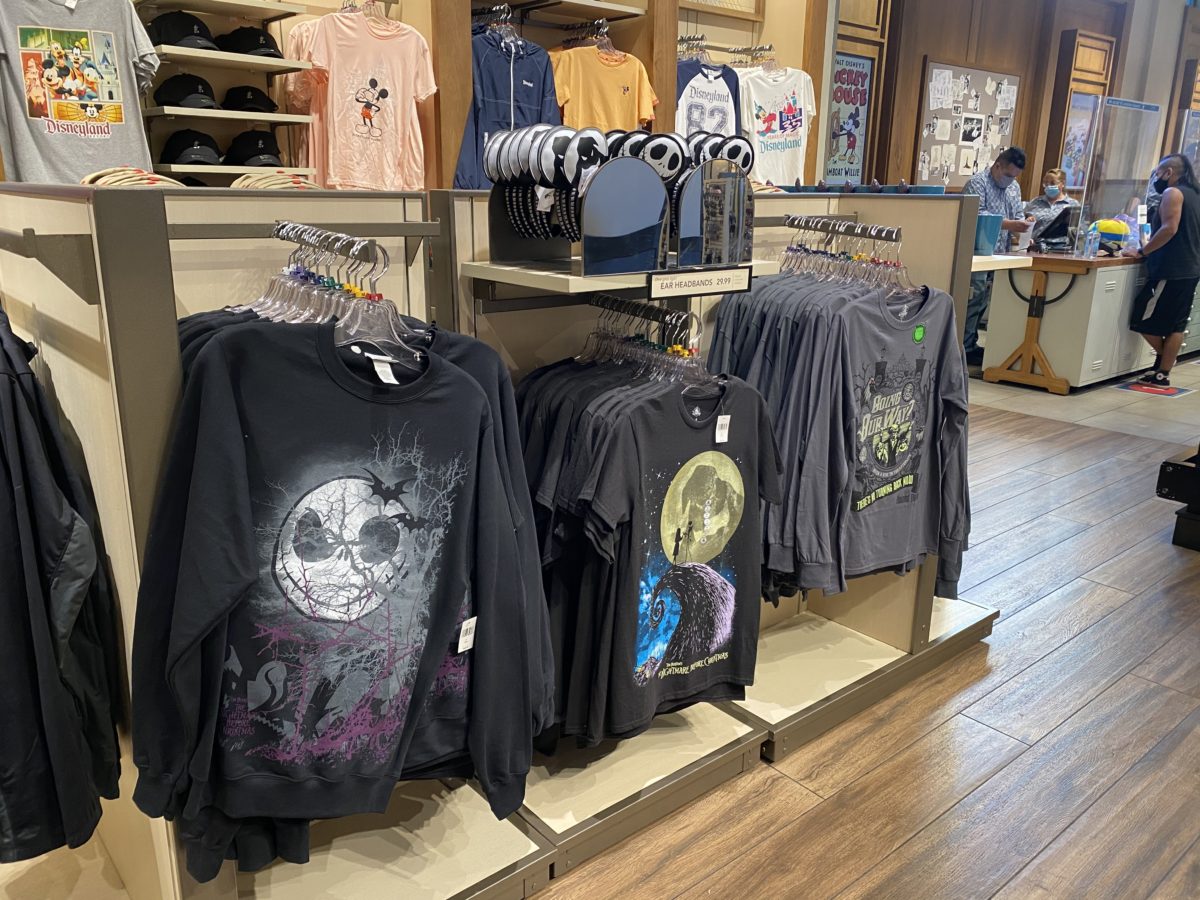 Halloween merchandise is slowly making its way out!
Sunset Over the Esplanade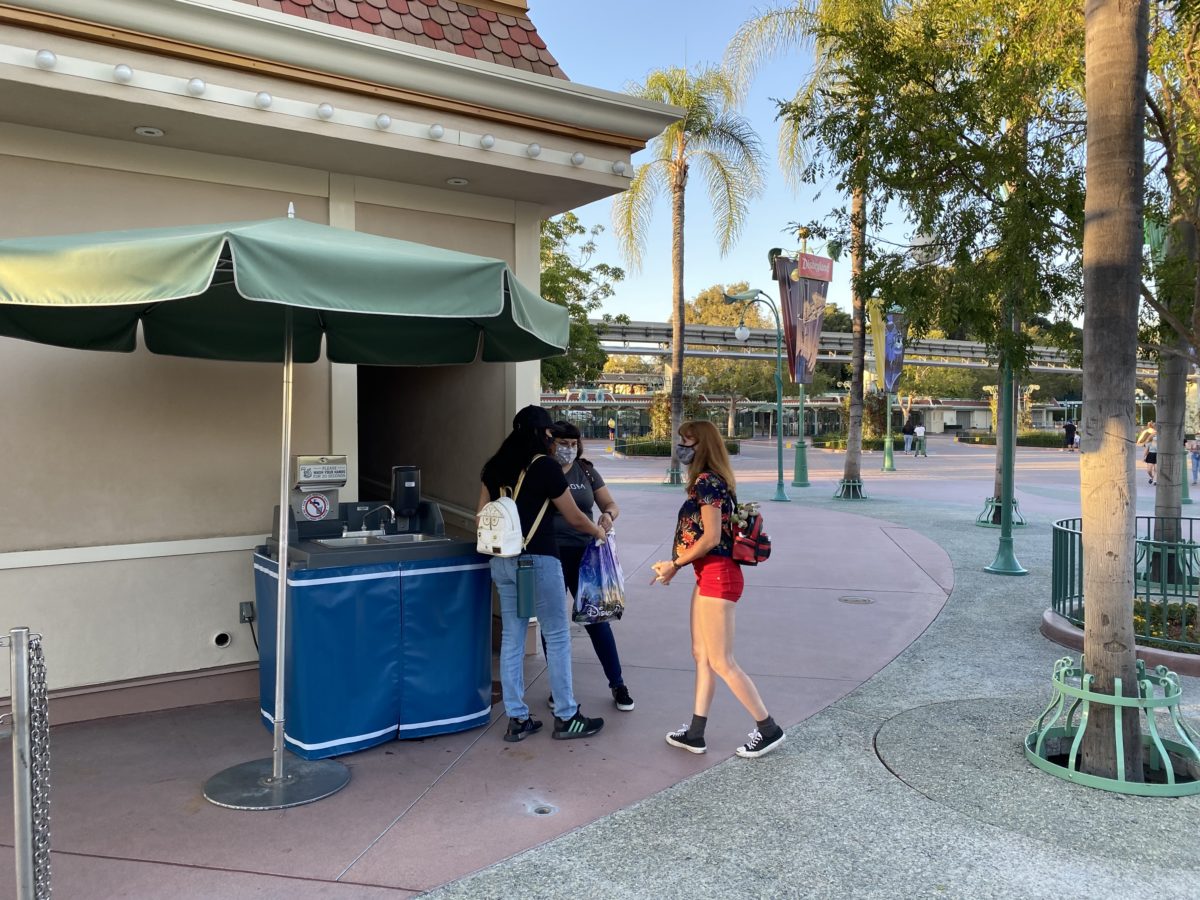 Another hand washing station has been placed in the Esplanade.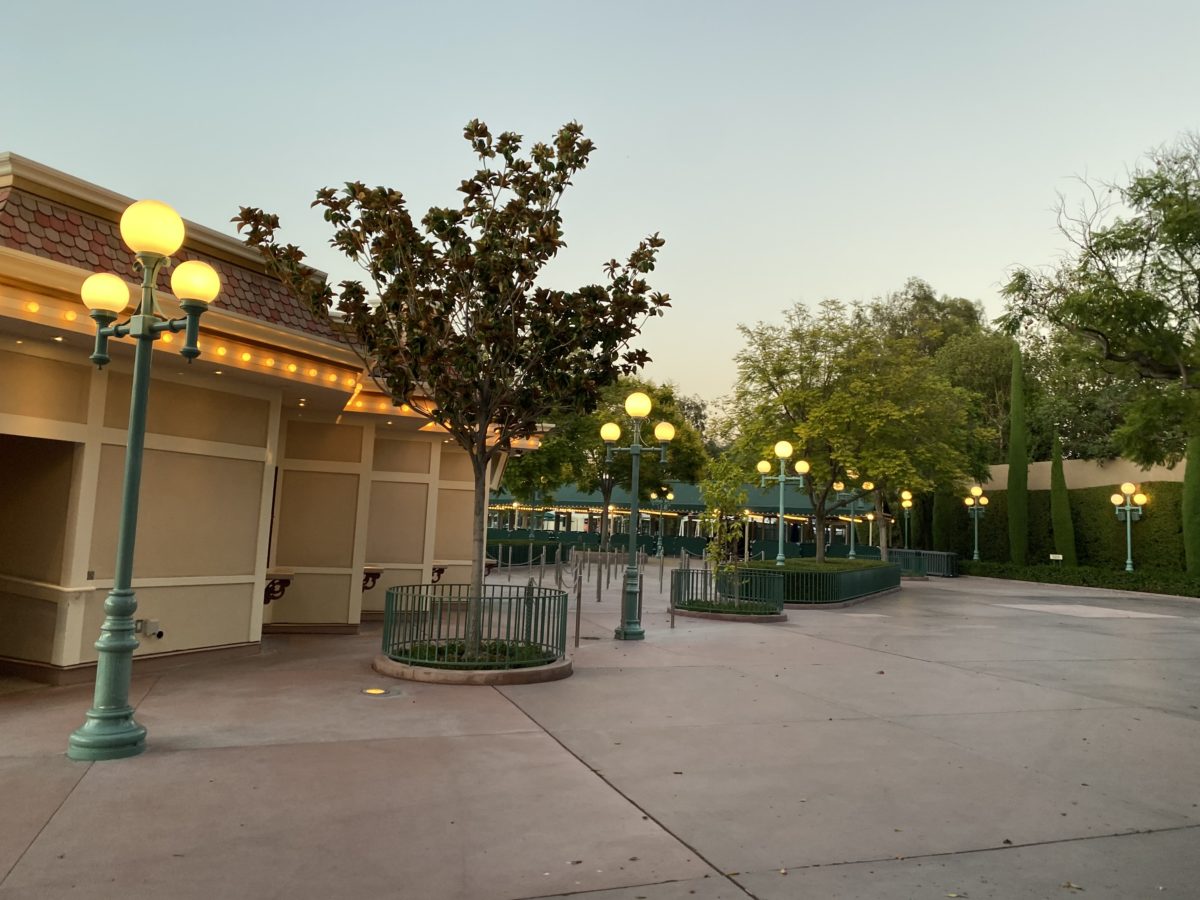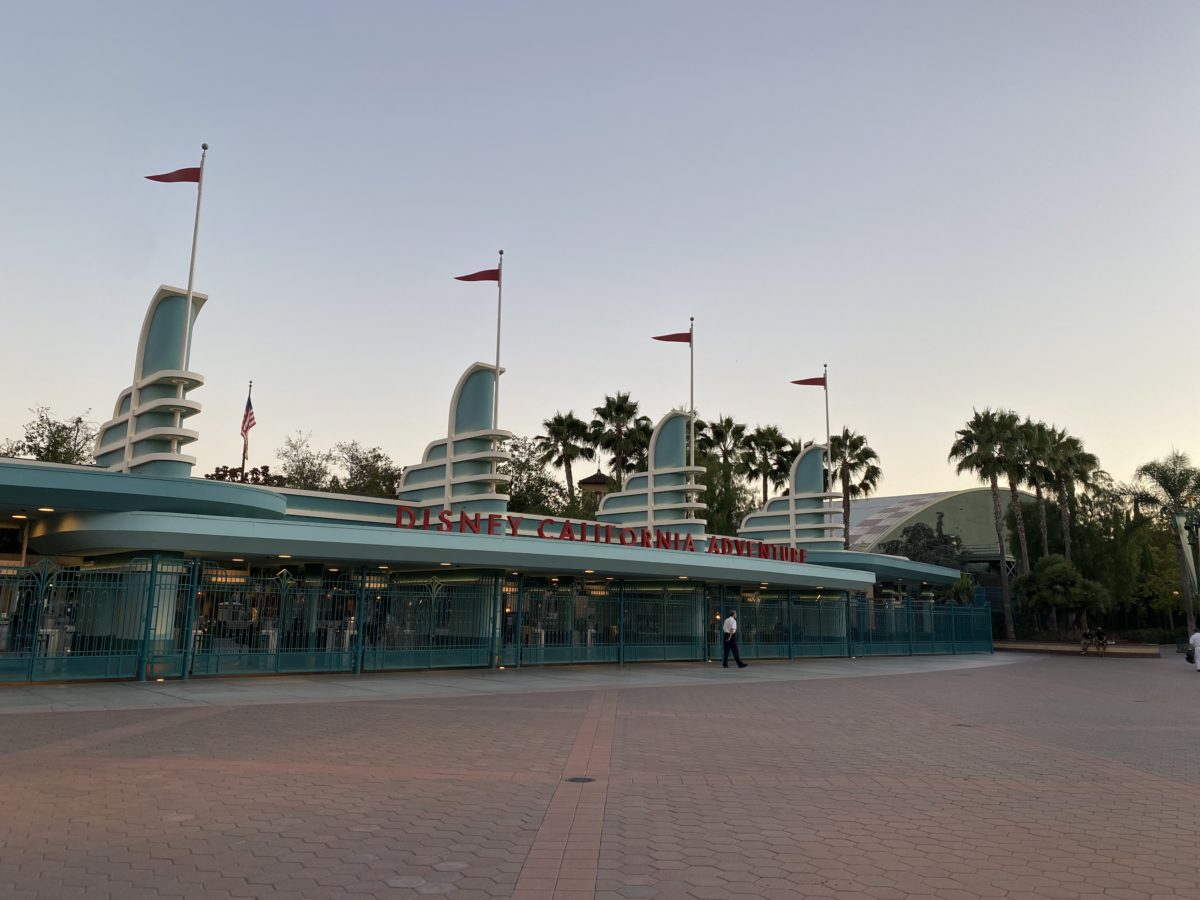 Glancing over Disney California Adventure to the right, you can see the Soarin' show building.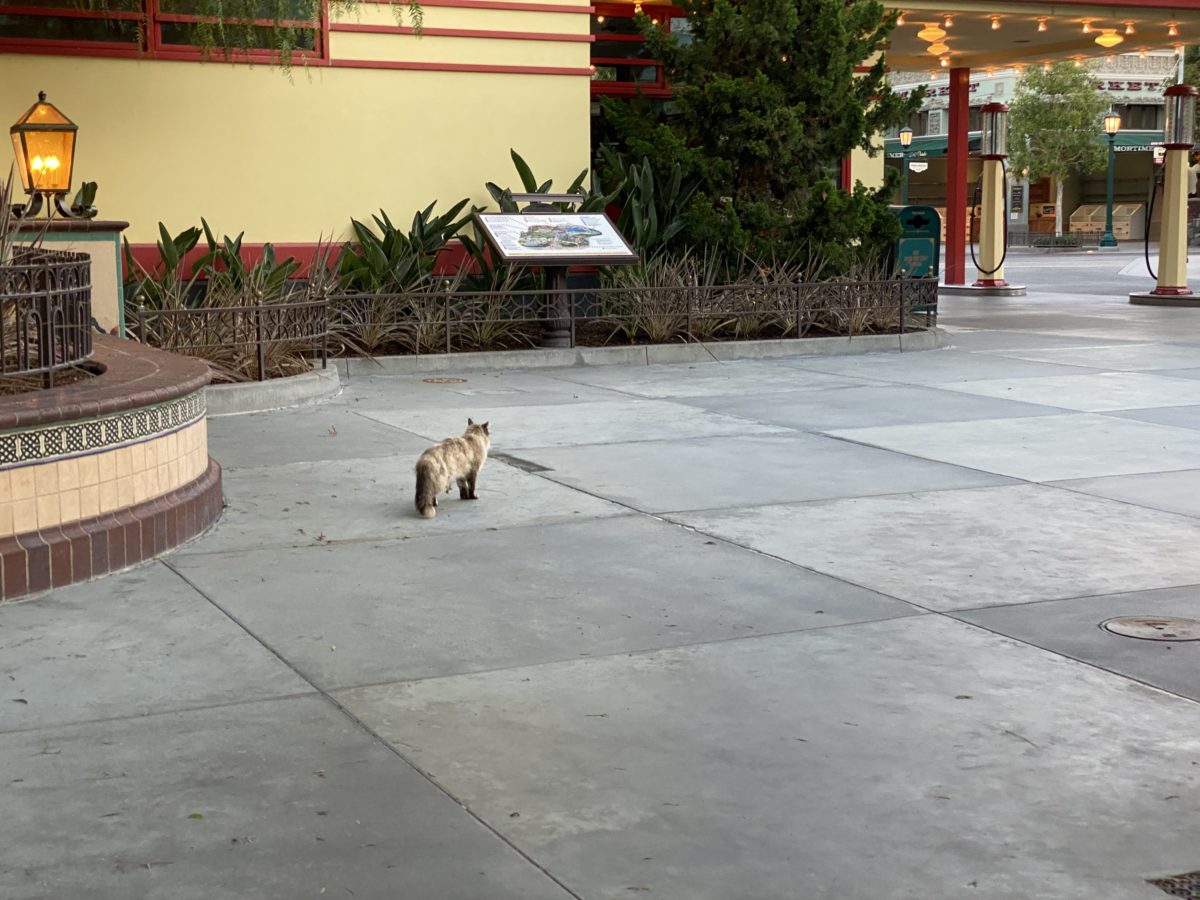 This cat was enjoying California Adventure all to itself.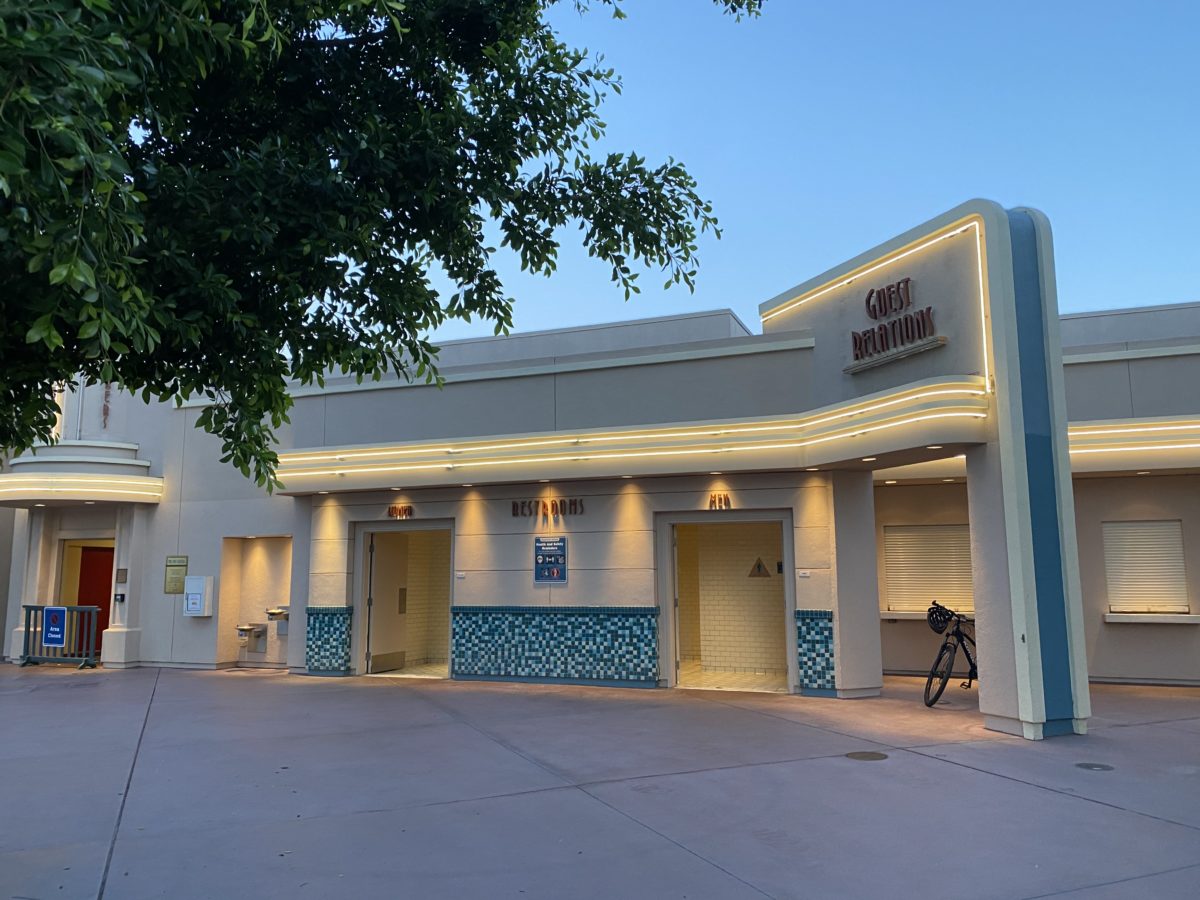 The restrooms to the left of California are open and operating.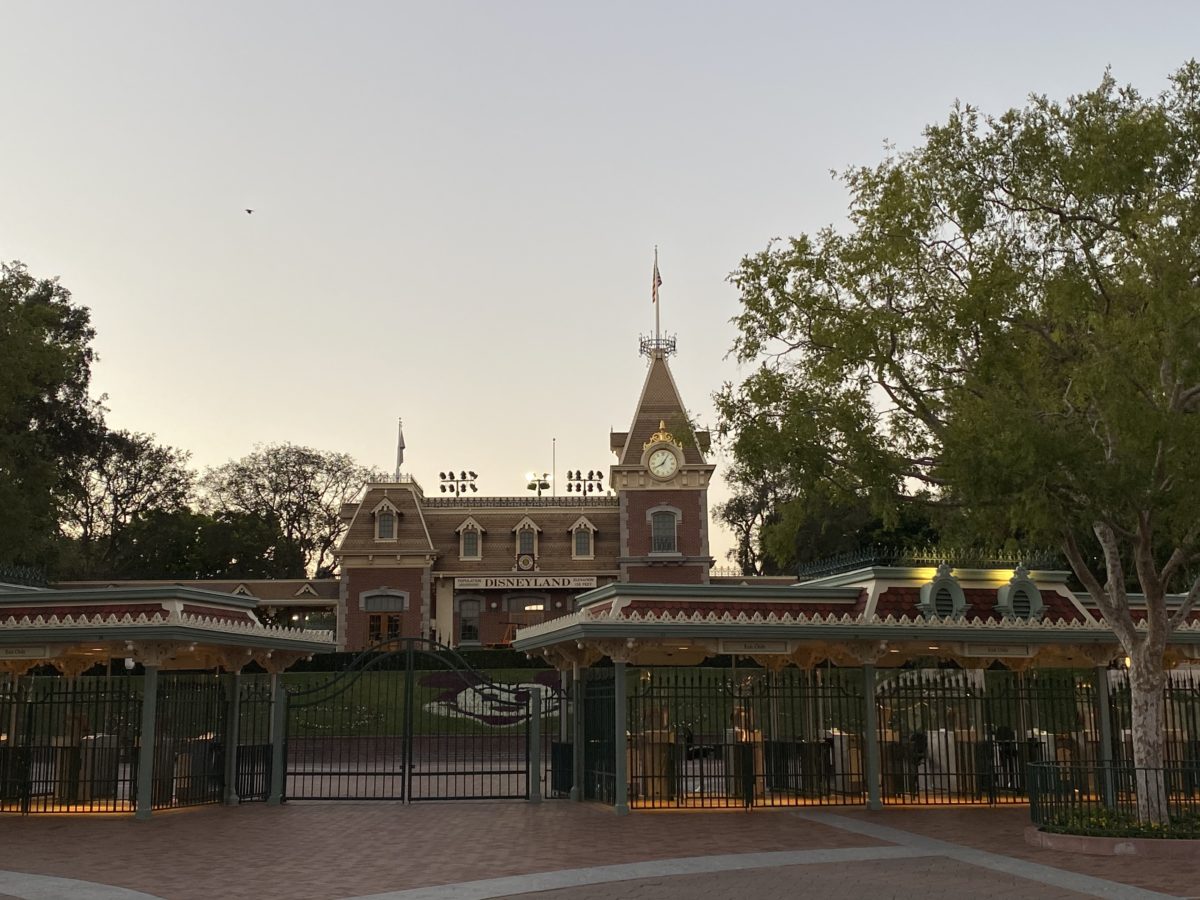 The Main Street Station sadly does not light up at night.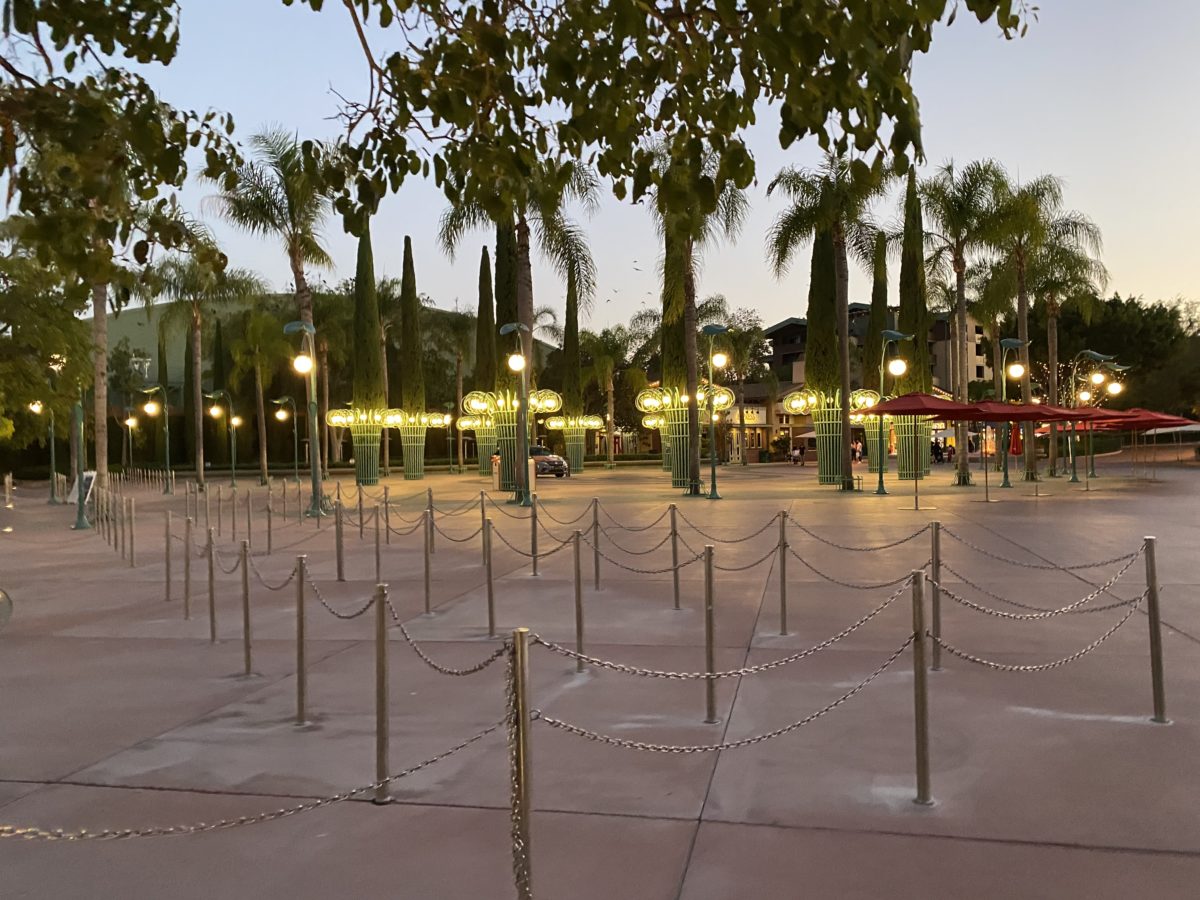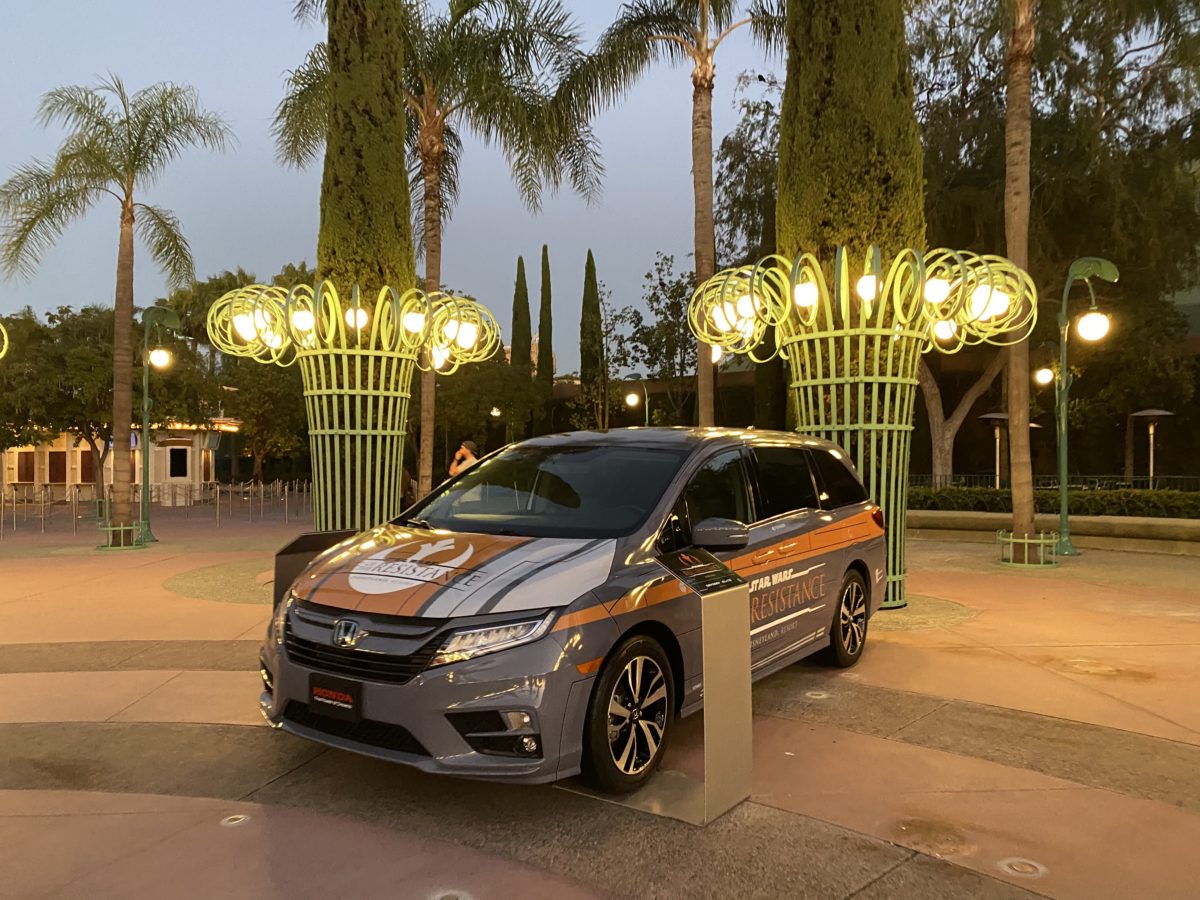 The Rise of the Resistance Odyssey Honda still sits between the Esplanade and Downtown Disney.
Downtown Disney at Night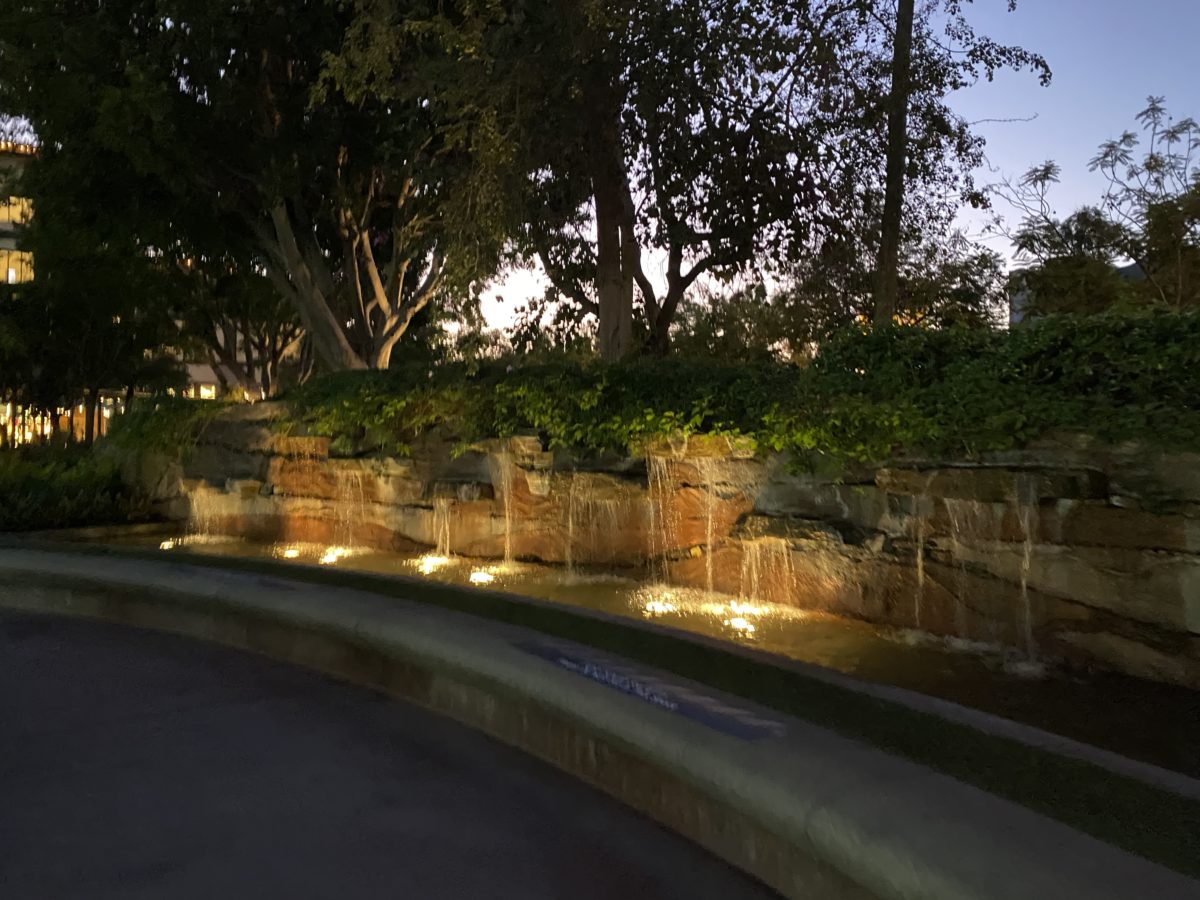 While walking back to the exit, we were able to enjoy time with the sun down and no crowds.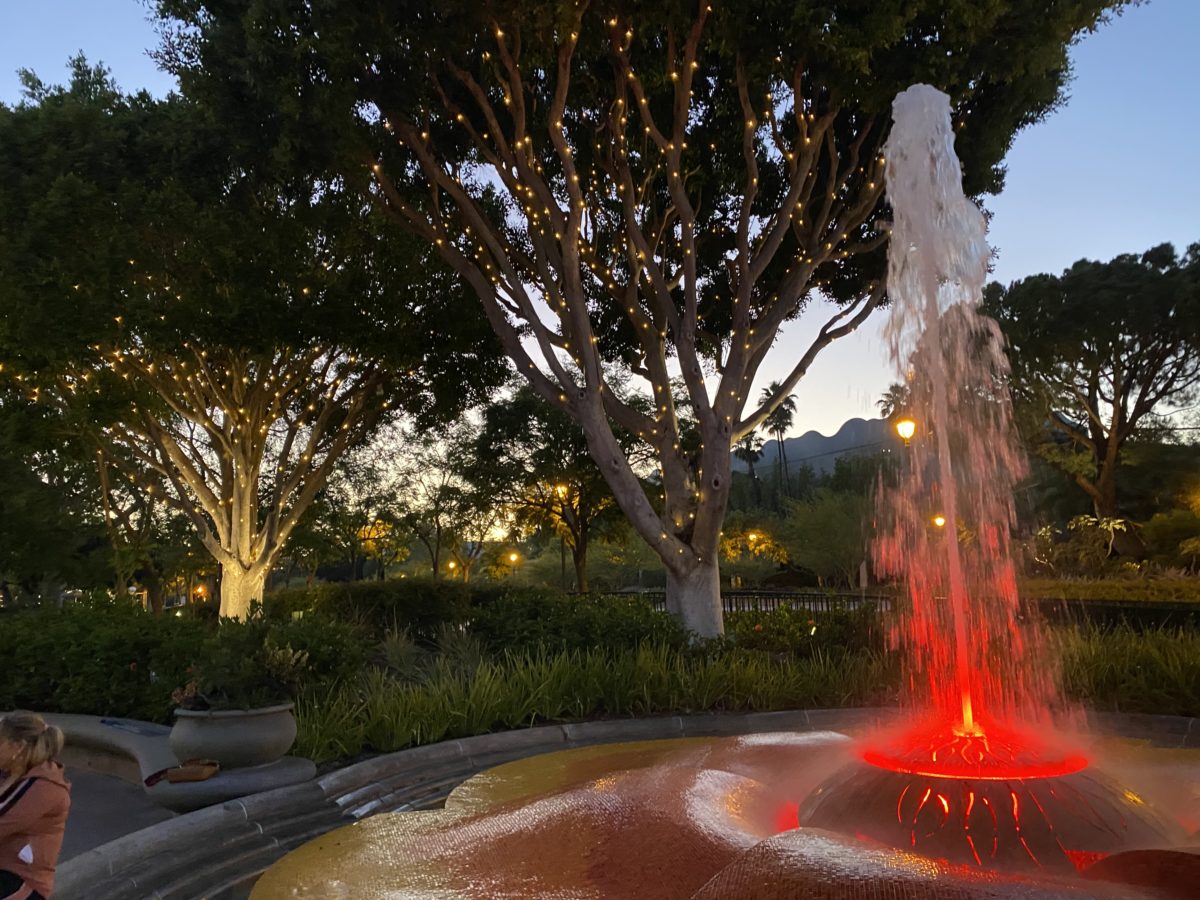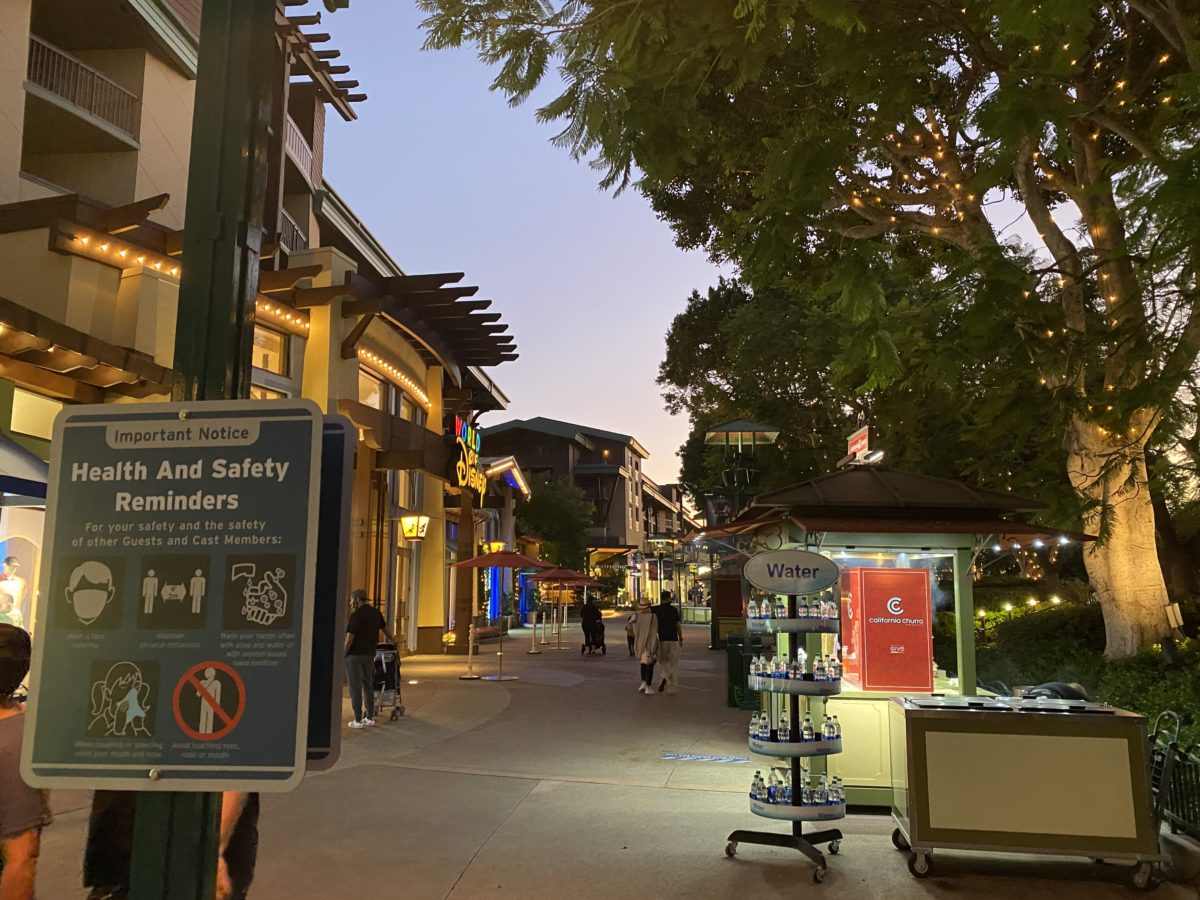 A few guests made their final purchases at World of Disney before it closed for the night.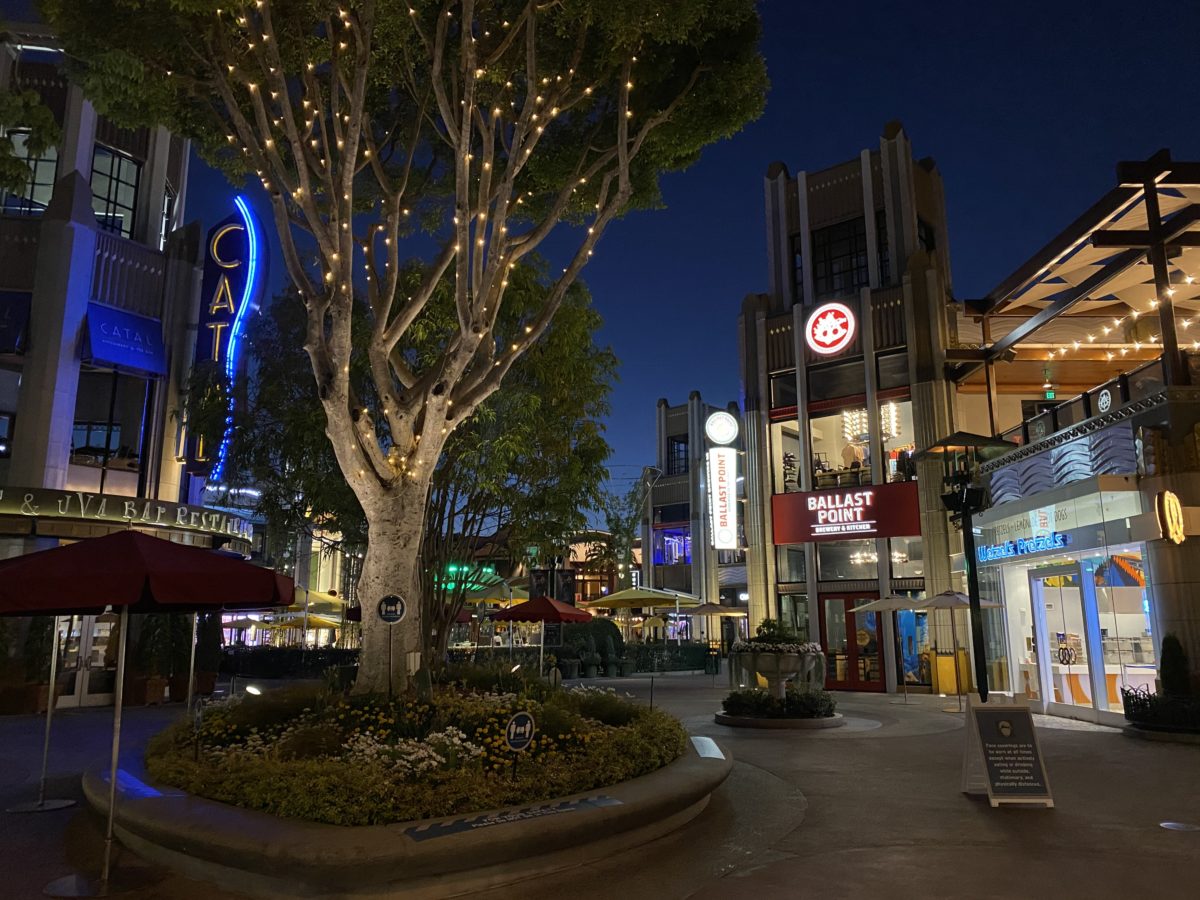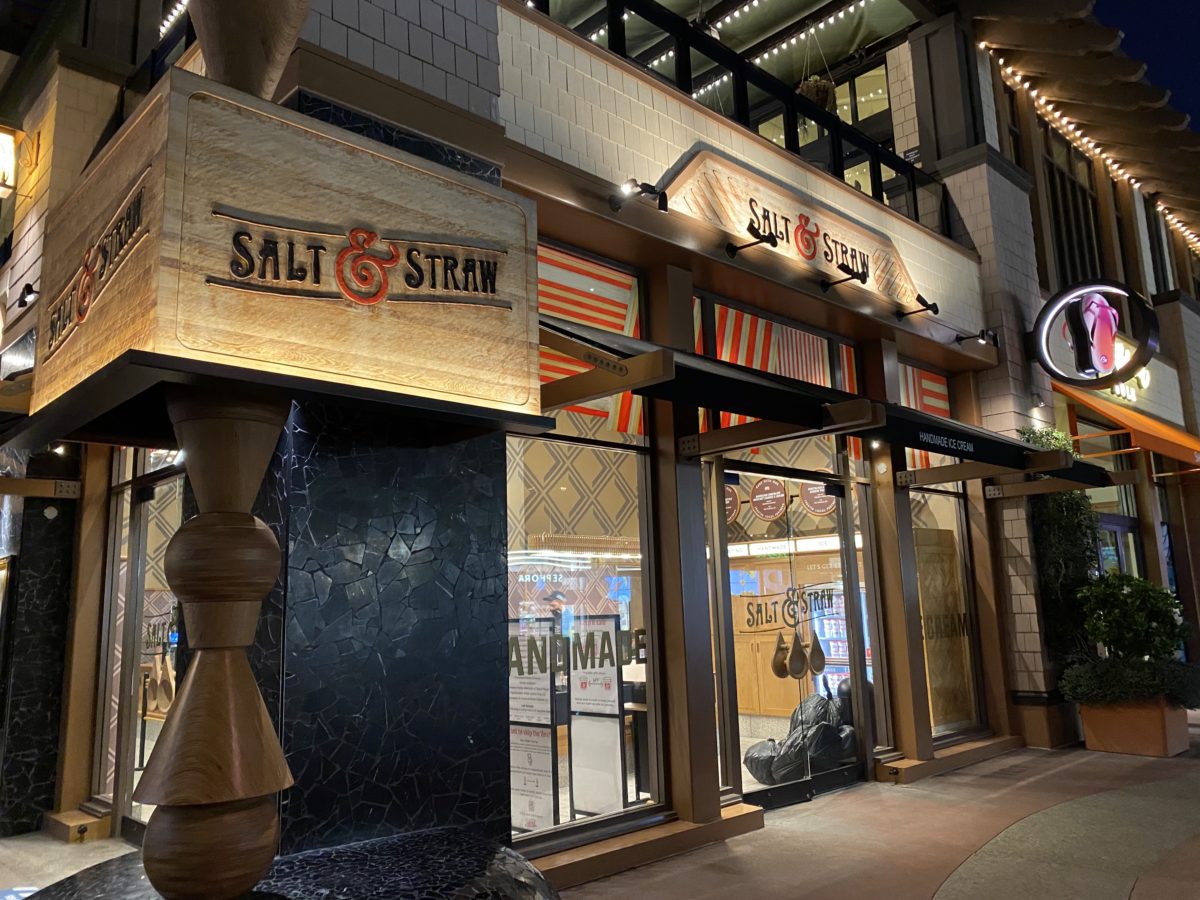 Just a little too late for Salt & Straw!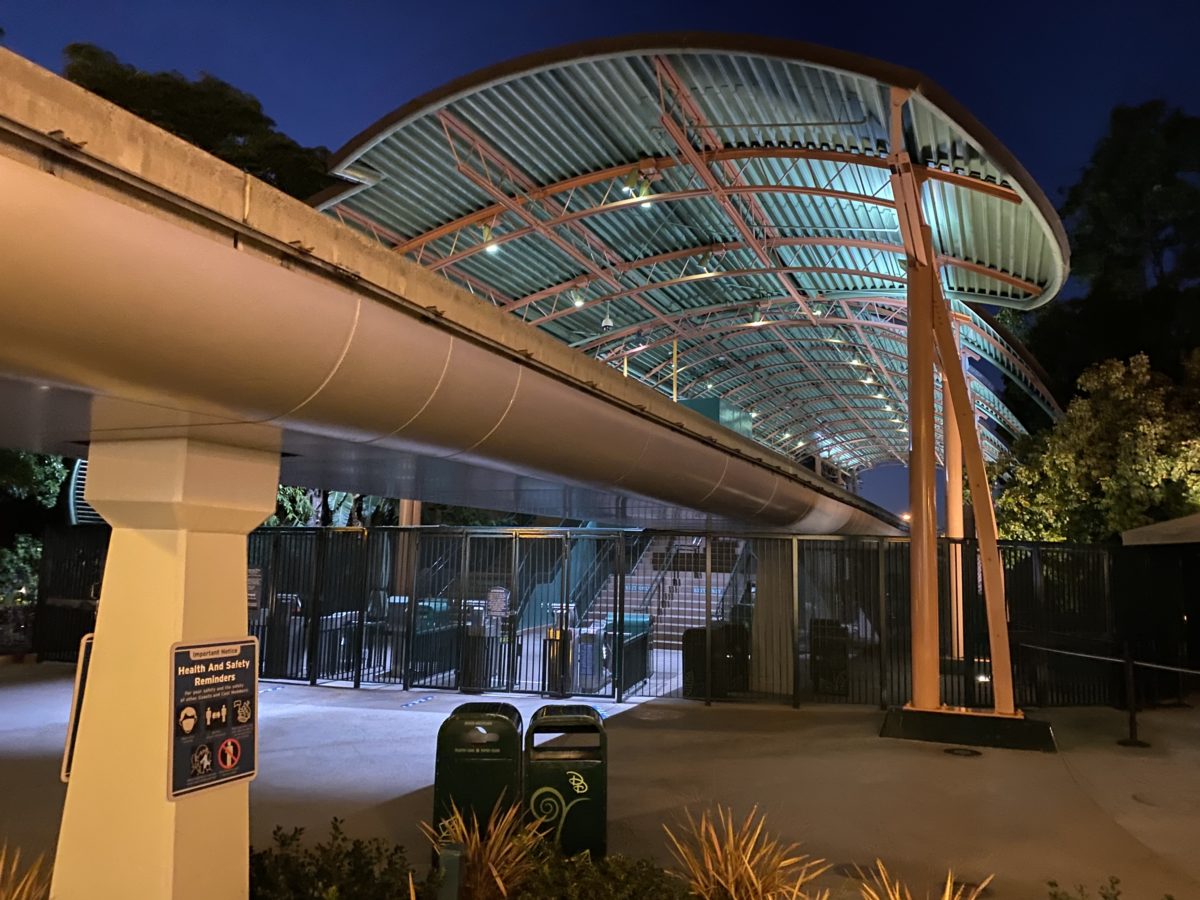 It was nice to see the monorail station all lit up at night.
Disneyland Hotel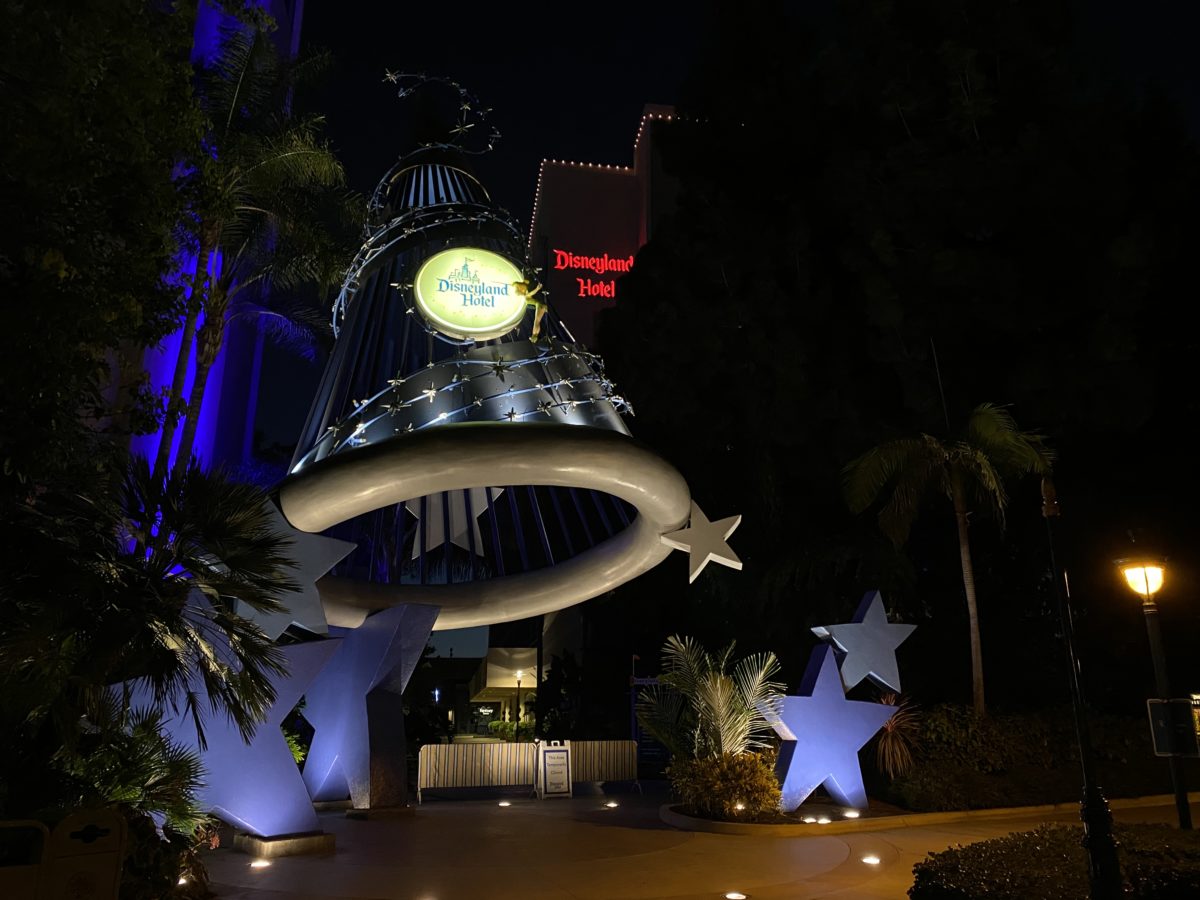 The Disneyland Hotel remains closed, but it's still a beautiful sight at night.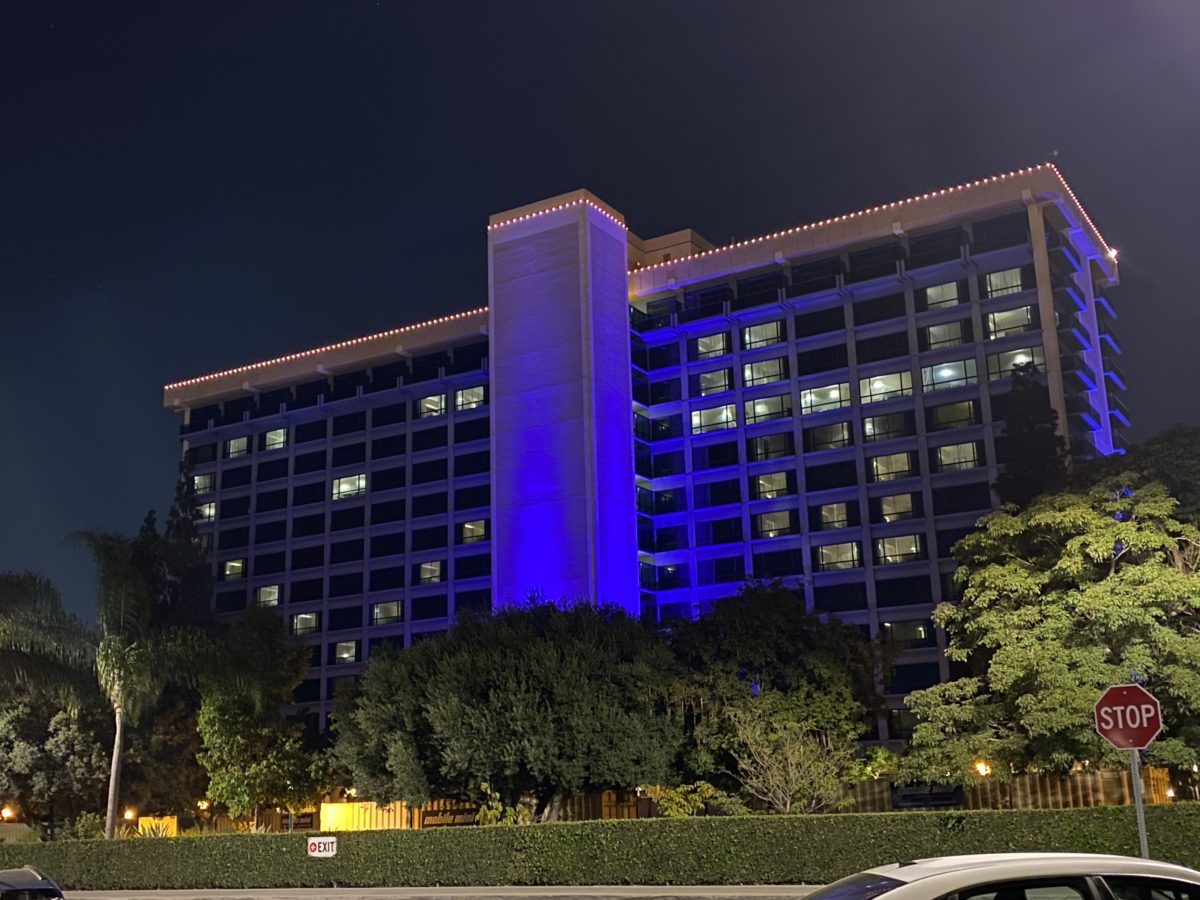 From the Simba parking lot, you can see an illuminating Mickey and heart coming from the hotel rooms.
What a visit! Make sure to check back, and follow us on social media via Instagram and Twitter for more updates on the Disneyland Resort.