With the heartbreaking passing of Chadwick Boseman this past August, Walt Disney Imagineering has brought a thoughtful tribute of the late actor to the Downtown Disney District in Disneyland Resort.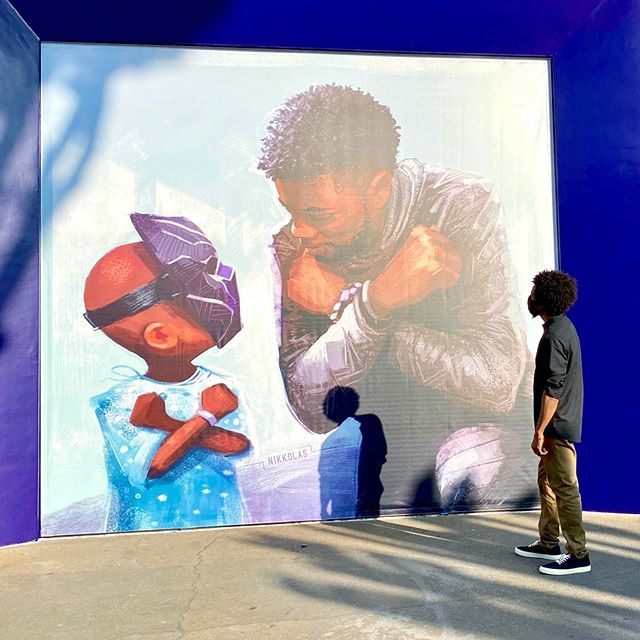 A new art installation, titled "King Chad", was revealed earlier today at Downtown Disney. The installation pays tribute to Black Panther star Chadwick Boseman with an inscription by concept artist and Imagineer Nikkolas Smith:  
"As a former Disney Imagineer, I had the honor of working on a major children's hospital initiative and Avengers Campus as my final two assignments. Seeing Chadwick's heart for people in-person, and later discovering his courageous battle with cancer, I was inspired to create this tribute to honor his life and legacy. To us, he was and will always be T'Challa. Long Live The King."
In the image, Boseman, dressed as Black Panther, stands next to a child wearing a Black Panther costume mask and a hospital gown as they both cross their arms in the signature "Wakanda Forever" salute.
Smith proudly posed against his art and posted the following caption on Instagram:
This one is special. My King Chad tribute is now on a wall on display at Downtown Disney. 🐾 It is a full circle moment for me: my final two projects as a Disney Imagineer last summer were working on the Children's Hospital project and the Avengers Campus. To millions of kids, T'Challa was a legend larger than life, and there was no one more worthy to fill those shoes than Chadwick Boseman. I'm so thankful to be able to honor Chadwick's life and purpose in this way.
We're sure this art installation will become a very popular photo and memorial wall in the coming weeks, and even more so with the opening of Avengers Campus. The imagery is as powerful as it is timely.