Hey there, hi there, ho there! We headed down to the Disneyland Resort for even more from the Lunar New Year Festival at Disney California Adventure. And with all the excitement at DCA recently, we wanted to see what's new at Disneyland as well. Join us as we head around both parks in this photo report!
The tram route is still having some work done to prepare for the vehicles return, and construction has now moved from one side of the walkway to the other.
Disneyland
We noticed the beginnings of some construction activity at Crystal Arcade, the kid's toy area of the Emporium.
Ramps are installed for guests on the sidewalks as they divert strollers and wheelchairs around the construction walls.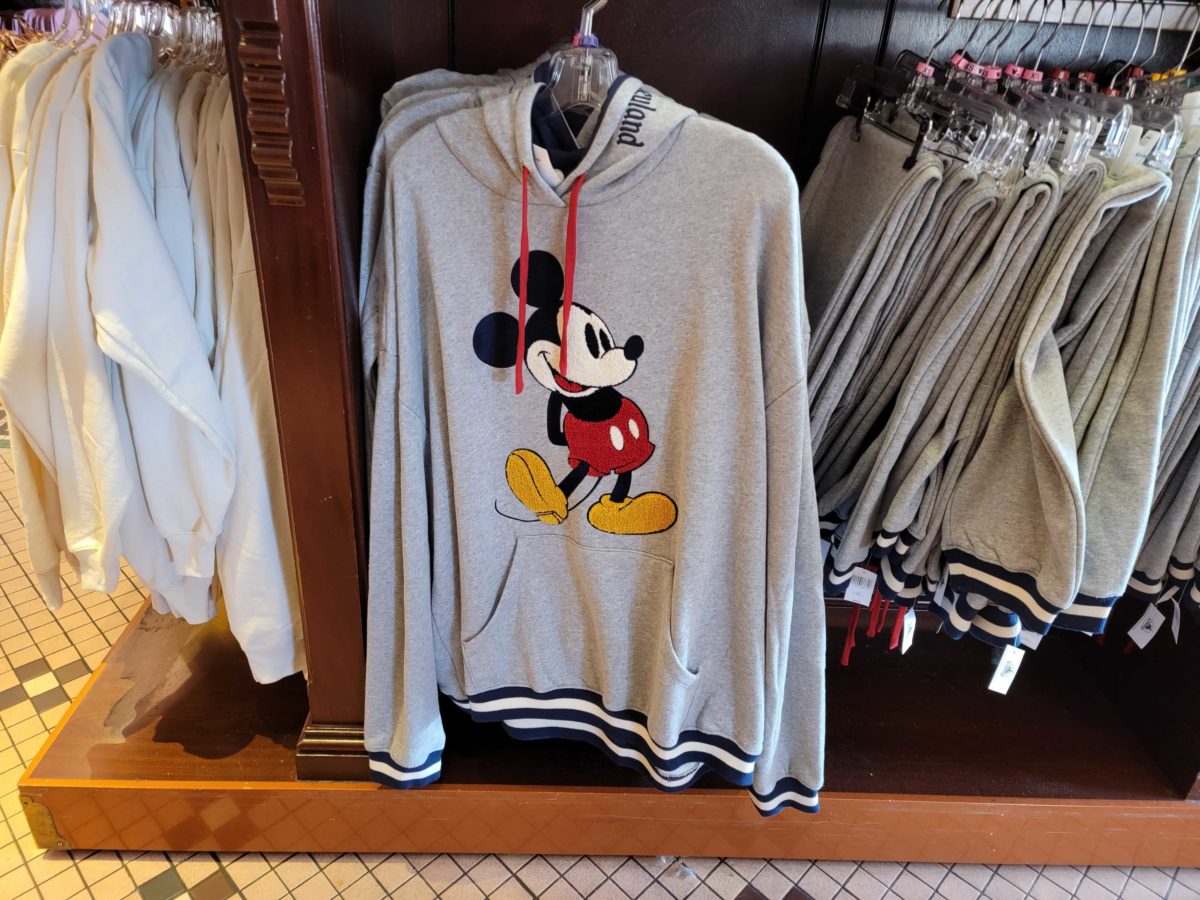 Inside the Emporium, we found a classic Mickey Mouse loungewear set.
This super cool water bottle, seen above, has a very unique cap, and can be found in the Emporium along with this new tumbler, seen below.
This shiny Stitch pencil case allows the alien to eat your writing implements. Probably not the weirdest thing he's ever eaten.
A new set of Princess Wishables is now available as well.
Tuesdays are release days for new pins and we found a whole bouquet of new pins, including this Beautiful Florals collection pin. You can see everything we found right here.
With the first two pieces of the Dooney & Bourke Valentine collection already spotted in the park, we were excited to find the remaining two pieces in the collection today.
We also found all four pieces of the new Dooney & Bourke Alice in Wonderland collection.
And even though the Lunar New Year Festival is taking place across the Esplanade at Disney California Adventure, Plaza Point in Disneyland has a lot of the Lunar New Year merchandise collection. We found this cute Minnie plush keychain there, and it is also available at the festival merchandise booth in DCA.
We worked up an appetite with all this shopping, so we headed up to "it's a small world" churro cart to try the classic treat with a new blueberry chocolate dipping sauce.
And while we were enjoying our churro, a cavalcade happened by. It's always nice to see Mickey's smiling face.
Nearby in Toontown, construction progress rolls along on the upcoming 'Mickey & Minnie's Runaway Railway.'
Speaking of construction progress, we could see the lights on inside Finding Nemo Submarine Voyage, and wanted a better look.
All aboard the Monorail for a sky-high look into the Nemo lagoon.
A fresh coat of paint goes a long way to making this ride look its best. You can see our whole construction update right here.
While on the Monorail, we were stopped for a few minutes along the track and we took the opportunity for some great pictures of Fantasyland and the Matterhorn.
Back on terra firma, we saw some cool Boba Fett patches in The Star Trader in Tomorrowland.
We also found some new Star Wars shirts.
Down in New Orleans Square, The Haunted Mansion has reopened after the holiday overlay was removed. With Jack Skellington no longer sitting on the sign, it was revealed that the FastPass sign had been there all along. Now that has finally been replaced by a Lightning Lane sign.
This marks the last addition of a Lightning Lane sign in the resort, and the last erasure of FastPass.
Splash Mountain is currently down for a refurbishment, so we stopped by to take a look. Disney has confirmed that this is a routine refurbishment and not the beginning of "The Princess and the Frog" overlay.
The ride's flume has been drained as work continues.
Even the queue is closed off in all areas.
Disneyland held a ceremony for the installation of the newest honorary window for Disney Legend and Archivist Dave Smith, and now it is on full view for all to appreciate.
Disney California Adventure
Across the way, Grizzly River Run is also down for a refurbishment.
Jumping back into the Lunar New Year Festival, we wanted to try some more of the new food and drink offerings that we hadn't had a chance to see yet. The Hong Kong-style Milk Tea at Lucky Fortune Cookery is new this year, and we had to give it a shot.
And near the "Raya and the Last Dragon" meet and greet in Redwood Creek Challenge Trail is a Raya-themed cart featuring some delicious snacks and drinks for guests to enjoy. You can read our full review right here.
In Plaza Gardens, we went for the Asian Street Corn, the Orange Cotton Candy and, not pictured, the Gochujang wings. You can read our full review right here.
Minnie Mouse was out greeting guests in the bandstand area, so we stopped by to admire her dress and say hello.
And while we were in the area, Mulan's Lunar New Year Procession came by. We got to see this full show the other day, and now we got to snap some great pictures of all the characters.
Being the year of the tiger, Tigger is naturally the Master of Ceremonies.
The new float in the procession is a nice platform for drummers, as well as seeing Mulan and Mushu.
Across the bay, Mr. Potato Head has finally had his eyes fixed and brightened, but the alignment is now off. He just can't seem to catch a break.
And finally, Hollywood Pictures Backlot has seen some new construction walls go up at the corner of Hollywood and Sunset.
Thanks for riding along with us on this photo tour. We'll see ya real soon!
For more Disneyland Resort news and info, follow Disneyland News Today on Twitter, Facebook, and Instagram.